By David Urani
So with the market continuing to march to new highs, the conversations about it being "overvalued" are going to keep happening. I like to follow the operating P/E as a yardstick for the market, and thankfully Standard & Poor's compiles a nice list of historical S&P 500 earnings and P/E ratios for us to look at. I've adjusted the latest data to reflect today's S&P 500 price (1,628 as this was written) and where we're standing now: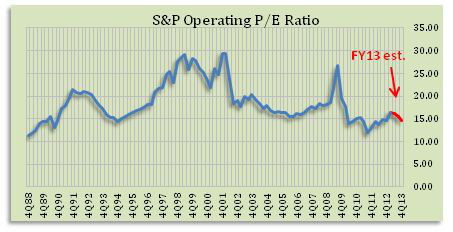 With 307 of the 500 stocks having reported earnings for Q1 2013, the projected Q1 2013 total operating earnings for the S&P 500 (trailing four quarters) is at $98.78. Based on today's S&P 500 price, that gives us a 16.5 P/E.
Current consensus projected Q2 2013, Q3 2013, and Q4 2013 earnings give today's S&P 500 price forward P/Es of 16.25, 15.63, and 14.73, respectively.
S&P compiles the data going back to 1988; the average P/E from then up to now is 18.8.
Given that valuation (both for the current quarter and for the following three) is well below average, I certainly wouldn't call the market "overpriced." That said, there are also reasons to suggest that the historical average of 18.8 is probably too high to have right now. For me, the fact that the market has gone through a couple of big bubbles over that time span means the average is a bit high. Also the fact that today's economy is running in a somewhat low gear suggests a lower "growth premium," or valuation multiple, is warranted. Consequentially, a P/E number around 16 seems to be fair.
Given all that, it then depends how far you want to look out and how accurate you think analysts' estimates are. If one were to believe the Q2 2013 and Q3 2013 estimates are accurate, then the market looks pretty fairly valued going out to the third quarter, with perhaps some modest appreciation warranted. Yet, if Q4 2013 estimates are also accurate, then a 16 P/E for the projected earnings of $110.53 gives today's S&P 500 price a valuation of just 14.73. Personally, I don't have a lot of faith in analysts' estimates going out that far.
For me, the latest rally in stocks has been justified. I did this same calculation two months ago, and the market was at a 15 P/E (based on that current quarter). Likewise, it made sense for the market to inflate its valuation (some would call it a "melt up") over the past couple of months up to the current P/E level of 16.5. However, I'd say that breathing room is shrinking, as 16.5 looks pretty "fair" to me, as do the forward valuations for Q2 2013 and Q3 2013. Thus, I would start to get wary if the market rallies a whole lot further, unless there is economic data to back it up. But at the same time, this valuation for me doesn't give the bears much ammo for a big sell-off unless bad news starts rolling in.
So far so good I'd say, but if you're looking to get in on the big market rally you might have missed the brunt of it. I maintain that the market had in fact been undervalued, but now it's looking more and more "fair." That said, I'm not going to assign one specific P/E multiple as fair, there's a zone where I would feel comfortable. Just as two months ago the 15 P/E was in the undervalued zone; I'd say we aren't necessarily overvalued until we're above 17 (current stagnancy in the U.S. and China and the recession in Europe still justify a below-average multiple, in my view). A 17 multiple on the Q1 2013 earnings would put the S&P 500 at just below 1,680.
The point is this: If the market is going to approach or surpass that level, I'd like to see it rally more on increasing fundamentals and rising earnings estimates than purely on valuation. One probably could have bought the market on valuation alone a couple of months ago. But I am comfortable with where we are now. Of course, you can continue to make the big money investing in great individual stocks. Naturally, any additional improvements in the economy can also ratchet up those S&P 500 earnings estimates.