There are times when the market comes to see a lot of previously unrecognized value in a company, resulting in a strong upward movement in the share price -- a point of value recognition, as it were. This movement can be extremely rapid (e.g., following blowout earnings) or spread over a longer period of time (e.g., months) as the implications of an event or technology development filter into the consciousness of investors. As per Robert Saron, president of Bovie Medical Corporation (NYSEMKT:BVX):
We announced the J-Plasma concept several years ago, but the process of getting any new product to market has become increasingly difficult and time-consuming. Because of that, the initial excitement may have waned a bit. But J-Plasma's time has finally arrived.
Bovie Medical Corporation, a small medical devices company, has spent a number of years developing several potentially breakthrough medical technologies that address large markets (a table listing these is available here). Bovie, historically a tight-lipped company, lacks a significant analyst following and is off the radar screen of all but a handful of investors. As a result, the market is largely unaware of Bovie's potential for value creation. If sales of Bovie's new J-Plasma technology follow the trajectory anticipated by management, the company will be ripe for rapid value recognition by the market, exerting strong upward pressure on the share price.
After successful beta testing during the fall, J-Plasma, one of Bovie's key new surgical technologies, has begun initial market entry. Early reports of ease of use and patient outcome are very positive and Bovie has announced plans for a very large expansion in their sales force to handle J-Plasma sales. Based on Bovie's statements about the size and timing of the planned sales force expansion, we can make an inference as to the company's future revenue expectations and the length of time needed to reach that level. Further, we can make an approximate forecast of the future share price should Bovie management's J-Plasma expectations be met.
Sales Force Expansion and Revenue Projections
Again, as per Saron, after declining to discuss J-Plasma revenue projections:
Up until now, Bovie's usual approach has been to sell through second party businesses and distributors. Prior to J-Plasma, Bovie had 37 independent sales reps and $27.7M in sales in 2012. Bovie has "decided to do something different with J-Plasma" and has plans to have 120 sales representatives covering J-Plasma. This is effectively a disclosure by the company of the approximate level of expected future J-Plasma sales revenue.
To clarify the sales channels, number of sales representatives, and time scale mentioned in Bovie press releases and media coverage, this author contacted Mr. Joseph Vazquez of Bovie Medical Investor Relations, who in turn confirmed his understanding with Mr. Jeff Rencher, Bovie's Vice President of Sales and Marketing. The results are shown in the illustration below.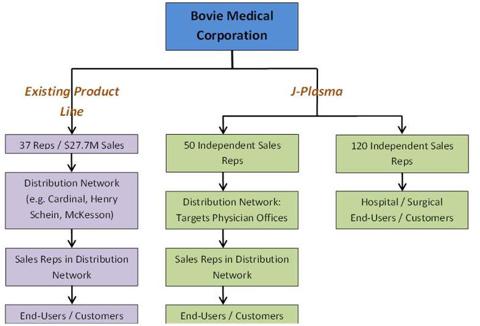 As can be seen, 120 independent sales representatives will sell directly to hospitals and surgical centers, while 50 independent sales representatives will sell to a distribution network that targets physicians' offices. As the distribution network has its own sales representatives, the total number of sales reps involved in selling J-Plasma could be much larger than the numbers shown here.
Specifically, in a recent e-mail response to Mr. Vazquez for forwarding on to this author, Mr. Rencher said:
…the J-Plasma line of products is being sold through independent representatives that are not direct employees of Bovie but sell directly to the end-user, the surgeon and hospital. These representatives have extensive relationships with the surgeons and the surgical team and are present in the O.R. on a daily basis. Although they sell other products, the call pattern is the same as J-Plasma and J-Plasma is a major focus. This model has worked successfully for companies such as Olympus Surgical, CooperSurgical and other large and well-known successful companies.

It is expected that within 6 months, there will be approximately 120 independent sales representatives selling the J-Plasma line to hospitals and surgery centers throughout the U.S.
Mr. Rencher's reference to CooperSurgical is interesting. According to CooperSurgical's 2012 Analyst Meeting Presentation, CooperSurgical has 258 sales reps and was estimating $256M in 2012 sales; this corresponds to $0.99M in annual revenue per sales rep. For comparison, Bovie's $27.7M in 2012 sales and 37 sales reps corresponds to $0.75M in annual revenue per sales rep.
The same article discussing the planned 120 J-Plasma sales representatives targeting hospitals and surgical centers also contains a number of quotes suggesting J-Plasma's rapid sales growth:
A well-known surgeon in the Western U.S. suggested that, 'J-Plasma will be a household name by next year.'

Jeff Rencher, Vice President of Sales and Marketing, stated, 'We are pleased and enthused with the overwhelming positive feedback we have received from well recognized and established surgeons who are now committed J-Plasma users.' He also stated, 'We are very confident that our state-of-the-art technology has the capability to become a commonplace fixture in hospitals and outpatient surgery centers."
Based on this information, it is likely that Bovie expects J-Plasma revenue per sales rep to be in the range of that of existing Bovie products and of CooperSurgical, the cited example. Based on a total of 170 J-Plasma sales reps (120 targeting hospitals and surgical centers and 50 working with the distribution network targeting physicians' offices), this comes to between $128M and $168M in sales per year. If we take the midpoint of this figure and add pre-existing annual revenues ($27.7M in 2012), we obtain an estimate of $175M in annual revenue.
As noted above, Mr. Rencher stated that the 120 sales reps targeting hospitals and surgical centers should be in place within six months. Presumably, the 50 sales reps assigned to the J-Plasma distribution network will be deployed within the same time frame. If we allow for a six-month lag time from completion of sales force assembly to sales reaching or closely approaching their full level, this puts the expected date to achieve an annual revenue run rate of $175M in the spring of 2014. If for some reason the 50 sales reps assigned to the distribution network are not deployed simultaneously with the 120 but only added later, the expected annual revenue run rate in early 2014 becomes $132M.
Share Price Implications
The average price-to-sales ratio is 2.5 for the medical device industry, implying Bovie's market capitalization may reach $438M in 2014. With 17.81M shares and 1.89M options outstanding, this corresponds to a price of over $22/share given full dilution. As this author writes, the Bovie share price is around $3.55, suggesting a six-fold price increase between now and sometime next year is entirely plausible if J-Plasma sales grow as expected.
Another factor working in favor of a large price movement is the prospect for ongoing strong sales growth. Bovie has identified specific initial surgical target markets for J-Plasma, with other clinical applications to be developed. As J-Plasma is introduced into more markets, sales will rise. Reaching all the markets, filling their needs, and then running out of customers once the need is met won't be a problem as the J-Plasma follows the "razor-razor blade" sales model.
A complete J-Plasma system consists of an ICON electrosurgical generator unit ($15-$20K), a J-Plasma handpiece, and a disposable tip ($150-$300) that fits on the handpiece. As each disposable tip is used for only a single surgery, repeat sales of tips to surgeons who use the J-Plasma system will become an important source of revenue. It is also reasonable to expect periodic upgrades to the electrosurgical generator unit, thus providing another source of revenue.
Assuming Bovie reaches an annual revenue run rate of $175M in 2014 and continues to grow much more quickly than the medical device industry average, it should be valued at a substantially higher price-to-sales ratio based on its future growth potential. (Bovie's favorable debt-to-equity ratio is another positive.) For example, a share price of $30 would correspond to a price-to-sales ratio of 3.5, a 40% premium over the industry average -- quite reasonable for a rapidly growing company with highly innovative, market disruptive technology and strong intellectual property protection.
What J-Plasma Is
Before discussing Bovie's strengths and risks -- including how they relate to J-Plasma -- a brief discussion of the J-Plasma technology will be helpful. J-Plasma is a surgical technology in which helium plasma (a flow of ionized helium atoms) is created around a retractable surgical blade at the end of a hand-held instrument. The blade is extended for performing incisions and retracted for coagulation using the plasma. Plasma surgery has both similarities to traditional electrosurgery and important differences. While plasma-based systems from other companies use argon plasmas, J-Plasma's use of helium has advantages such as ultraviolet (UV) light emission, giving it a bacteria-killing effect.
Another advantage is J-Plasma is tunable across a wide power range; the number of ionized helium atoms in the helium gas flow can be varied from less than one in a million to one in a thousand or more. Helium gas is an excellent heat conductor (interestingly, helium is the most frequently used coolant in high-temperature gas reactors (HTGRs for this very reason); as a result, non-ionized helium atoms are very effective at conducting heat away from areas not being treated, causing J-Plasma to have a highly localized effect. The helium gas flow rate is also adjustable. As a result, the J-Plasma instrument can be used for a range of surgical cutting applications, from delicate tissue excision to rapid cutting, and for soft tissue coagulation. (The picture below shows J-Plasma low power operation and comes from a presentation on the Bovie website.)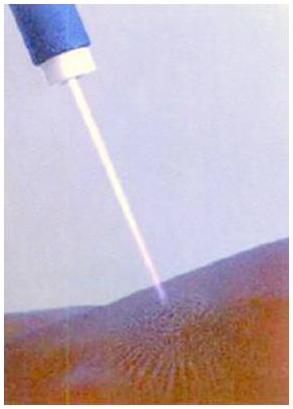 Other advantages include less collateral tissue damage, reduced scarring, and more rapid healing. Further, diseased tissue normally has a higher liquid content than healthy tissue; this causes the plasma beam to be preferentially drawn towards diseased tissue, reducing the impact on healthy tissue. (See the picture below of the plasma stream being drawn towards a conductive object.) J-Plasma can be used for both open and minimally invasive (e.g., laparoscopic) surgery.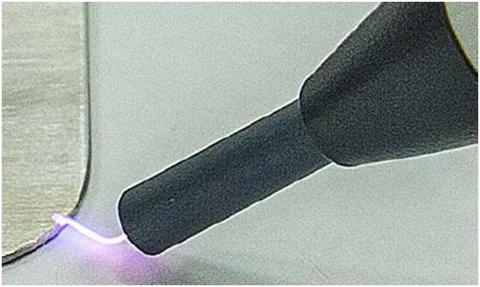 Additional information on the J-Plasma system is available on the Bovie Medical blog, in a series of Bovie e-books, and from the J-Plasma website.
Bovie's Strengths
Besides those mentioned previously, particular strengths enjoyed by Bovie include:
A clear advantage over competing technologies such as argon plasmas, lasers, and ultrasonics. This has been validated by recent reports from surgeons of ease of use and clinical outcomes.
A strong intellectual property position (e.g. five US patents issued and six patents pending) that continues to be enhanced over time.
A strong balance sheet. As of December 31, 2012, the company had $16.0M in total current assets (including $4.2M in cash and cash equivalents) and $28.2M in total assets (including $2.2M of intangible assets and no value assigned to goodwill) against some $5.3M of total liabilities, consisting of $1.9M of total current liabilities and $3.4M in long-term debt.
Risks and Mitigating Factors
Market, financial, and legal risks include the following, along with mitigating factors in some cases:
The cost of developing and deploying a 170 person J-Plasma sales force could be a strain on a company with approximately $4M in cash and equivalents on hand. Bovie has indicated that the 120 sales reps targeting hospitals and surgical centers will be established commission-based independent sales representatives. By working with established sales reps already selling to this market with payment made on a commission basis, sales force setup costs will be much lower than if building a sales force of direct employees from scratch. Additionally, using established sales reps will speed market penetration.
Bovie is still involved in several lawsuits. Former Bovie General Counsel Leonard Keen was terminated and forfeited 85,714 stock options as a result. He is involved in litigation against Bovie to get them back. Although this initially looks like a negative, in some ways it is actually a good sign; alienated former employees usually seek cash and by instead choosing to pursue the stock options, Mr. Keen is signaling he believes the company is undervalued and the share price will rise in the future. When Steve Livneh filed a lawsuit against Bovie, he sought shares, not cash, again suggesting the company is undervalued. Bovie was very reluctant to grant Mr. Livneh more shares (there's that undervalued thing again!) and instead Mr. Livneh ended up accepting a license to make and sell certain Bovie technology (e.g. Seal-n-Cut) in China (in the process demonstrating confidence in the technology and its market potential). A shareholder derivative action (with only a tiny number of actual participating shareholders) targeting both the company and its management as individuals is progressing very slowly. If J-Plasma sales take off in the way the company expects, the resulting rise in the Bovie share price should effectively put an end to any shareholder action against the company.
Bovie spent many years under the threat of the competition stealing its thunder by introducing a similar product to J-Plasma before Bovie (e.g. a tunable argon plasma, although Bovie's helium plasma would still have a number of technical advantages) and gaining a large market share, making Bovie's task harder. Although some risk remains, as J-Plasma product recognition increases among surgeons and other medical professionals and sales rise, the competitive threat will quickly diminish. As there is a substantial upfront cost ($15-20K to purchase a generator) to implement J-Plasma in an operating room, once a hospital has adopted the J-Plasma system there is a disincentive to switch to a competitor's system without a strong corresponding benefit. This will tend to entrench J-Plasma at a customer location once deployed there.
Rapid Sales Growth Is Not Unprecedented
A rise from $27.7M in 2012 sales to an annualized revenue run rate of $175M at some point during the year 2014 sounds like very dramatic growth -- and it is. Could that really happen?
There are actually many examples of very high growth rates among public companies. Intuitive Surgical (NASDAQ:ISRG) has experienced high revenue growth rates for many years. Although ISRG's growth rate is slowing, it is still well ahead of medical device industry averages. As another example, the graph below shows how a significant advance in medical technology can result in large changes in a company's sales and shifts in market share. When Boston Scientific (NYSE:BSX) introduced the Taxus stent in March 2004, sales immediately exploded, driven by the expectation of superior patient outcomes.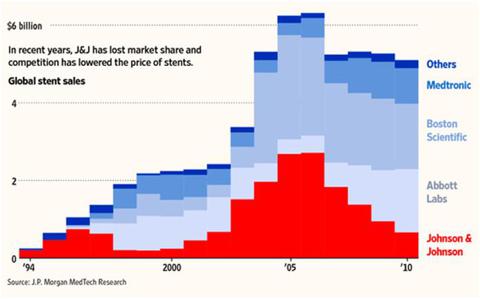 Final Thoughts
Based on today's close of $3.55, Bovie has a market capitalization of $63.2M (or $69.9M fully diluted if all outstanding options were exercised). With $27.7M in 2012 sales, this corresponds to a price-to-sales ratio of 2.3 (2.6 fully diluted), which is actually less than the medical devices industry of 2.5, suggesting the company is slightly undervalued based purely on its existing product line and not taking into account the very large market potential of J-Plasma or other technologies under development. Also working in Bovie's favor is the company's very low debt level (discussed earlier in this article) and that it is very modest compared to the industry average, which militates for a higher valuation on a price-to-sales basis than the typical medical devices company with a proportionately much larger debt load. The flip side is that Bovie's 2012 profit was $0.62M, only 2.3% of sales and 2.7% of shareholder equity. However, after stumbling for several years, Bovie's annual revenue has begun rising again, which should lead to increasing profitability based on the pre-existing non-J-Plasma product line.
Overall, a good case can be made that Bovie Medical is fairly valued based on existing revenue, asset, and profitability figures. What this means of course is that even after the move from around $2.50 at the beginning of the year to $3.55 now, Bovie's share price has yet to price in potential J-Plasma revenues in any significant way. With a very real possibility for a six-fold share price move between now and sometime next year -- should J-Plasma meet Bovie management's sales expectations -- Bovie holds a lot of appeal as a trade with a high potential payoff for those who aren't risk-averse. A sweetener is that Bovie has more interesting surgical technologies in the works, most notably Seal-N-Cut which is approaching development completion and addresses an estimated $1B annual market.
A final word of caution: Bovie Medical experienced a lot of volatility in its share price between 2006 and 2010. Its share price has been much steadier since then. Nevertheless, being a small company with a low market cap, anyone investing in Bovie should be mentally prepared for potentially large swings in the share price. Also as a consequence of its small size and comparatively narrow product range, Bovie has a higher than average risk of being overtaken by competitors or events such as sudden product obsolescence in face of new technology. Exercise care.
The author would like to thank Mr. Mike Bolser, with whom the author has had a number of informative and helpful conversations.
Disclosure: I am long BVX. I wrote this article myself, and it expresses my own opinions. I am not receiving compensation for it. I have no business relationship with any company whose stock is mentioned in this article.