Shares of Xoma Ltd. (NASDAQ:XOMA) closed up 38% Thursday, a gain analysts pinned on anticipation that the drug company will release positive data on its Type II diabetes treatment during a presentation this weekend.
In research notes Thursday, analysts said the new Phase I data on the drug, XOMA 052, should be strong since Xoma released positive initial Phase I results for the treatment in September. The presentation will be made at the American Diabetes Association conference in New Orleans on Saturday.
An audiocast of the presentation will be available live via the Investors tab at the XOMA website, xoma.com. An archived version of the webcast will be available for 90 days following the presentation.
"The data at ADA will likely add further support to the potential efficacy of XOMA 052," RBC Capital Markets analyst Jason Kantor wrote.
The complete Phase I results on the drug are expected to be released this summer.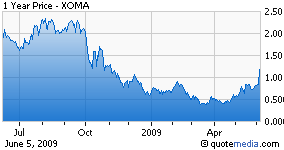 Shares closed at $1.18 Thursday, after earlier climbing as high as $1.21. The stock has gained 90% year to date, but is still 38% below its year-ago level.
Xoma Chairman and Chief Executive Steve Engle told Dow Jones Newswires that the company on Saturday plans to present "additional analyses" that were done on patients in the Phase I study. Engle said he couldn't elaborate further on the upcoming data.
Engle said XOMA 052 is unique since it "may not only help patients control their glucose levels, but it also may help them control the inflammatory causes that lead to cardiovascular problems."
XOMA 052, which has the potential to treat a wide variety of inflammatory diseases, including rheumatoid arthritis, addresses inflammation as an underlying cause of diabetes by targeting Interleukin-1 beta. Interleukin-1 beta is an important trigger of inflammation that is thought to play a role in the development and progression of type II diabetes, RBC's Kantor said.
Last month, the company got good news when the U.S. Patent and Trademark Office issued a U.S. Patent covering XOMA 052, and other antibodies and antibody fragments with similar binding properties for human interleukin-1 beta, or IL-1 beta. IL-1 beta is a pro-inflammatory cytokine involved in the development of Type 2 diabetes, cardiovascular disease, rheumatoid arthritis, gout and other diseases.
In addition, XOMA signed an agreement with an institutional investor for gross proceeds of approximately $10 million. They plans to use the net proceeds of the offering to continue development of its XOMA 052 product candidate and for other working capital and general corporate purposes.
About XOMA
XOMA discovers, develops and manufactures therapeutic antibodies designed to treat inflammatory, autoimmune, infectious and oncological diseases. The Company's proprietary product pipeline includes XOMA 052, an anti-IL-1 beta antibody, and XOMA 3AB, a biodefense anti-botulism antibody candidate.
XOMA's proprietary development pipeline is primarily funded by multiple revenue streams resulting from the licensing of its antibody technologies, product royalties, development collaborations, and biodefense contracts. XOMA's technologies and experienced team have contributed to the success of marketed antibody products, including LUCENTIS(r) (ranibizumab injection) for wet age-related macular degeneration and CIMZIA(r) (certolizumab pegol) for rheumatoid arthritis and Crohn's disease.