Rio Tinto's (RTP) management have been busy this week. Unfortunately, they have been busy making the writer look like a fool. I made the mistake of interpreting management's statement regarding the proposed strategic alliance with Chinalco, quoted verbatim from their 2008 annual report below, as their intention to actually complete a deal with Chinalco, and as closure on a possible BHP Billiton (NYSE:BHP) deal. The contents of my last review of Rio Tinto, 5 weeks ago, articulated as much.
On 12 February 2009 we announced the intention to form a major strategic partnership with Chinalco, a leading Chinese diversified resources company that the board unanimously recommends to shareholders. Chinalco's cash investment of $19.5 billion will strengthen our balance sheet on terms that add value to the Group and increase our flexibility to grow as markets recover. It will strengthen Rio Tinto's position in the industry during a period in which China's importance in the global economy is growing rapidly.
Now, in hindsight, Rio's thinking behind the statement is clearer. Commodity prices had collapsed, the firm was desperate for an equity injection to ease their debt burden and Chinalco were the only firm at the commodity dating-agency with the cheque-book in hand. How 4 months has changed things. Commodity prices have recovered strongly; western institutions are again looking to part with cash in the pursuit of risky assets and BHP Billiton, like every faithful and patient admirer has forgiven Rio Tinto for flirting elsewhere and has agreed an engagement, if not a marriage.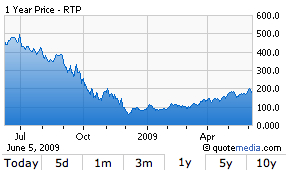 So after priming myself with business as usual research for much of the week, in anticipation of providing a gentle Rio Tinto update, I found myself choking on my Friday morning latte reading eight, yes 8, stock market announcements from Rio Tinto. They explained the firm's new found love for the hard cash of UK institutional investors and its satisfaction at signing an agreement with BHP Billiton, regarding its prize Western Australian iron ore assets.
Friday's announcements confirmed two key events. Firstly, Rio is to commence with a rights issue consisting of 21 New Rio Tinto plc Shares offered for every 40 existing shares at £14 per share and for the Australian stock market, 21 New Rio Tinto Limited Shares offered for every 40 existing shares at Aus $28.29 per share. The new cash will raise approximately US$15.2 billion (gross). The equity issue will enable Rio Tinto to honour its Alcan facility debt repayment obligations fully in 2009 and most of its 2010 liability. Net debt will be reduced to approximately US$23.2 billion. The 2nd event, of larger strategic significance, is the 50/50 joint venture agreed with BHP Billiton encompassing both firm's iron ore interests in W. Australia. Rio predicts the synergies gained from the venture will be worth around $10bn between the two parties.
There are significant logistical, as well as financial, advantages of the JV too. More efficient management of port capacity, the alignment of separate mines under a single management structure and a co-ordinated expansion strategy will all ease the burden on stretched Western Australian infrastructure. Rio Tinto will also receive from BHP Billiton $5.8bn for "equity type interests to equalise the contribution value of the two companies". It's great news for shareholders and I am presuming, hopefully, that the statement will be executed, thus preventing me from having to do another u-turn on my analysis some weeks hence. Lastly, if I held Rio Tinto stock, (I don't), I would take up the rights issue.
Disclosure: The writer does not hold any shares or other financial instruments, that have a direct or indirect exposure to any share listed in this article.