Let's take a look at some of this week's top- and bottom-performing ETFs and ETNs. Keep in mind that we cull the list to avoid duplicate sectors and we toss out Ultra, UltraShorts, 2X, 3X, Inverse, etc. ETFs. Some of these names are lightly traded and may be fairly illiquid. Make sure that you research the holdings and design of these ETFs before considering any trade.

click to enlarge

Click to enlarge

ETF performance data comes from MSN Money
There are energy-related names on both the Best and Worst performers list this week. The Claymore Global Solar Energy ETF (NYSEARCA:TAN) ranks near the top of our best performers from the past week, while the US Natural Gas Fund ETF (NYSEARCA:UNG) is among the laggards. TAN seeks to replicate the MAC Global Solar Energy Index, among its top holdings are Swiss company Meyer Burger Tech (MYBUF.PK) at 7.93% of holdings and First Solar (NASDAQ:FSLR) at 6.3% (holdings data from Yahoo Finance as of 3/31/09). UNG holds NYMEX Natural Gas Futures, and is often used by investors as a proxy for Natural Gas.

You can see from the following Daily Chart that TAN has been steadily uptrending since bottoming out in March. This is a similar chart to many other stocks and sectors since the market bottom in March. The shares have taken out previous resistance below the 10 level that held the ETF back in January and early-May.
TAN Daily Chart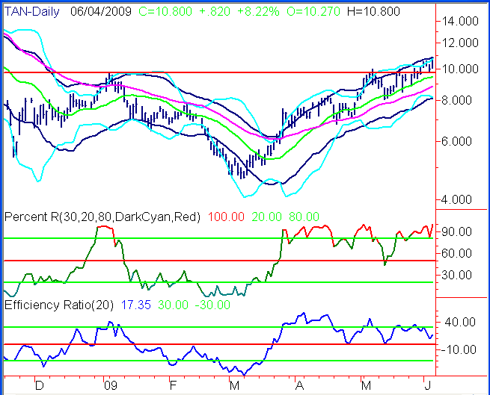 Click to enlarge

UNG has been steadily downtrending for some time, as you can see in the Daily Chart below, despite the recent rise in Crude Oil prices. This shows that Crude and Natural Gas are not automatically correlated, as many investors think they would be. The ETF has shown some signs of life since May, but has moved back to its Bottom Acceleration Band, and both Percent R and Efficiency Ratio are struggling around their mid-levels.