Cloud computing has become the hottest, fluffiest and highest profile meme since the dotcom era. The most successful cloud players include in their ranks a bookseller and an advertising/search behemoth. Software companies are making cloud announcements of all kinds.
We owe most of this repositioning to none other than author Nicholas Carr, who has managed to craft a collection of services, technologies and ideas into the Next Big Thing. Yet between the grand vision and a growing collection of visionaries there are plenty of gaps and confusion.
Those gaps can create opportunities and risks for investors.
The Network isn't Ready
I was on a sobering Infrastructure 2.0 panel in late May about the state of today's enterprise networks with executives from Cisco (CSCO), VMware (VMW), F5 (FFIV) and Infoblox (my employer), which was a wake up call about the lack of network preparedness for cloud computing. Network vendors could benefit from increasing enterprise investments in cloud, when they happen. As long as they're ready.
FIRE Infrastructure 2.0 Panel – Photo copyright © 2009 by Sandy Huffaker Jr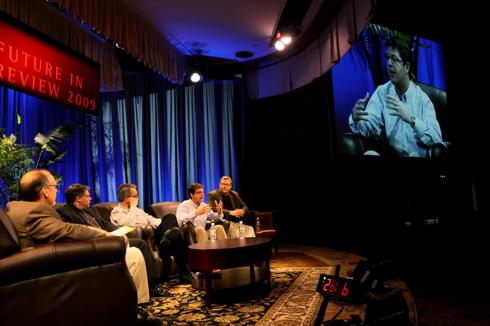 Infoblox's Ness (blog author) and Kagan, with VMware's Thiele, F5's Giesa and Cisco's Gourlay at the Future in Review Conference May 21, 2009
Like the dotcom enthusiasts of their day, many of the cloud champions absolutely refuse to talk about the challenges of cloud for the enterprise, from the lack of automation in the network (especially around addressing), to the lack of security for the elastic Intercloud. Check out Hoff's blog on Microsoft's (MSFT) 291 security controls in its cloud architecture; recent Microsoft cloud security claims come across like just another dumb down checklist game.
This makes virtualization security and network automation strategic to cloud. Virtualization security and networking players who establish leadership in these areas would be well positioned to benefit as cloud takes hold.
Microsoft has no doubt taken cloud security seriously and likely has some of the best architects in the business working on securing its cloud architecture, as do Google (GOOG) and Amazon (AMZN). Within the "sausage factory" there are probably some legitimate innovations. But the cloud vendors are doing a substantial disservice to their own marketing by merely dismissing questions and opportunities for deeper dialogue with foil wrapper/cereal box claims.
So we get: "Our Cloud is Secure*" (note asterisk) pronouncements and absurd marketing by checklist for a complex and demanding subject for which there are few genuine experts worldwide. Here comes: "The Bulletproof Cloud", "Approved by the International Society of Cloud Security Experts" and "The Unhackable Cloud" as banner headlines. They may fly for SMB but they won't pass muster in enterprise IT shops who understand the complexities of securing elastic cloud infrastructures.
Of course all of this oversimplification is possible because cloud computing today is an amalgam of services and technologies, some of which were rebranded as cloud and others which have yet to be commercially deployed. Others are heavily subsidized by other successful businesses. That makes a single compelling statement both accurate and inaccurate at the same time. Call it a defensible inaccuracy.
As I mentioned, the FIRE Panel (via Vimeo) dug into the networking issues. These are often glossed over by many of the "cloud" players. At Interop earlier that week I was on a cloud panel about what could go wrong. Issues mentioned include security, transport/scale, lock-in and a host of other gotchas waiting for the unwary. These are rarely discussed as the fascination for miracles in the cloud spreads.
The real cloud winners (at least in the enterprise space) will be the companies who introduce real innovation and articulate it to the market in a way that earns them maximum credibility and momentum. They educate the market and deliver the goods. They will overcome the addressing, security, transport, etc issues and enable the powerful Intercloud.
Those who don't will watch their potentials vaporize.
Disclosure: Long Cisco, VMware. I'm a senior director at Infoblox.