American Express (NYSE:AXP) has outperformed its sector and performed very well to start 2009. They have beaten out all credit card companies year to date, and are up nearly 34%. This strong performance in the beginning of '09 may be hindered, however; as recent legislation changes led by President Obama may permanently change the outlook of the credit card industry. While this legislation should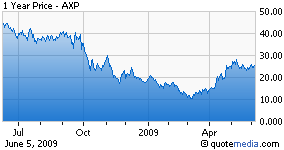 certainly benefit the average consumer, it will hurt the entire industries' profitability.
The Obama legislation will protect the average consumer from rate increases on accounts that would have previously been considered for delinquency. It will take longer for accounts to be considered past due, and companies must give their clients 45 days notice before they can hike rates. While this immediately affects major issuers, this will also be detrimental to every company in this industry. While this change certainly favors other companies such as Visa (NYSE:V) and MasterCard (NYSE:MA) over American Express, is it possible for AXP to hold on to its strong YTD numbers and remain a serious contender as the premiere card company?
American Express has definitely surpassed expectations this year, beating analysts first quarter estimates despite a large decrease in profit and a devastating increase in charge-offs. Profit decreased 58% down to $443 million or $0.32 cents a share, still crushing analysts expectations of $0.13 cents. Visa , is up 29% year to date and beat its expectations by $0.09 cents, with earnings of $0.72 cents per share. MasterCard also beat first quarter expectations, with earnings of $2.80 a share and is up 23% on the year. All of these earnings led to a strong resurgence in the industry, but AXP has clearly bounced back the best. AXP was able to beat expectations in terrible credit conditions, with deteriorating markets and the highest delinquencies ever, by cutting costs by 22%. AXP was not the only one to face great losses in profitability, as Bank of America (NYSE:BAC), Discover (NYSE:DFS), and many others faced these same realities. These are also the same banks that face the greatest downside risk due to the latest legislation. (Impact of Legislation)
American Express will definitely be hurt by Visa and MasterCard's ability to sustain better profit margins with these new laws. American Express, as well as the others, thrived in the past because of their ability to offset losses with higher interest rates, where the majority of their income comes from. This ceiling on rates will definitely minimize the gap that AXP had set earlier this year, as both V and MA are making strong strides to catch up due to minimal exposure to interest rates and delinquency. What is not being told is the impact that this will have on Visa and MasterCard, who are supposedly unscathed by this incident. These two companies will both be hurt by a decrease in total trading volumes. Most issuers such as Bank of America will want to cut down on their potential risk, and this will include decreasing the amount of monies they designate to their card services. This will hurt Visa and MasterCard as they are extremely good at what they do, but must rely heavily on other banks to provide the capital for their transactions. I feel that the effects of this legislation has already been adequately priced into the stocks, and that AXP should not lag too much into the immediate future. However, due to lower revenues because of legislation, AXP is cutting other costs.
AXP continued to show concern for the immediate future by cutting many different business expenses. They expect to save about $585 million after facing a charge of about $215 million in restructuring charges. AXP plans to cut marketing and business development by about 50%, and reduce business services including travel and general business overhead costs by $ 125 million. This restructuring will help immediately in an economy that is facing soaring unemployment and growing delinquency rates. I also expect for AXP to raise rates to their full ability in the short term until the new mandating laws are actually enforced to help offset some of these delinquency losses. However, the savings on employee cuts are not predicted to be as high as the first round of cuts or earlier estimates. Also, this could certainly hurt the growth possibilities of AXP. It appears that they are focusing on short term and are hurting their potential for growth in the future. The predictions for near term EPS numbers have been bolstered or at least reaffirmed, but many analysts feel that projected future numbers could suffer significantly.
Outlook
The stance that AXP is taking is extremely short-sighted. They have guarded themselves well in the near term, and their 2009 numbers have prospered. However, at what cost is this performance? Extreme job cuts as well as cuts to marketing and business services will definitely stunt growth or turn away prospective clients. It is important for a company to maintain a practical business operations, and while AXP shows exceptional short term promise, staying with or ahead of Visa and MasterCard, its future may have been sold short by its leaders.
- Joe Gallo
Disclosure: None.