As of late, upstream MLPs and their business models have come under attack from various short sellers and publications. Linn Energy (LINE) and LinnCo (LNCO) stock prices have both suffered as a result of these attacks. However, certain other upstream MLPs not named "Linn" have also seen their share prices decline.
One stock in particular seems to have been badly mauled -- QR Energy (NYSE:QRE). QR Energy has seen its stock price decline over 9% in the past few trading days, partly as a result of going ex-dividend, but also coinciding with the decline in Linn. QR Energy offers a $0.4875 quarterly distribution and at current prices yields about 11.70%.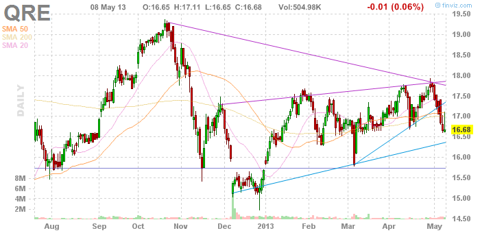 Click to enlarge
QR Energy assets are mostly located in the southern US, with a very small chunk located in Michigan. QR Energy has recently expanded into the Permian Basin and it now makes up 35% of production and proved reserves. The company has proved reserves of nearly 100 MMBOE, of which 75% are proved developed. The reverses are 68% liquids with the rest being natural gas.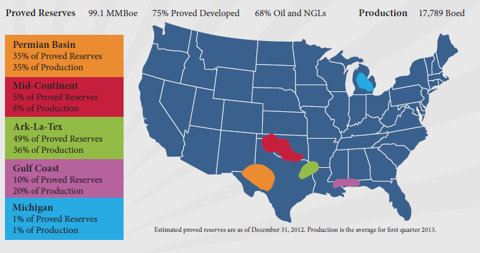 Click to enlarge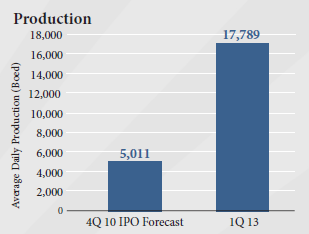 On May 8, QR Energy reported its Q1 2013 results. The company saw production of 17,789 BOE/D, an increase of 4% from Q4 2012 levels and 250% more than when it IPO'd during Q4 2010. The increase in production was mostly a result from the properties in the East Texas Oil Field acquisition. During the quarter, QR Energy's production mix was 57% oil, 31% natural gas, and 12% NGLs.
During the quarter, QR Energy generated revenues of $104.9M, an 8% increase from Q4 2012. These higher revenues were due to higher production and higher realized prices. Adjusted EBITDA came in at $63.3M, 11% lower than Q4 2012. This was caused by a 7% increase in lease operating expenses and a large increase in cash G&A expenses related to the expiration of a two year fixed-fee service agreement. However, QR Energy expects G&A expenses to decline during the 2nd half of 2013 as a result of its sponsor assuming a portion of the costs. During the Q1 2013 conference call, QR Energy's CFO Cedric Burgher added some color related to the G&A expenses:
Our cash G&A for the first quarter was $9.1 million and total G&A was $10.1 million, the $1 million non-cash expense was due to long term incentive unit awards to employees. We expect cash G&A to remain at the $9 million to $10 million level in the second quarter. For the full year we expect to incur $32 million to $35 million of cash G&A which implies that we will slightly lower cash G&A in the second half of the year as a result of our sponsored second plan which will assume a portion of the total G&A pool.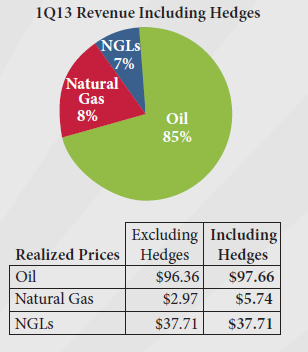 As a result of the decline in adjusted EBITDA, QR Energy also saw a decline in its DCF. During the quarter, QR Energy DCF decreased 18% to $32.0M from the $39.30M reported in Q4 2012. QR Energy also saw its distribution coverage ratio decrease to 1.0X, from 1.2X in Q4 2012. The decline in the coverage ratio and DCF are not good news for QR Energy. These are the most important metrics in upstream MLPs -- which are mainly income stocks. However, there is some good news coming. QR Energy expects the coverage ratio to improve during the 2nd half of 2013 due to increased production and lower G&A cash expenses. Below is the relevant quote from QR Energy's CEO Alan Smith:
Adjusted EBITDA for the first quarter was $63.3 million and distributable cash flow came in at $31.7 million for the quarter which resulted in a distribution coverage ratio of 1.0 times. While we don't give specific guidance on our distribution coverage ratio we do expect it to increase in the second half of this year due to the increasing production from our growth capital and an expected decrease in our cash G&A as a result of our sponsor second private fund which we will share in G&A expenses. Next week we will pay our tenth quarterly cash distributions to our investors which will be $0.4875 per unit.
Also included in the Q1 results was guidance for Q2 2013 and FY 2013. QR Energy expects production during Q2 2013 to range from 17,000 to 17,400 BOE/D while FY 2013 production is expected to range from 17,800 to 18,200 BOE/D. Lease operating expenses per BOE are expected to range from $20.50 to $22.50 during Q2 2013 and $20.00 to $22.00 for FY 2013. QR Energy expects maintenance capital expenditures to be $17M during Q2 2013 and $68M for FY 2013, while total capital expenditures are expected to be $33M in Q2 2013 and $90M for FY 2013. Cash G&A expenses are expected to range from $9M to $10M for Q2 2013 and $32M to $35M for FY 2013.
We can estimate the 2nd half of 2013 G&A cash expenses by adding the Q2 2013 midpoint of $9.5M and the Q1 2013 G&A expenses of $10.1M and then subtracting the non-cash Q1 2013 G&A expenses of $1.6M. Using these figures, we arrive at $18M for 1st half 2013 G&A cash expenses. Now, since the midpoint for FY 2013 G&A expenses is $33.5M, we arrive at $15.5M for 2nd half 2013 G&A cash expenses, or about $7.75M per quarter. Using this lower G&A cash expenses figure, the Q1 2013 DCF would have improved by $1M and the coverage ratio to 1.03X.

Click to enlarge
Conclusion
This is not the first time I have recommended QR Energy on weakness. Back in March I also suggested buying units in QR Energy after a sharp decline following its Q4 2012 earnings. QR Energy promptly regained its losses and has traded above $17.00 until this recent decline.
In my opinion, this a great opportunity for income investors to go long QR Energy, as it is one of the better hedged upstream MLPs out there, due to it having 100% of its 2013 and 2014 production volume hedged at attractive prices.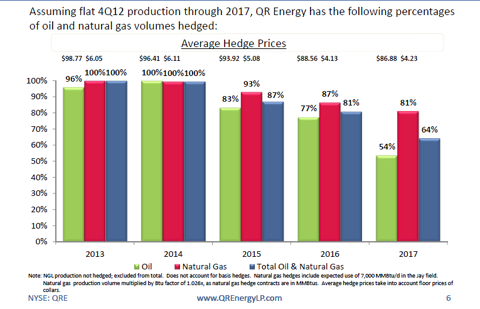 Click to enlarge
Disclaimer: The opinions in this article are for informational purposes only and should not be construed as a recommendation to buy or sell the stocks mentioned. Please do your own due diligence before making any investment decision.
Disclosure: I am long QRE. I wrote this article myself, and it expresses my own opinions. I am not receiving compensation for it (other than from Seeking Alpha). I have no business relationship with any company whose stock is mentioned in this article.
Additional disclosure: I may go long LINE.