Tesla Motors (NASDAQ:TSLA) has been a controversial stock since its debut in the capital markets. There have been far more naysayers than bulls, but this is to be expected whenever a disruptive product enters the marketplace. The question investors need to think about in order to intelligently analyze Tesla's market prospects is whether the automobile manufacturer is too progressive for the time. Is it a little too much too soon? I don't think so. In the article below, I will describe how investors should and should not view the company. I do not plan to do much of a deep dive into the technicals -- this piece will be mainly qualitative.
Future of the Automobile Industry
It is clear that global oil supply is finite, and the automobiles of the future will be fueled by a different source of energy than petroleum -- natural gas or electricity. Electric vehicles definitely win on cost, efficiency, and market adoption thus far -- they appear to be the future.
If one disagrees with the global oil supply premise, then read no further. There are intelligent arguments to be made on behalf of natural gas. Still, national policies, early infrastructure build, and market adoption thus far indicate that despite certain faults, electric cars will eventually be mainstream.
Tesla: Why the Critics Are Wrong
From the very beginning, the Wall Street critics have misvalued Tesla. The attempts to peg its fate to failed government-supported solar panel manufacturer Solyndra have proved to be misguided. Comparing Tesla to luxury car manufacturers like BMW or Porsche may appear more reasonable, but still not fully convincing.
The reality is Tesla is one of a kind, and there is no company to credibly evaluate it against in an apples to apples fashion. It's not totally a green play, not totally a general automotives play, and not just a luxury vehicle play. Tesla is a disruptor, a game changer, hence it's not easy to put real numbers on its future value.
These faulty valuations have led to Tesla's 44% short interest. The short squeeze is pending and if Tesla reports Q1 profits as expected, the shorts will be in for a ride (in an electric car).
Also, Tesla's strategy and technological processes have been far more innovative than it's so-called competitors. Elon Musk's decision to prove Tesla at the high-end market before the lower-end has been genius. This has allowed the company to develop a marquee brand equity that's allowed it to escape the fate of the Chevy Volt. Tesla has in-house technology development and a highly advanced battery technology that other electrical players like Fisker and BYD (OTCPK:BYDDY) don't possess.
The New York Times and other electric car bears have criticized Tesla's range. Although this is a legitimate concern, on average most Americans currently drive less than 50 miles daily and the future electric cars will have over ten times this range. Therefore, if you do acknowledge that electric cars are the wave of the future -- get behind Tesla because it is flying ahead of the pack.
The EV adoption rate should mimic the adoption curve for hybrids. Hybrid and EV sales in the US rose 73% in 2012 -- buyers looking to hedge against higher future gas prices should further drive demand into 2013.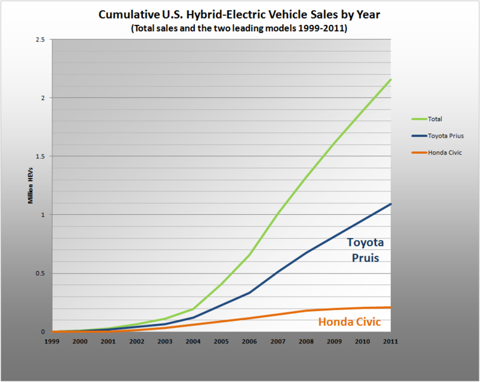 Click to enlarge
Finances, Brand Equity, Strategy Execution
Bearish critics point to Tesla's consistent net losses as valid data points to justify their hypotheses. This is a wrongheaded judgment that doesn't place enough faith in management's expansion strategy. If Tesla solely focused on the Roadster, the company could have forged an easier path to short-term profitability. However, the company is pursuing large scale expansion. By producing the Model S, they're significantly increasing their volume by 300-400%. Management can be forgiven for not turning consistent profits given this incredible growth trajectory.
Longboard Asset Management, an Arizona-based hedge fund, is very bullish on Tesla. In a presentation defending their investment merits, Longboard compares Tesla's brand equity and potential global dominance as on par with Apple (NASDAQ:AAPL). I don't see this as a stretch. Demand for the Model S has exceeded expectations. The more Model S vehicles on the road, the greater the brand equity will continue to grow.
Tesla's sales and marketing strategy has been noteworthy and will contribute to the brand's future success. By purchasing retail space in high traffic areas around the world, Tesla is pursuing efforts to develop and increase consumer affinity. Once Tesla introduces a vehicle that's affordable to the masses, they will be ahead of the game and will benefit from a ready-made consumer connection.
Conclusion
If you believe automobiles will eventually go electric, then Tesla's the best investment.
Disclosure: I am long TSLA. I wrote this article myself, and it expresses my own opinions. I am not receiving compensation for it. I have no business relationship with any company whose stock is mentioned in this article.