Many leading fund managers, including Wellington Management, SAC Capital Advisors and T Rowe Price Associates, filed forms 13-D and 13-G with the SEC recently, indicating that they had amended their ownership in U.S. exchange traded healthcare companies.
The 13-D/G reports are statements of significant ownership of more than 5% of the voting class of a company's securities, and they are also important due to their timeliness. While 13-F filings are quarterly, and are required to be reported within 45 days after the end of the quarter, 13-D/G's are required to be filed within ten days of the underlying transaction. Furthermore, 13-D/G's are often a precursor to a hostile takeover, company breakup or other "change of control" events, and will often include a letter to management explaining the reason for their taking a large stake in the company, thereby giving more insight into the transaction.
New York-based hedge fund Glenview Capital Management, headed by legendary manager Larry Robbins, and with $7.1 billion in 13-F assets, filed SEC form SC 13D on Monday indicating that it holds 37.76 million shares of Health Management Association (NYSE:HMA), adding 2.70 million shares to the 35.06 million shares that it reported holding at the end of Q4/2012. HMA is a favorite among the 300+ leading funds that we generate consensus picks data for on our website. Together, the 300+ leading funds added 10.99 million shares in the latest available Q4/2012 to their 133.38 million share prior quarter position in the company, giving it an overall GFPRank® of 4.2. GFPRank® is a proprietary and relative ranking system that numerically represents on a scale of 1 to 5 the attractiveness of the stock to leading fund managers based on their holdings, change in holdings, percent of outstanding shares and number of leading funds in the stock, as compared to the rest of the 5,200+ stocks in our database.
Among leading funds, the 22 healthcare sector-focused funds included in our database together are also bullish on the stock, adding 4.21 million net new shares in Q4/2012 to its 3.80 million share prior quarter position, giving it a SectorRank® of 5.0. Also, the 79 legendary or guru fund managers in our database together are also bullish on the stock, adding 15.90 million net new shares in Q4/2012 to their 27.34 million share prior quarter position, giving it a GuruRank® of 4.9. Also, subsequent to the end of Q4, leading funds have filed SEC forms SC 13D/G's indicating that they accumulated an additional 2.37 million net new shares since the end of Q4/2012.
Naples, FL-based Health Management Association is an operator of general acute care hospitals and other healthcare facilities, primarily in non-urban communities in the southern U.S. It offers a wide variety of healthcare services, including surgery, emergency room care, internal medicine, oncology, radiology, and outpatient services such as lab and x-ray work, and physical therapy. In its latest Q1 issued last Thursday, the company reported 13c in earnings, beating street estimates of 11c. The stock has rallied more than 70% in the past year, and currently trades near multi-year highs. At its closing price of $11.23 on Wednesday, it traded at 11 forward P/E compared to the 14.0 average for its peers in the hospitals group, while earnings are projected to rise from 75c in FY 2012 to $1.02 in FY 2014. Of the 25 analysts that cover the company, eleven rate it at buy/strong buy, twelve rate it hold, and one each rates it at underperform and sell.
With support from guru and healthcare sector-focused fund managers, HMA is trading at a discount to its peer group, while earnings growth is projected to be strong going forward. The company, along with its peers in the hospital group, is also expected to benefit from healthcare reform starting next year. At current prices, the stock has already pulled back from the rally earlier this year, and is an attractive buy at current levels.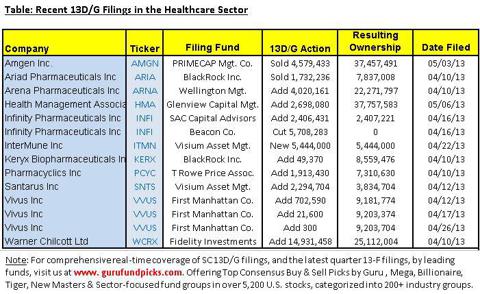 Besides HMA, the following are additional institutional 13-D/G filings last month in the healthcare sector (see table above):
Credit: Fundamental data in this article were based on SEC filings, Zacks Investment Research, Thomson Reuters and Briefing.com. The information and data is believed to be accurate, but no guarantees or representations are made.
Disclaimer: Material presented here is for informational purposes only. Nothing in this article should be taken as a solicitation to purchase or sell securities. Before buying or selling any stock you should do your own research and reach your own conclusion. Further, these are our 'opinions' and we may be wrong. We may have positions in securities mentioned in this article. You should take this into consideration before acting on any advice given in this article. If this makes you uncomfortable, then do not listen to our thoughts and opinions. The contents of this article do not take into consideration your individual investment objectives so consult with your own financial adviser before making an investment decision. Investing includes certain risks including loss of principal.
Disclosure: I have no positions in any stocks mentioned, and no plans to initiate any positions within the next 72 hours.
Business relationship disclosure: Business Relationship Disclosure: The article has been written by the Hedge and Mutual Fund Analyst at GuruFundPicks.com. GuruFundPicks.com is not receiving compensation for it (other than from Seeking Alpha). GuruFundPicks.com has no business relationship with any company whose stock is mentioned in this article.