At a feisty AGM this week, which made headlines around the world, some Nokia (NYSE:NOK) investors turned on Stephen Elop, CEO of Nokia demanding that he switch Nokia's focus from Windows Phone (NASDAQ:MSFT) to Android (NASDAQ:GOOG). I thought this debate had been laid to rest a long time ago, but since this argument appears unfinished, I have created a comprehensive list of reasons below of why Nokia should stick with WP. In the interest of fairness, I also have some reasons why it should switch which I begin with.
Reasons for Nokia to switch to Android
1. To Placate Investors - Whilst not all investors are strategists, it might be a truism to presuppose that all large investors consider themselves as such. If Nokia switches away from WP to Android, it will certainly appease a large segment of these overly vocal investors. It may also help senior management to keep their jobs. None of this is of direct commercial benefit to Nokia, but only to its management and the egos of some investors. If you think this is a poor reason for Nokia to switch to Android, you'd be absolutely right.
2. To use as a bargaining chip with Microsoft - Nokia now has a robust 80% share of the total Windows Phone market. This puts it in the dominant position by far in this rapidly growing ecosystem. However, if Nokia plays its hand badly, it can also become trapped by Microsoft which can then negotiate much more onerous terms which adversely affect Nokia's bottom line. One can thus imagine the platform support payments of $250m per quarter from Microsoft to Nokia disappearing and increases in WP license fees. It is thus in Nokia's interest to maintain a certain amount of independence and appear that it may consider leaving WP for Android. This will help it in any negotiations, especially if these red lines are backed up by Nokia revealing to Microsoft in confidence a 'Plan B' for how it would switch away from WP. I can therefore see little rumors emanating from Nokia regarding these plans. Do not take them seriously, they are only negotiation tactics.
Those are the only valid reasons I can think of. I know immediately people will feel I missed out some reasons, I would kindly ask any disagreeing readers to continue reading before they make their full judgment.
Reasons for Nokia to stay with Windows Phone
1. Nokia simply cannot change to Android, it has an exclusivity deal with Microsoft - This is the biggest and most fundamental point that all detractors of Nokia's strategy must factor in. No one except senior figures within Nokia and Microsoft know how long this exclusivity deal is, we also do not even know if it has clauses to enable it to be automatically extended by either party subject to certain milestones being hit. This deal was signed in April 2011 and is probably a 3 to 5-year deal to give both parties confidence in each other's commitment to the platform. Discussions are hence very hypothetical at this stage about the merits of Android. This brings us to point 2.
2. This is not 2011 but 2013 - There is a case to be made that perhaps Nokia should have gone with Android rather than WP back in 2011. Samsung (OTC:SSNLF) had not yet begun to dominate the Android ecosystem and Nokia may have carved out a profitable niche. That did not happen. That discussion is now only of relevance to corporate historians. It is of no relevance to the here and now. Past share performance does not matter. As investors, we only need to consider the future to see how much it will be of benefit to Nokia.
3. There is not a single successful handset maker which successfully runs two operating systems at the same time - Think of Apple (NASDAQ:AAPL), the most profitable smartphone manufacturer, it only runs iOS. Samsung derives the vast majority of its profits from Android. Then there are companies fighting hard to regain profits such as HTC (OTC:HTCKF), the original lead advertising partner of Microsoft for WP8, stating it won't launch a new WP flagship this year. Or BlackBerry (NASDAQ:BBRY) firmly committed to the QNX-derived BB10. If companies such as Samsung and Apple, which made a combined $16 billion in profits in the first three months of 2013 alone do not successfully run two operating systems at the same time; and their chief competitors do not either; why should Nokia attempt this? I know some investors will immediately reference Samsung's flirtations with Bada/Tizen. The reasons for this I believe are to serve as a mechanism to hedge risks for an incredibly well-capitalized company. Thus if Android takes a path that is sub-optimal to Samsung's ambitions, it has the ability to rapidly scale up on another ecosystem.
4. Operating Systems are not like car tires, they cannot simply be changed over - The presumption that Nokia can simply switch over to Android with minimal trouble bothers me the most. When one considers the heavy investment Nokia has undertaken to develop the WP Lumia line in terms of: hardware development; software integration; branding; marketing; capital investment; staff training; every single thing one can think of for developing a completely new product category; it would be near suicidal for Nokia to now switch over to Android and abandon these investments. Especially as they finally appear to be paying off with a projected consecutive 27%+ increase in WP Lumia sales for Q2 2013. I think thus that even the most strident of detractors would expect Nokia to continue selling WP in conjunction with Android especially when one considers the following chart.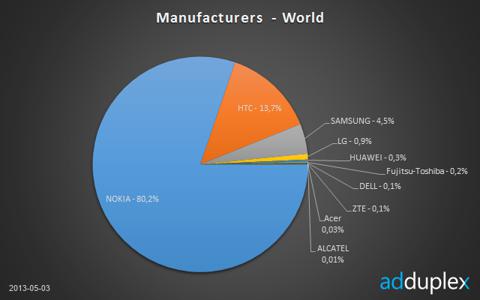 5. Considering points 3 & 4, How could Nokia differentiate itself on Android? So, if Nokia was to go with Android, we already know that it would be foolhardy for it to leave WP. Therefore, imagining hypothetically that it is trying to succeed with both operating systems at the same time, how could it differentiate itself? Nokia already has 60 exclusive apps on WP; it would thus have to duplicate its investments on Android to achieve this. This would in fact be even more problematic than it sounds as it wouldn't be able to introduce Nokia WP exclusives such as 'Viber' which are already freely available on Android. It would also have to invest in a new Android 'skin'. Otherwise, it would risk itself becoming a commoditized android handset manufacturer no different to the likes of Karbonn and Micromax, not the company Nokia wishes to keep.
6. Microsoft and Nokia's partnership deal is much deeper than using WP - Nokia is deeply integrating itself into the Microsoft ecosystem. This is through developing W8 apps, joint advertising with Microsoft; possibly developing Windows tablets; and integrating Microsoft functionalities such as Outlook into the Lumia line. Thus, if it was to attempt a foray into Android, Microsoft may immediately cold shoulder Nokia. If this were to occur, Nokia may well lose its dominant 80% share of WP sales. Thus in a few years' time, it could find itself a bit player in both Android and WP, not a future anyone wants.
7. The 10% of a bigger market fallacy - This is my personal pet peeve. I'm sure many readers have experience of the venture capitalist world. I have only limited knowledge, having interacted with it briefly academically and as an entrepreneur. What I do know is that it is a rookie mistake to search for a market size on the internet and to say the following: "This market is worth $XX billions, if we take just 10% of it, we will be worth $X billion." Of course, the real world is much more complex than that. Just because Android is a bigger pie, does not mean that Nokia is entitled to a piece of it. Whilst technically it is true that if Nokia gets 10% of the Android market, we can expect to see its share price increase by several multiples, getting from the PowerPoint slides to the execution is the issue. I hope some of the above reasons paint a picture as to why the execution would be very difficult.
Conclusions
I know this debate ignites a lot of passion. Many investors care deeply about Nokia. As a major component of Finnish GDP amongst many other reasons, this is very understandable. I would ask everyone to consider what is best for Nokia now. The Android debate should be laid to rest. With several Nokia product launches around the corner, including a new Asha, a new Verizon (NYSE:VZ) phone and a new camera phone, I believe that it is more helpful to consider if these phones are what will help Nokia get firmly back into the black. Of course, if you disagree or even agree with any of my points, I would love to hear your thoughts in the comments.
Disclosure: I am long NOK. I wrote this article myself, and it expresses my own opinions. I am not receiving compensation for it (other than from Seeking Alpha). I have no business relationship with any company whose stock is mentioned in this article.