The 13 closed end fund (CEF) types on average increased 2.6% the week ending 6/5/09. The S&P 500, as measured by the SPDR S&P 500 ETF (NYSEARCA:SPY), registered a slightly weaker performance, up 2.2%.
On an aggregate, unweighted basis, the weekly price increase for 641 CEFs was 2.1%. The weighted Claymore CEF Index registered an increase of 3.7% for the week. CEFs' aggregate, unweighted current distribution yield is 8.3% and is trading at a 5.7% discount.
The Eqcome CEF Fear Index declined as prices increased 1.1% greater than their related NAVs. This is in contrast to the 2.4% increase in the CBOE Volatility Index (VIX) which rises when the market declines.
Whether the VIX's performance is in response to last week's 11.4% plunge or indicative of renewed cautiousness on the part of institutional investors will be played out next week against a calendar of retail sales data.
Such data will give investors a better read on the status of the consumers who makes up 70% of the GDP.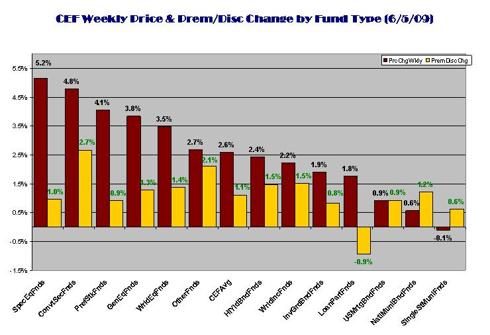 YTD Stealth Performance Puts CEF Discount at Historical Average: While the S&P 500 is up a modest 4.1% YTD, the CEF market segment has logged significant gains. The unweighted, average price has been 24.6% for 641 CEFs YTD, while the weighted Claymore CEF index is up 14.2%. The average discount has declined from 12.9% at the end of 2008 to 5.7%. The current discount is now at its monthly average calculated from the stock market trough of July 1982.
CEF Weekly Performance: With regards to CEF fund type performance, it was almost perfectly split by the CEF average with equity-oriented funds posting better than average results and debt-oriented CEFs underperforming. Special equity funds (SpecEqFnds), weighted heavily by real estate related CEFs (46%), was up 5.2%. Real estate funds were up 9.1%. This group is climbing the "wall of worry" as more "talking heads" lament that the commercial real estate disaster has yet to be visited.
Premium/Discount Changes: Included in the graph above is the related average fund type percentage change in the premium/discount ("prem/disc") from the previous week. The weekly changes in the fund types' prem/disc do not necessarily follow the same pattern as the price changes. This is because share price and NAV per share are independent and don't necessarily move in tandem.
The only CEF fund type that actually showed a weekly decline in its prem/discount was loan participation (LoanPartFnds). Since the fund type posted an average price increase, the related funds' NAV must have declined. This may be a function of higher interest rates and its impact on debt related valuations.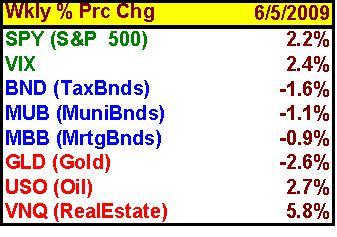 Weekly Comparisons: For sake of weekly comparison, the performance of the S&P 500 and the VIX presented a mixed picture and should raise our "antennae" with regards to a possible near-term correction. The debt segment of the ETF market posted negative results: Vanguard Total Bond (NYSEARCA:BND), iShares Muni fund (NYSEARCA:MUB) and iShares mortgage backed securities fund (NYSEARCA:MBB) registered price changes of -1.6%, -1.1% and -0.9%, respectively. Inflation fears may be causing a mute performance. The commodity segment of the markets was interestingly mixed: Gold (NYSEARCA:GLD) declined 2.6% in a failed attempted run at 1,000 per ounce, while oil, as measure by the US Oil ETF (NYSEARCA:USO), continued its upward climb (up 2.7%) in the face of rising inventories. Commercial real estate, as measured by Vanguard Real Estate Investment Trust ETF (NYSEARCA:VNQ) advanced by 5.8%.
CEF High & Low: For the sake of data points, LMP Real Estate Income Fund Inc. (NYSE:RIT), a real estate CEF, was up 19.9% last week. As previously noted, this group demonstrated broad strength. One of the worse performers of the week was First Trust Strategic High Income Fund (NYSE:FHI), a CEF that invests in junk bonds. It was down 9.5%. Last month, FHI's sub-advisor, Valhalla Capital Partners, LLC, tendered its resignation. It's more common to see sub-advisors fired, but a sub-advisor resigning can't be positive.
CEF Focus for the Week: Over the past couple of weeks Boulder Growth & Income Fund Inc. (NYSE:BIF) as been the focus stock. This has been based on a reasonable set of facts: a solid portfolio, a deep relative discount and continuous insider buying. Candidly, the stock has underperformed on a weekly basis. While I own and I'm still buying BIF on dips I'm confounded by its relatively weak near-term performance. While I believe that a reinstatement of the dividend would provide for the stock to respond positively, I'm uncertain when that event would occur.
A speculative contrarian play for the upcoming week would be a metal CEF, as the group sold off last week: ASA Limited. ASA owns stock of companies in the precious minerals business. It is sells at a 9.3% discount and is trading 24% off its 52 week high. Consider it food for thought.
Disclosures: Long SPY, ASA and BIF