As expected, ECA Marcellus Trust's (NYSE:ECT) 1Q13 distribution caught a number of investors off guard and the units were down ~10% yesterday. ECT announced a distribution of $0.443 per unit, down a whopping 35% sequentially from $0.682 as the subordinated protection expired and production declines continued. More importantly though, net income of $0.443 was down 15% sequentially and highlights the rapid decline nature of Marcellus wells, and how future distributions will also fall at a high clip.
The $0.443 distribution missed consensus expectations of $0.48 by 8% and was also 54% short of the targeted 1Q13 distribution of $0.95 in the initial IPO filings. Those are large misses with no future upside.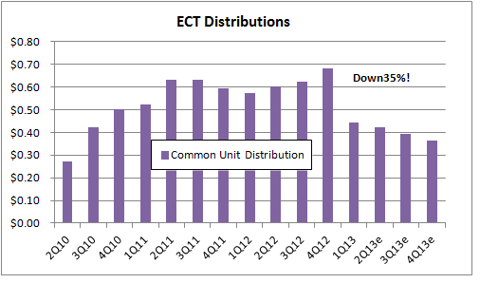 As a result, I've lowered my distribution assumptions (which are fit to a Marcellus type curve)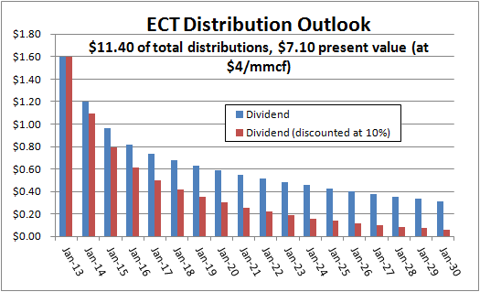 As a retail held product, the worst may not be over yet. Why?
As discussed in my prior article, ECT only has a $7.50 net asset value at $4/MMcf natural gas prices. Using a more lower discount rate, ECT is still only worth $8-9/share. Street analysts use lower discount rates and also assume a generous terminal value, but they still only arrive at NAV's of $9-10/share.(This is still 30% below where ECT is trading.)
Street analysts are waiting until the 10-Q is filed to updated estimates. Since the 1Q distribution fell short of consensus estimates by ~8%, numbers and ratings could be coming down very soon.
As a retail product, it might take weeks or months for the effects of the distribution and lowered outlook to set into the unit price. Lots of investors still look at trailing twelve month yield to determine purchasing decisions. This article, and my previous one, should help you avoid a value trap.
Disclosure: I am short ECT. I wrote this article myself, and it expresses my own opinions. I am not receiving compensation for it (other than from Seeking Alpha). I have no business relationship with any company whose stock is mentioned in this article.
Additional disclosure: I have the same position as before.