If you follow my SA experimental portfolio, you know that I've been long Whole Foods Market (NASDAQ:WFM) for some time now. I see this as a forward thinking, uniquely equipped company with a lot of room for growth. Whole Foods Market inspires passionate fan-fare among its customers and investors alike. The company is trying to change the way grocery stores do business, with its intense focus on sustainability and natural foods. This model, viewed by many as both daring and gallant (or silly and unprofitable, depending on the person), catches the market's attention-- to say the least.
Let's Start With The Bad:
I know the fear for investors related to WFM is that other grocers, especially those much larger companies like Wal-Mart (NYSE:WMT), are also moving into the health conscious food market, and consumers might be able to shop for the same healthy products at a much cheaper price. I do not agree with this expectation. I think that a company like Wal-Mart might not be willing to take a hit to its margins to sell organic or health-branded food-stuffs. On WMT's website, the company is very specific about its intent to offer patrons "affordable" groceries and goods. Until there is a more widespread demand for natural and organic food, these products will remain more expensive than their conventional counterparts due to the extra steps that these products demand throughout their product cycles: organics specifically require more man hours to farm and harvest, require segregation from conventional products once harvested, this segregation must continue through the processing and shipping process as well. Due to their small market share, advertising dollars for these products are currently less effective than those spent for the more main stream edible products. These facts put a company like whole foods at a disadvantage from the start. The company is able to make up for some of this because of the heightened morality that is associated with its stores (especially by those who shop there), but in the grand scheme of things, in regards to the grocery market, a drastic shift will need to occur before WFM is able to mature completely and be viewed as a truly defensible investment.
What I Like About Whole Foods Market:
I believe that the company is right when it comes to the future of food. Whole foods puts a local emphasis on many of its products and is able to create a community feel within its stores. I think that it takes a dedicated and passionate management team to be willing to commit to these sorts of products when there is so much monetary pressure coming from the more mainstream food producers such as Tyson Foods (NYSE:TSN), General Mills (NYSE:GIS), and Monsanto (NYSE:MON), just to name a few.
I think that WFM has put itself in a position to be the leader in the health foods movement. I like owning dominant players and consider WFM to be the best-in-breed stock for anyone interested in health foods. I think that this movement has credence moving forward, and I only expect the consumer base interested in the products that WFM offers to grow both domestically and internationally (the company currently owns stores in the US, Canada, and the UK).
I think that the company has aligned itself successfully with the general natural conversation movement with its motto: "Whole Foods, Whole People, Whole Planet" and its "sustainable seafood" and "animal welfare standards" initiatives. While many potential consumers may not agree with the company's environmental viewpoint and the fact that this grocery chain is willing to cut into its profits to pursue its mission and values, I think that many customers and investors appreciate this aspect of the company. It polarizes people to be sure, but I believe that WFM is on the right side of this trend and will win out in the long run.
John Mackey, co-founder and current co-CEO of Whole Foods and a man who I respect and trust as a business leader agrees, having said the following in the introduction to the company's second quarter results:
"The demand for fresh, healthy foods continues to grow, and we are leading the way as America's healthiest grocery store with close to seven million customers visiting our stores each week. We believe we will continue to gain market share as we accelerate our new store openings, improve our relative value proposition while maintaining our high quality standards, and further differentiate our shopping experience."
Now, Let's Take A Look At The Numbers:
The stock soared Wednesday, up over 10%, due to the overall positive nature of its Q2 results. The significant increase in sales, seemingly across the board for WFM, was the highlight of the Q2 results. Sales increased 13% YoY to just over $3 billion. The company saw increases in comparable store sales and identical store sales: 6.9% and 6.6% respectively. This higher sales trend abetted WFM's other financial figures. EBITDA totaled $305 million which translates to an 18% increase from the previous year. Net income also saw a double-digit increase: 21%, to $142 million (up from $118 million in Q2 2012).
WFM's EPS increased 19% to $0.76/share compared to $0.64/share in Q2 2012. This increase falls right in line with the company's YoY Q1 EPS growth of 20% (from $0.65/share to $0.78/share). The company's 2012 annual EPS growth was 30.61%. WFM's 5 year EPS growth rate is 14.38%. The 20% growth that we've seen thus far in 2013 implies continued strong growth for the company, which is why it demands such a high multiple premium: 35.0x earnings. It should also be noted that WFM changed its current 2013 fiscal year EPS outlook up, from 14-16% to 15-17%.
Whole Foods also announced an improvement of its margins. Gross profit for the quarter was 36.4%. This represents a 5 bps increase. The company cites "occupancy cost as a percentage of sales" as the major driving factor. With the costs of goods sold remaining flat, WFM was able to improve direct store expenses by 14 bps "due primarily to leverage in wages, health costs and depreciation."
Shareholder Friendliness:
Another thing that I like about WFM is the fact that Mackey has publicly stated that he will put his business first when compared to shareholders. This is not to say that he tends to be greedy. He believes that the best way that WFM can benefit its shareholders is to continue its growth which will justify the 35x P/E ratio that the company maintains. This trend continued in Q2, with Mackey spending 47% more on capital expenditures than he returned to shareholders. WFM spent $109 million on cap-ex in Q2, $61 million of which was spent in relation to new stores. WFM opened 6 new stores in Q2 and 1 thus in Q3, brings its total to 349. The company estimates that it will open 32 new stores in 2013 and 33-38 in 2014.
Below is a chart taken from WFM's Q2 results. I found this information very interesting and believe that it sheds a light onto the company's likely future success.

Click to enlarge
The company spent $74 million on shareholder returns (leaving $104 million in free cash flow after cap-ex and shareholder returns): $37 million on quarterly dividend payments and $37 million of share buy backs. I especially like this share repurchase program being that WFM experienced a pullback in Q1 and hadn't since recovered before the Q2 results announcement. These shares re-purchased were bought on sale compared to the current share price, this is how you continue to grow a business.
Whole Food's Board of Directors also announced as a part of the Q2 results that they had approved a 2-1 stock split. This measure will go into effect on May 29th, 2013.
The company currently pays a $0.20/share quarterly dividend. This represents a 0.86% yield on the current share price. The company increased this dividend by 43% in 2012 and paid a $2.00/share special dividend in Q1 2013. I feel confident that this dividend will continue to increase (though not at a 43% clip per year). I think that investors looking for dividend growth and who possess a stomach for risk (due to the market's growth expectations for WFM) can find great reward in establishing a long position in Whole Foods.
Long Term Stock Performance and Future Projections: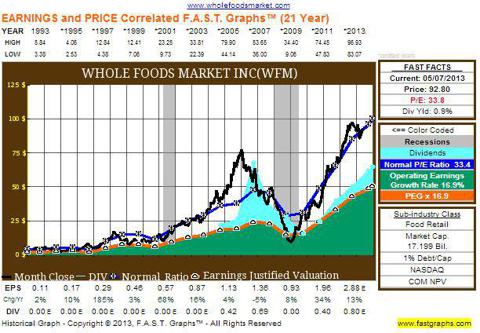 Click to enlarge
Being treated as a growth stock by the market, WFM's long term results can be misleading. As you can see if this F.A.S.T. Graph, the company's share price is rather volatile. However, when looking at the operations earnings, an investor's mind can be put at ease. This company has been consistently growing in that respect, and although the stock price does not always mirror this growth, I believe that over the long term this trend will even out and normalize, especially as the company matures and Mr. Mackey improves the company's reputation in regards to its dividend's security.
It should also be noted, that while the company's stock price more closely corresponds to the dividends paid, over the 21 year period shown in the graph the operating earnings growth rate and the annualized shareholder return with dividends reinvested over the period are identical: 16.9%. This is a very respectable long term return number and being that the company is still showing strong sales and net income growth, I see no reason why this company's stock won't continue to show shareholders a double-digit annualized return.
Below is the F.A.S.T. Graphs projections, which I personally view as conservative, but either way, WFM should be a nice place for investors to be in the foreseeable future. Eventually the shareholder return numbers will have to slow because of the fact that the market won't support such high P/E levels for an infinite period of time. I think this is the trend that F.A.S.T. Graphs is predicting with its estimation. I expect this company to continue its returns in the low double-digit range as it matures and stabilizes its dividend. I am also interested to see WFM's thinking in regards to international expansion. Right now the company is active in very few countries. It is focused on domestic growth but I believe the company is becoming large enough that it could begin to think about moving into other areas of the world where environmental conservation and personal health is a priority. I think that Whole Foods could attempt to gain ground in Europe, specifically as the overall economy of the region improves and this would continue to drive growth and outsized shareholder returns.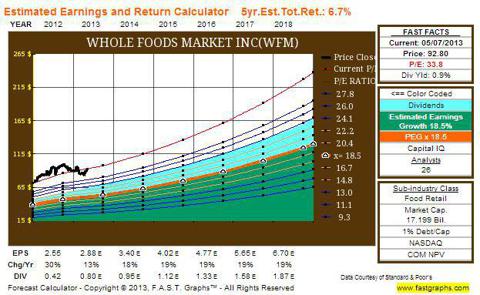 Click to enlarge
Disclosure: I have no positions in any stocks mentioned, and no plans to initiate any positions within the next 72 hours. I wrote this article myself, and it expresses my own opinions. I am not receiving compensation for it (other than from Seeking Alpha). I have no business relationship with any company whose stock is mentioned in this article.