In today's REIT marketplace, cap rate compression for most of the major asset classes is continuing. This is reflected in the fact that valuations for publicly traded REITs are going higher and show few signs of stopping. (see my article on cap rate compression here).
A market like this acts like a rising tide, which raises all boats (or REIT stocks). These stock market gains can be great for investors who currently own REIT stocks. However, it is easy for investors to fall into the trap of thinking that all companies are created equal and will continue to go up. On Wall Street, this is best described by the old adage that one should not "Mistake a bull market for stock picking ability."
As intelligent REIT investors, it is our job to look beyond Mr. Market's current sentiment to see what is coming next. As Warren Buffett has said about bull markets,
Only when the tide goes out do you discover who's been swimming naked.
Everyone looks good when the tide is coming in (or when we're in a bull market) but when the tide goes out, we see who has been swimming naked. For me, that means that we need to look underneath the current bull market trading to really understand which companies will stand the test of time and continue to pay defensive and stable dividends when the economy turns, or investor sentiment shifts away. We call these types of REITs "Sleep Well At Night" (or "SWAN") investments.
Healthcare Trust of America Returned Over 35% Since January
In an article on February 15, 2013, I recommended Healthcare Trust of America (NYSE:HTA) as a top healthcare REIT pick for my readers. Since this recommendation, the stock is up 17%, making it one of the top performing REIT stocks during this time period.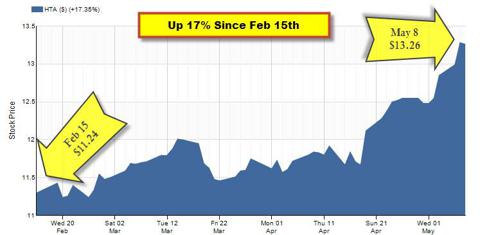 Even more impressively, this stock is up an incredible 35.6% since January 1st!
The important question to ask after a stock move like this is whether the company's fundamentals support the move. With REITs, we are given a quarterly scorecard to judge performance - earnings.
HTA's First Quarter Results
Yesterday, HTA reported its first quarter 2013 earnings. The results were everything an income oriented investor could want - steady, predictable earnings, with a side of internal and external growth. From an earnings perspective, the company was able to grow its normalized funds from operation (or FFO) by 23% per share. This was driven by a mix of strong same store NOI growth of 3.4% and the acquisition of high quality, on-campus medical office buildings in both 2012 and 2013. In 1Q13 alone, HTA acquired $88 million of assets at cap rates more than 1% above their current cost of capital.
On top of strong earnings, HTA also continued to position its company for long-term success by bringing an additional 2.4 million square feet of space onto its internal property management platform. The company now manages more than 85% of its portfolio with its internal platform, which helps its relationships with its tenants. HTA's leasing performance backs this up.
The company ended with approximately 91% occupancy and was able to retain almost 85% of its tenants who had expiring leases (compared to peers with retention rates in the low to mid 70% range). This stability in leasing is a hallmark of HTA and the medical office sector. (See my article on the ABC's of MOBs here.)
On the balance sheet front, HTA was active in positioning its portfolio for the future. It extended its debt maturities to an average of almost 6 years by issuing its debut public bond - raising $300 million in 10 year senior notes at a low rate of 3.7%. It was also able to raise around $100 million in equity at very attractive prices. With proceeds from this capital used to acquire properties, these capital raising activities were accretive to the company's overall earnings. They also allowed the company to maintain a very strong and conservative balance sheet that is positioned for the future. The rating agencies applauded these moves, with Moody's upgrading its outlook of the company to "Positive".
HTA Sports a Healthy Yield
When I look at a company's performance, I am evaluating its ability to maintain a steady and supportable dividend, and grow it over time. On this criteria, HTA's first quarter earnings could not have been much better and were truly "what the doctor ordered".
HTA has a current market cap of almost $3 billion with shares trading at $13.26. Driven by a very reliable high-quality tenant base, HTA pays a durable dividend of 4.34%. The P/FFO of 20.4 makes the mid-cap REIT moderately expensive; however, for income investors I argue that the dividend safety (what I consider the most important metric) is fairly valued. I think HTA has plenty of room to advance; however, I like HTA the most because I know I'm prepared when the tide goes out.
When the tide of Fed money starts flowing in the other direction, companies will be exposed to higher interest rate risk and many will be washed out to sea. I think it's important that we all consider the most important thing for sleeping well at night: Protect Your Principal at ALL COSTS. Knowing, then, that at some point interest rates will begin to rise and stocks will once again ride the volatile choppy waves of a sea in transition.
HTA is a Sleep Well at Night REIT with swim trunks tightly secured!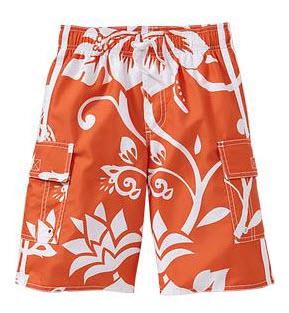 Disclosure: I have no positions in any stocks mentioned, and no plans to initiate any positions within the next 72 hours. I wrote this article myself, and it expresses my own opinions. I am not receiving compensation for it (other than from Seeking Alpha). I have no business relationship with any company whose stock is mentioned in this article.