There have been many fine articles on how dividend growth companies (and portfolios) fared in the Great Recession. There is tons of statistical analysis to consider. And many articles paint a rosy picture, as there were many great dividend aristocrats (companies that had raised their dividend for 25 straight years and counting) that held up very well and even increased their dividends from 2007 through 2009.
But while many dividend growth companies breezed through the recession, there were many more that provided a challenge to investors. And what will separate those who succeed and those who fail will be how they react to the stress of the stock picks that don't quite work out.
The Great Recession delivered the greatest period of dividend cuts and suspensions in over 50 years. In all of 2008, there were 61 cuts by S&P 500 companies totaling $40.6 billion in lost dividend income. From September 2008 through year-end 2008, a record breaking $23.4 billion in dividends were cut by S&P 500 companies delivering the worst year for the index historically. 2009 payments decreased another 21.4% or $52.6 billion from 2008. That was the worst year for dividend cuts on a dollar basis, and the worst on a percentage basis since the 39% cut in 1938.
And certainly much of the damage was done by the financials - it was a financial crisis at its core. That said, financials were mainstays in many dividend portfolios and many dividend and dividend growth investors had to navigate those dividend cuts, suspensions and eliminations. They also had to watch the share prices fall at a precipitous rate. Some investors saw the writing on the wall and were able to exit positions before much of the damage was done, some investors had crystal balls that were a little more foggy. And certainly the rot spread from financials to many other once-stable dividend payers.
SA author Robert Allen Schwartz did a wonderful article here that detailed how the dividend champions made it through the Great Recession. Of course the champions are some of the sturdiest of the DG bunch having raised their dividends every year for 10-25 years.
Here are some of the highlights or general findings from Robert's extensive research. At the time there were 139 dividend champions.
A total of 88 companies out of 139 increased their dividends from 2008 to 2010. A total of 99 companies out of 139 increased or maintained their dividends from 2008 to 2010.
Yet throughout that period, dividend growth investors had some tough decisions to make. 51 of those companies throughout that period experienced at least one dividend freeze, dividend reduction or dividend elimination. 37% of all dividend champions forced dividend growth investors to make a tough decision. And in the next correction many dividend growth investors will have to decide what to do with many of their holdings that reduce, freeze or eliminate their dividends.
It's a great idea to have a plan going into the next correction. As a dividend growth investor you will likely cut loose a company that eliminates its dividend. From there, you might have more patience with a company that has treated you well over the years and has frozen its dividend payment. Companies that reduce their dividend might offer up some tough decisions. You may feel loyal to companies that have treated you well over the years. Will that loyalty be a help or a hindrance? As we all know, emotion can be an investor's worst enemy.
But even if you have a "policy" of removing a company from your portfolio when it cuts its dividend, by then, it's often too late. Let's take a look at a former popular dividend stock - General Electric (NYSE:GE). By the time GE cut its dividend in February of 2009 GE's stock price had already fallen by about 80% from its recent peak (of the period).
And let's look at Harley Davidson (NYSE:HOG), owners of one of the coolest ticker symbols on the planet. The wheels also temporarily fell off of Harley and its stock price experienced a steep decline. By the time Harley reduced its dividend by two-thirds in April 2009, the stock price had fallen by some 90%.
Certainly, investors will have to be reading other tea leaves along the way. Would this have been enough to scare you off? Here's what Harley had to say at the end of 2008.
Revenue for the full year 2008 was $5.59 billion compared to $5.73 billion in 2007, a 2.3 percent decline. Full-year net income was $654.7 million, compared to $933.8 million in 2007. Diluted earnings per share were $2.79, a decrease of 25.4 percent compared to $3.74 in 2007.
Revenue was slipping a small percentage, earnings were being hit pretty good. Where will you draw the line in the next correction?
And falling stock prices bring us to another issue on portfolio management. How will you react to falling prices even in the stocks that maintain their dividends. Many dividend growth writers and readers on Seeking Alpha are new to the concept of investing, or new to investing in an equity-heavy portfolio. Dividend growth portfolios are all stocks of course and all stocks fall hard in a correction. Dividend stocks may be one notch lower on the risk scale than the total market, but it's still an investment style that carries a lot of price volatility, or risk.
Here's the Dow Jones Select Dividend Index (NYSEARCA:DVY) chart and how it responded to the financial crisis.
We can see that many of the dividend staples took a big hit in price terms. A dividend growth investor also has to be prepared to witness a 50% (or more) decline in their portfolio value. Many dividend growth investors have embraced the philosophy that it is only important to keep an eye on the dividend stream, and largely ignore the price swings. But if they have not been through a market correction, they cannot be certain that they will be able to navigate (emotionally) through a stock market correction. As Dan Bortolotti, the author of canadiancouchpotato.com writes "asking investors to predict their risk tolerance is like asking them how long they think they can hold their hand in ice water". You don't know, until you stick your hand in the ice water. The icy stock prices cometh, and they will finally have their answer.
In preparation an investor should consider some hypothetical numbers to test their tolerance for risk. How will you feel if your $100,000 portfolio quickly slides to $50,000 in value? Will you be content to focus on the dividends and income stream? But remember, even those dividends are being challenged. You have falling stock prices, and a significant number of your holdings freezing, cutting or eliminating their dividends. You will be hit on both ends of stock measurement - price and income streams. It will be a trying time and it will require a large percentage of your free time if you have a large number of individual holdings.
Of course the scenario I've outlined is much different from the one some dividend growth writers have painted in SA articles. A recent article cherry picked a few consumer staples and showed that they held up quite well during the recession. And then the author suggested that most dividend growth investors avoid financials, tech and cyclicals. Huh? Scan articles and dividend growth lists on SA and you'll quickly discover that's not the case. And heading into 2008, financials were popular dividend payers, and widely held. It may be true now that dividend growth investors largely avoid financials, but that's a little too late. And perhaps financials now hold value as they are not in favour? No one can predict the future, perhaps it is consumer staples that will be hard hit in the next major market correction? We simply don't know. And that's why diversification is always a must in my book. If you plan your portfolio by looking at the disasters in the rear view mirror, you might end up in a head on collision.
Who knows what particular sector will hold up in the next correction? Who knows if there will be a sector that holds up in the next correction? Guessing might be dangerous. Every correction has its own unique causes and quirks.
If you re-evaluate your own risk tolerance and decide that an equity-concentrated portfolio may not be right for you in the next correction you can certainly lower the volatility of your portfolio. The most common shock absorber of course, is bonds. You could also add another popular asset class that offers some protection and that's gold. Though many suggest you keep the gold concentration to 10% or less. The easiest way to buy a diversified basket of bonds is through an ETF. You could purchase a broad based bond index such as (NYSEARCA:AGG) iShares Core Total U.S. Bond Market ETF.
By adding 40% bond exposure, the chances of a 20% annual portfolio correction would be very minimal. With that traditional balanced asset mix, there was only one occurrence of a 20% plus annual retracement over the last 70 years. That said there could have been some intra-year swings above that 20% threshold.
Here's a chart showing a 50/50 split of AGG and the Dow Jones Industrial Average (NYSEARCA:DIA) in equal amounts through the last correction.
We can see that the market fell by over 60%, the AGG/DIA portfolio fell by a percentage just above 20%. The bond exposure helped limit volatility by about two-thirds.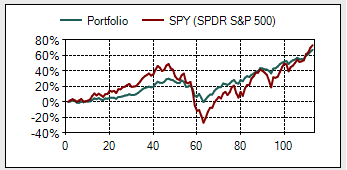 Could you make more income and greater total returns by sticking to your DG strategy? Maybe. Maybe not. Very long-term market history tells us that we make more in equities. And as I demonstrated in this article, dividend growth stocks with a low payout ratio can outperform the broader market. There's certainly no guarantee of that in the shorter term. And that comparison or argument is a moot point if you are unable to handle the volatility of an equity rich portfolio. You will lose a considerable sum if you are unable to hang on during a correction and choose to follow the familiar pattern of individual investors who largely buy high and sell low. The most important part of any investment strategy is being able to stick to that strategy. And when the going gets tough in the markets, emotion rules the day.
Closing thoughts.
We don't know when there will be another major correction. But it will come. It always does. It's best to have a plan. Portfolios are relatively easy to manage in a bull market, even this short term bull we are experiencing. But a severe market correction is the great equalizer. Those with an action plan will be better prepared to navigate the rough waters. There will be winners. And unfortunately there will be many losers, even among the most dedicated dividend growth investors and SA readers.
As the Boy Scouts say "Be Prepared".
Disclosure: I am long DIA, TRP, ENB, EFA, EWC. I wrote this article myself, and it expresses my own opinions. I am not receiving compensation for it (other than from Seeking Alpha). I have no business relationship with any company whose stock is mentioned in this article. Dale Roberts aka cranky is a Streetwise Coach at ING Direct Mutual Funds. Streetwise Portfolios offer Canadians low-fee, complete, index-based portfolio options. Dale's commentary does not constitute investment advice. The opinions and information should only be factored into an investor's overall opinion forming process.