Verizon Communications, Inc. (NYSE:VZ) shares have enjoyed a major rally from about $41 in early 2013 to over $52 today. Just look at the chart below to see a nearly parabolic-like run in this stock which is now very extended and well-beyond key support levels. Taking advantage of pullbacks in stocks with cheap valuations makes sense and this is often labeled and viewed as a "buying opportunity". Conversely, selling stocks that are at rich valuations and extended beyond key support levels can also be a great "selling opportunity", and that is what I believe Verizon shares are offering investors now, a great chance to sell and take profits.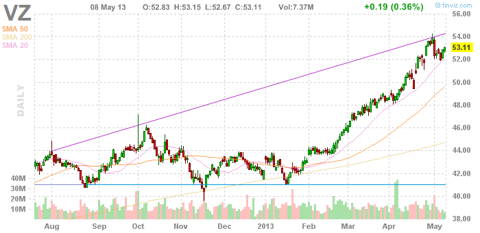 As the chart above shows, Verizon shares have seen a huge gain this year as investors reach for yield in familiar names. However, this is starting to look like a bubble forming and investors could find themselves losing a couple of years worth of dividend yield very quickly if the stock experiences even a normal pullback. Verizon shares are extended beyond key support levels which include the 50-day moving average which is at $49.33 (as indicated by the orange trendline), and even further beyond the 200-day moving average which is $44.64 (as indicated by the light brown trendline on the chart). In a market correction or if Verizon were to report negative news, or possibly disappointing earnings or weak guidance, the stock could be heading back down towards those key support levels.
While it might be tough for investors to consider selling a stock that has been outperforming, it might be a lot easier after considering that typically slow growing telecom stocks do not tend to command the massive premiums we see today. A Barron's article details the huge expansion in the price to earnings multiple of telecom stocks over the past few years, it states:
When this bull run began in March 2009, telecom stocks fetched just 9.2 times what phone companies had earned over the preceding 12 months, according to data from Bespoke Investment Group. By last week, that had jumped to 23 times -- the biggest increase of any sector excluding financials, and a sign that telecom stocks are rising much faster than their earnings.
This indicates that investors are now paying more than twice the historical price to earnings multiple average. While this might be fun now, when interest rates are "normalized" and investors can get safe yields that are similar or even better than the dividend yield offered by Verizon today, these shares could "revert to the mean" in terms of price to earnings valuation and leave investors with major losses.
Analysts expect Verizon to earn $2.80 per share in 2013. That puts the price to earnings ratio at nearly 19 times earnings. This is a premium of about 15% when compared to the average stock in the S&P 500 Index (NYSEARCA:SPY) which currently trades for about 15.5 times earnings. Verizon also appears overvalued when considering that it trades for about 4.5 times book value which is $11.64 per share. This is a major premium of nearly double the average S&P 500 Index stock which trades at just about 2.43 times book value. With the dividend yield now below 4% and with multiple signs of overvaluation for Verizon, this appears to be a great time to take profits and sell at historically high valuations.
Here are some key points for VZ:
Current share price: $52.05
The 52 week range is $40.10 to $54.31
Earnings estimates for 2013: $2.80 per share
Earnings estimates for 2014: $3.22 per share
Annual dividend: $2.06 which yields 3.9%
Data is sourced from Yahoo Finance. No guarantees or representations are made. Hawkinvest is not a registered investment advisor and does not provide specific investment advice. The information is for informational purposes only. You should always consult a financial advisor.
Disclosure: I have no positions in any stocks mentioned, and no plans to initiate any positions within the next 72 hours. I wrote this article myself, and it expresses my own opinions. I am not receiving compensation for it (other than from Seeking Alpha). I have no business relationship with any company whose stock is mentioned in this article.