Millipore (MIL) provides products and services to the life sciences and pharmaceutical industries. Europe, its largest geographic market, produced 43% of 2008 revenues. The Americas and Asia generated 39% and 18%, respectively. Customers include biotechnology, pharmaceutical and life science companies; contract drug makers; hospital laboratories; clinical and academic research laboratories; and beverage companies.
The Bioscience division produced 45% of 2008 revenues. It offers innovative products and technologies geared toward improving laboratory productivity and work flow. The majority of revenues in this segment come from the sale of consumables such as reagents, antibodies, and other molecular biology tools used to purify, prepare, and screen biological samples. These products are often sold in pre-validated kits that include all disposables and protocols needed to conduct a particular experiment. Other products include water purification systems, filtration devices, and bulk reagent kits for performing complex analyses.
The Bioprocess division generated 55% of 2008 sales. It offers tools and services for the commercial production of bioengineered and pharmaceutical substances such as biologics and vaccines. Products include consumables such as fatty acid supplements, recombinant insulin, bovine serum, albumin, and other growth factors that improve the ability of cells to produce proteins efficiently; gene expression technology that allows for faster screening and isolation of highly productive cell lines; filtration, purification, and chromatography technologies used to clarify, concentrate, purify, and remove contaminants from biologics, synthetic pharmaceuticals, and beverages; and sampling and testing products and services to monitor the safety and purity of drugs. Life science research has become among the fastest growing clinical fields.
The increasing complexity of new therapeutics has increased demand for products and services that can handle, reduce, and simplify the experimental workflow. Protein-based biologics, which are derived from living organisms, represent the fastest growing segment of the overall drug industry.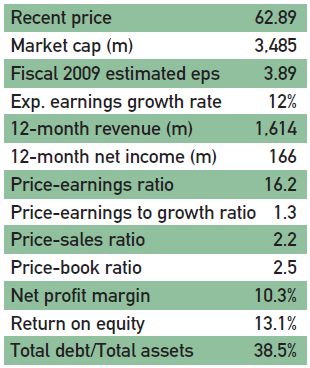 Furthermore, customers prefer disposable (i.e., single use) technologies that eliminate the need for sterilization and minimize the risk of contamination. Thanks to these trends Q1 revenues rose 3% yearover-year to $407.9 million. Revenues grew 10% in local currencies with the Bioscience division up 6% and Bioprocess up 13%. The adjusted operating profit margin, which excludes acquisition-related items, improved 314 basis points to 22.23%. Adjusted net income jumped 33.48% to $59.2 million or $1.06 per share.
MIL is not entirely recession proof. Customers may be forced to reduce research budgets. In addition, regulatory and legal factors could terminate the production of certain therapeutic products. Competitive factors could cause customers to adopt alternative technologies or reduce production volumes.
Despite such risks, we are bullish on MIL's prospects. Over 90% of revenues come from consumables. With roughly 2,800 biologics in various stages of development, demand should remain steady. New products such as the Mobius FlexReady Solution capitalize on the trend toward disposable technologies. Comprised of the company's Flexware single-use filter assembly and process-ready hardware systems, it helps reduce customers' costs.