Summary: Over the past two years, investors have been favoring stocks that make their money inside the USA. In fact, Thomson Reuters discovered that 150 of these S&P 500 index members produced a total return of 15% versus the S&P 500's 12%. Companies on the "Sold in the USA" list include CVS Caremark (NYSE:CVS), in consumer staples, and Southwest Airlines (NYSE:LUV) and Union Pacific Corp. (NYSE:UNP), in the industrials sector.
As the market makes new highs on the year, stock picking winners are dominated by more conservative sectors. These include utilities, telecom services and consumer staples. Yes, consumer discretionary (including housing and retailing) and financials are also outperforming, but there's something else that these sectors have in common -- their revenue source is almost exclusively inside the USA. Although the market leaders and laggards have somewhat reversed in late April into early May, the past two years have shown this move to be temporary.
"Sold in America" outperforms
Our October 26, 2012 analysis of companies that earn at least 95% of their revenues within the USA revealed a list of 150 stocks that have outperformed the S&P 500. On a 2013 year to date basis (through May 1), their total return beat the S&P 500 -- 15% vs. 12% -- and 31% to 21% in the past two years.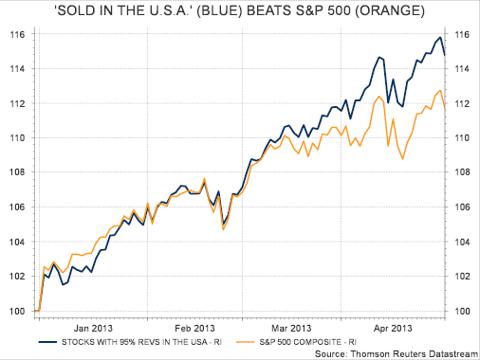 Click to enlarge
(Click to enlarge)
Why do these types of names remain popular? Some likely reasons:
Higher confidence in the U.S. economy, punctuated by an encouraging April jobs report. In comparison, China's economy is slowing and Europe is still in recession.
Earnings for U.S.-focused companies may be perceived as less volatile.
"Sold in the USA" stocks carry an attractive average dividend yield of around 2.7% compared to around 2% for the S&P 500.
One side effect of the "yield grab" and move to more defensive names is that stock valuations in some consumer staples issues are being pushed to their limits. And the larger financial sector stocks are growing their dividends again, as they recover following the global financial crisis.
Attribution analysis
Our "Sold in the USA" list is overweight in most of this year's winning sectors, and underweight in some key losing sectors (see table below). In a market rally where defensive companies have been rewarded, two thirds of the names have beaten the S&P 500 in price change even before dividends are considered.
The three top overweights come in sectors which have all outperformed so far in 2013 (see chart) - financials (+13% overweight), telecom services (+11%) and utilities (+10%). That's before adding in consumer discretionary (+2% overweight) which is the second best performing sector as of May 2.

Click to enlarge
(Click to enlarge)
The list wins on the underweight side as well, with information technology almost 17% underweight, including no holdings of Apple (NASDAQ:AAPL) which gets only 39% of its revenues from inside the USA.
USA list strengths and weaknesses
These companies carry a mix of fundamental pros and cons, compared to the S&P 500:
Stronger forward 12-month earnings growth forecast (9.9% vs. 9.3%) but weaker forward 24-month earnings growth forecast (10.4% vs. 10.8%), though these are subject to change as analysts update their forecasts.
Higher forward 12-month revenue growth (4.3% vs.3.2%) and in-line forward 24-month revenue growth (4.2%).
Lower earnings retention rate (50% vs. 70%) possibly due to the higher concentration of higher-yielding sectors such as telecom services and utilities.
StarMine SmartEstimate change in this fiscal year's earnings is higher in the past 30 days (+0.3% vs. -0.6%).
Lower return on equity (ROE) numbers for the prior year (10.4% vs. 15.3%) and the last reported quarter -- mostly 4Q2012 (11.0% vs. 13.7%).
USA-centric companies with lower yields
What if the dividend play gets tired? Consider a subset of companies whose yields don't compete with the current 1.7% 10-year Treasury yield, but who also possess reasonable financial strength among U.S. peers, as well as no glaring deficiencies in other StarMine model ranks. They include:
CVS Caremark , which currently yields 1.5% with a total return of 67% over the past two years and holds some of the stronger financial ratios among all US stocks.
Southwest Airlines , which is up strongly for the year, but Intrinsic Valuation and Relative Valuation model analysis shows the airline remains attractive. A StarMine SmartEstimate report shows a five-year analyst earnings compound annual growth rate forecast of 19%. Only about 14% growth is already reflected in current market pricing, using same model and solving backwards for growth.
Road and rail carrier Union Pacific remains of average valuation even after doubling in price since October.
Final thoughts
As long at the U.S .shows stronger signs of recovery than China and Europe, investors should probably look at stocks whose revenues come mostly from within the USA -- with or without a competitive dividend to the 10-year Treasury yield.
Disclosure: I have no positions in any stocks mentioned, and no plans to initiate any positions within the next 72 hours. I wrote this article myself, and it expresses my own opinions. I am not receiving compensation for it. I have no business relationship with any company whose stock is mentioned in this article.