In early March when the Dow Jones Industrial Average (NYSEARCA:DIA) surpassed its 2007 high, I wrote an article comparing the index composition and relative valuation versus the previous peak. The Dow Jones today compared quite favorably to its former self. With another important milestone crossed Monday, the first close of the Dow above 15,000, this article simply looks at the time length between when new handles have been reached on the Dow historically.
It took 2,045 calendar days for the Dow Jones to move from 14,000 to 15,000, a price return of just 7.1%. Comparatively, it took only three-quarters of the time of the for the Dow to move from 2000 to 3000, a 50% price return.
After the Dow first went over 10,000 in 1999 to when it first reached 11,000 was a mere 35 days, but the move from 11,000 to 12,000 would take over seven years as the Dow tanked after the tech bubble correction and economic recession in the early 2000s.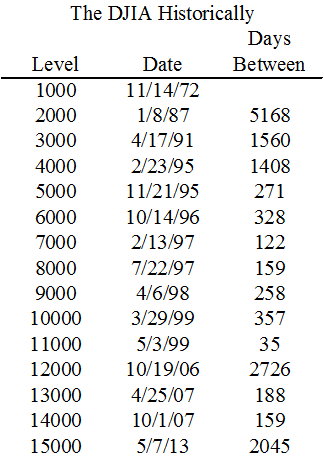 Previous articles have shown that the Dow at its new peak is still conservatively valued relative to its last peak, and that this equity market rally appears to be more broad and sustainable than when we have reached previous local market peaks. I would put more substance behind these analyses than the observation that the index handle changes tend to be clustered together. Before the market corrected in 2007, we saw three new Dow handles in that rally. With 15,000 in the rearview, when will the graph below reach 16,000?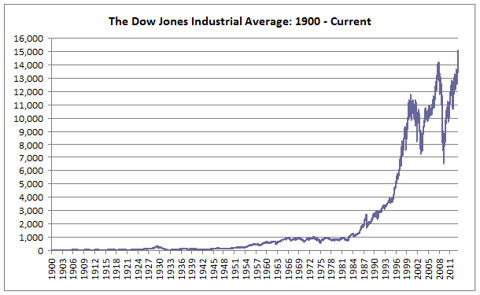 As I have written previously, these market milestones are a nice reflection point on a long investment path. However, it is prudent to occasionally stop and look around and gauge relative valuation. This year's advance has been largely a function of multiple expansion and not a positive revision in earnings expectations. With 26 of the 30 Dow components reporting results so far this earning season, earnings growth has been roughly flat and top line revenues are down roughly five percent. The trailing one-year P/E multiple on the Dow is at 14.6x, inching toward its twenty year average, but still roughly two turns lower than at year-end 2007.
Over 2,000 days from our last handle change on the Dow, we are likely to see continued mergers and acquisitions that spur market advances, continued share repurchases by the cash-rich balance sheets of blue chip companies, and retail dollars that have been out of the market return with buoyed confidence to further boost valuations. Headwinds do remain. Global economic growth remains in the doldrums. Economic and fiscal integration in Europe remains a long, unfinished process. Geopolitical uncertainty in the Middle East and on the Korean Peninsula lurks in the background. Despite these necessary factors to discount against equity valuations, American companies are stronger today than they were at 14,000 on the Dow in 2007, and remain more conservatively valued today even after the strong rally. Dow 16,000 could be reached as early as the first quarter of 2014.
Disclosure: I have no positions in any stocks mentioned, and no plans to initiate any positions within the next 72 hours. I wrote this article myself, and it expresses my own opinions. I am not receiving compensation for it (other than from Seeking Alpha). I have no business relationship with any company whose stock is mentioned in this article.