Undoubtedly, you've heard of Google (NASDAQ:GOOG) Glass already, but for those of you not in the know, Glass is Google's wearable computer prototype that you can wear like a pair of glasses. Google is expecting Glass to launch in early 2014 at a price point of "somewhere between $200 and $600."
Google shareholders are hoping that with new products come new revenue streams, and many are holding through these all-time Google highs to wait and see if Glass can push Google even higher. I contend that it may be time to take profits in Google, and that I'm more excited about its Fiber program than I am about Glass.
(click to enlarge - photo credit to dogtownmedia)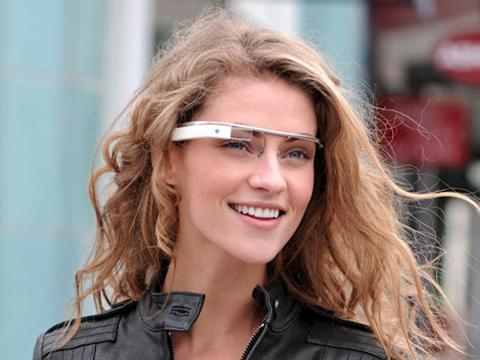 For those not in the know, Glass is a wearable computer with a display that mounts on your head. It's being researched and developed by Google, who intends on producing it en masse. It takes voice commands and uses a hands-free format. Google is currently working on partnerships with several sunglass retailers, like Ray-Ban, to put out products together.
Google Fiber, on the other hand, is a bit bigger of a project. Fiber is basically a project to build an experimental streaming internet infrastructure using fiber optic. It can currently be found in Austin, Kansas City, and Provo.
A couple of weeks ago, I wrote about Google's Fiber and was told by many Google fanatics that I was overlooking Glass, which could be on the mainstream horizon a lot quicker than Fiber. Glass is currently beta testing, Fiber is currently at step one of about a trillion of a massive nation-wide rollout. Glass is due in 2014, Fiber...well...isn't.
I'm still contesting that Fiber, of the two, is going to be the dominant new force for Google; I still contend that Fiber is Google's ace in the hole. Although I'm keeping an eye on Glass (pun intended), from a Google shareholder perspective I'm much more interested in the financial benefits of something like Google's fiber optic network versus the Glass project. With both projects running full force gale, the repetitive revenue potential of Fiber will dwarf that of Glass.
The futuristic concept for Glass isn't entirely new. Just as we've seen optical devices being used in movies from "Hackers," to "Robocop" and "The Terminator," Google Glass starts the very first step down this road of eye-wear and computer integration: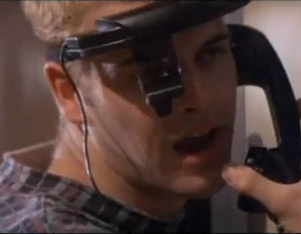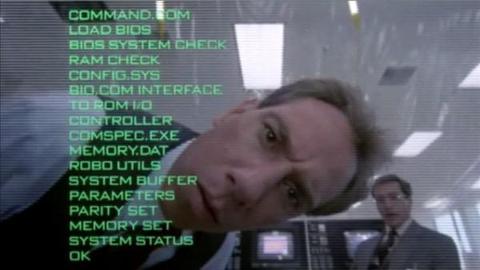 However, the product hasn't launched yet and it's already garnering some push-back. I learned years ago that no press is bad press when you're trying to launch a new product, however, there seems to be a whole downside potential to the upcoming Glass product that a lot of Google fans (like myself) have never thought about.
Like Spider-Man's uncle once said, "With great power comes great responsibility." The same reasons that Glass is going to be awesome to have on you at all times are the very same reasons that a lot of Glass critics are already banning them from their places of business or concerning themselves with exactly where they are not going to be allowed to be worn.
A New York Times article points out:
The glasses-like device, which allows users to access the Internet, take photos and film short snippets, has been pre-emptively banned by a Seattle bar. Large parts of Las Vegas will not welcome wearers. West Virginia legislators tried to make it illegal to use the gadget, known as Google Glass, while driving.

"This is just the beginning," said Timothy Toohey, a Los Angeles lawyer specializing in privacy issues. "Google Glass is going to cause quite a brawl."

As personal technology becomes increasingly nimble and invisible, Glass is prompting questions of whether it will distract drivers, upend relationships and strip people of what little privacy they still have in public.
Before getting too excited about the prospects of Google Glass, think of all the places you may not be able to use them in the future: driving, casinos, schools & universities, bars, clubs, etc.
Of course, you could make the same argument for laptops or cell phones; no one is going to let you roll up to a blackjack table with a portable computer, no one is going to let you use the internet when taking a college final exam, talking on a phone while driving is already illegal almost everywhere. So, I'm not saying Glass isn't going to be popular eventually, I'm merely stating that there's going to be some push back, and I think that's been overlooked thus far.
While I no doubt think that things are going to be moving in the right direction and that Glass-like products are going to definitely have their place in the future, I'm not counting on the first version of Google's Glass project as being the savoir for Google's growth in 2014 like a lot of longs are doing.
Google is doing the right thing and getting some market research done as they test Glass on about 8,000 hand-picked beta testers, as the first version of this technology could not be immediately well received. Now, compare this with the benefits of Fiber, as it comes on. Internet access is something already in most homes that most people are familiar with, and streaming is already something that people are needing more bandwidth for - there's nothing to "figure out" about it.
I made this argument in a previous article about Fiber:
Absolutely everything is going to be streaming in the future, which is going to require massive amounts of bandwidth. Your cable is basically going to be streaming internet cable with a hard drive used for DVRing and recording programs. Your TV, internet, music, Blu-Ray, and all media will all link back to one controller. If you download it on your computer, it's going to be available in HD on your TV.

This is one reason I'm convinced that Apple (NASDAQ:AAPL) is going to put out a TV. When they started down the "i" path (iTools, iMac, iPad, iLife), the ultimate goal was 100% media integration with computing. This is why your iPhoto works seamlessly with iMovie and iTunes, and they all work with your Apple TV. Soon, everything will be based from one master controller, which is going to make ordering channels, programming and movies on demand extremely easy.

It's also going to require a ton of bandwidth. One dedicated stream usually requires about 5mbps to go on without interruption. If you're going to be streaming and downloading music in one room, while a family member watches a movie in another room, and another family member plays Xbox live in another room, you're going to need super fast internet. 1 gbps solves any potential bandwidth problem with the streaming media centers of the near future.
Basically, Google is just offering much faster service at cheap prices. Sure, the roll-out of Fiber is going to be extremely slow and cost an immense amount of money, but Fiber has more of a chance to be a grand slam for shareholders in the long run.
With the way Google has been trading lately, I'd contend that if you're holding long simply to see how Glass pans out, it might be a time to take some profits: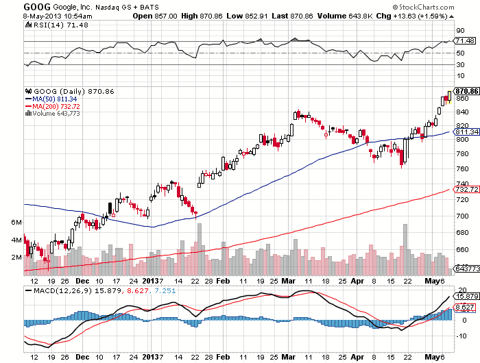 Aside from the company trading at its highs, the RSI is suggesting a small correction might be on its way here, before trending higher or lower.
There is no doubt to me that Glass is going to be a winner for the company, but on its initial launch, I'm not as confident. Taking profits here in Google would be exactly what I'd be doing. I'd wait for a correction and for Glass to be received and blogged about by the 8,000 beta testers to try and get some indication on how it's going to fare when launched. Then, I'd wait until it looks like Fiber is starting to expand a bit quicker, which would be a point where I'd seriously consider Google being able to make a significant run up again.
At the end of the day, Fiber vs. Glass is the difference for Google between tapping into cable & internet markets that are potentially worth trillions already versus simply launching a new product that may or may not catch on. Whatever your investing strategy with Google, I wish you the best of luck going forward.
Disclosure: I have no positions in any stocks mentioned, and no plans to initiate any positions within the next 72 hours. I wrote this article myself, and it expresses my own opinions. I am not receiving compensation for it (other than from Seeking Alpha). I have no business relationship with any company whose stock is mentioned in this article.