Markets around the world were in rally mode yesterday. The Nikkei gained 0.74%, the Shanghai 0.48%, the SENSEX 0.51%, and the EURO STOXX 50 rose 0.56%. US Markets followed these role models. With no economic news to speak of, futures were down fractionally and the S&P 500 dutifully opened lower. But it immediately began to arc steadily higher to the noon hour. The index paused during a short lunch and then renewed it arc. During the early afternoon, Wednesday's modest rally seemed to lose steam and came within a fraction of a point of slipping into red. But the "buy the dip" trade was ready, willing and able. The index closed with a gain of 0.41% and only nine basis points from its intraday high.
Here is a 10-minute chart of the week so far.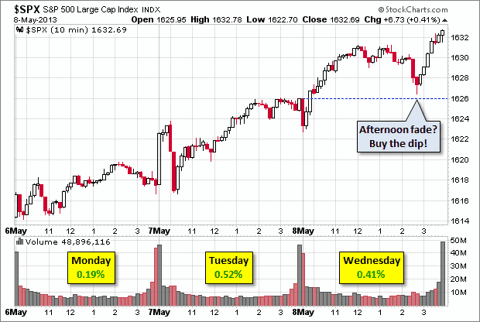 Click to enlarge
Volume was better yesterday, within a pinch of its 50-day moving average.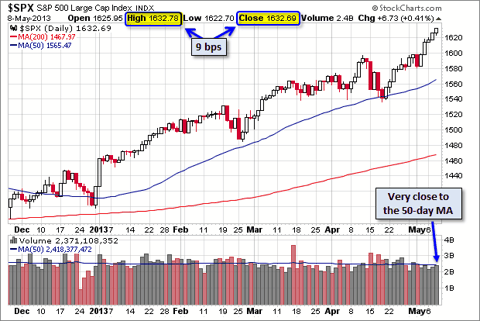 Click to enlarge
Still the SPY ETF, a better gauge of individual trader mentality, isn't confirming the highs with surges in volume. The ETF volume Wednesday was 22% below the 50-day MA, but that's up from Tuesday's -29% and Monday's ghostly -46%.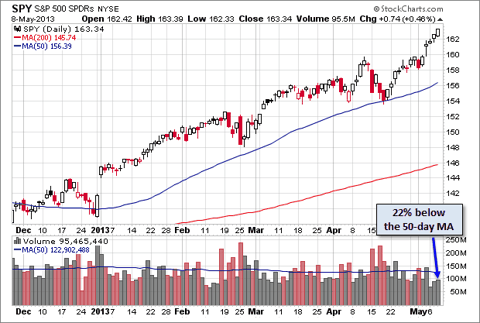 Click to enlarge
The S&P 500 is now up 14.48% for 2013.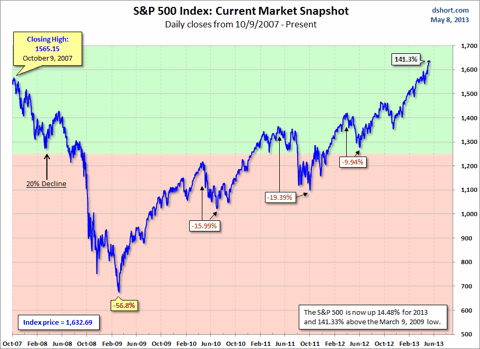 Click to enlarge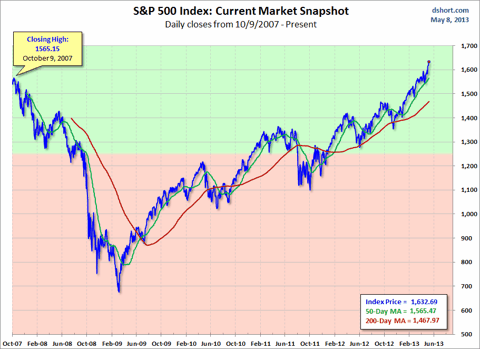 Click to enlarge
For a better sense of how these declines figure into a larger historical context, here's a long-term view of secular bull and bear markets in the S&P Composite since 1871.