It's a sad situation to see biotech longs hang on to a stock after it's dead. An investor puts all his hopes in the upside of a small and controversial company, praying for a long shot… and then worst fears are realized with data. This is the scenario with Celsion Corporation (NASDAQ:CLSN) and the investors who are still hanging on after the company's failed Phase 3 trial. After recent news and a 20% move higher from historic lows, those rays of hope are beginning to shine once more.
Celsion Corporation: Before & After 2013
Celsion Corporation was one of the best performing stocks in 2012, having traded higher by almost 400%. In 2013 it has been one of the worst performing stocks, slumping lower by 90%. The stock's rise showcased all of the excitement that a small biotechnology company can create, as investors awaited data for the company's Phase 3 HEAT study of ThermoDox.
In the study, Celsion had to prove that ThermoDox could increase progression-free survival by at least 33% (one-third of patients). The trial failed to produce this result and the CEO, Mike Tardugno, disclosed in a conference call that the final outcome "wasn't close" to meeting the desired goal. Hence, the beginning of the end of Celsion had occurred, and it was a good run for a company that lost, on average, more than $20 million over the last four years.
ThermoDox is Done? Not So Fast!
After Celsion's failed Phase 3 study, I was very pleased with how the company handled and approached the disappointment. It's no secret that investors are the ones who float the bill for these expensive trials (and the salaries of those executives) and I found it to be refreshing that Celsion in essence proclaimed, "It didn't work and it won't work." This reaction and explanation, following a failed trial, is indeed very rare, as most companies will search through data to find some glimmer of hope in an attempt to keep the doors open. In my opinion, this was good management behavior and responsible. Management did try to maintain "hope" or take more of shareholders' money to fund the further development, with a pipeline that is mostly filled with ThermoDox related products.
Although I followed the company closely, I did not invest in Celsion Corporation. I had never expected ThermoDox to be successful, as I have worked many years in oncology research and did not believe that ThermoDox showed enough promise in treating distant tumors. Based on what I have experienced, liver tumors are quick to spread or multiply. in fact, liver tumors specifically have showed tendencies to have what is called distant recurrence, meaning a tumor that recurs in a distant area from where the original tumor was located. ThermoDox targeted specific tumors with high concentrations of doxorubicin, meaning nothing was being used for the treatment of those potential distant recurring tumors. Thus, I did not believe that ThermoDox would work in a large phase 3 study. My suspicions along with the opinions of others have been validated with the failed study; but recently Celsion is now claiming that a subgroup of patients that underwent 45 minutes or more of radio-frequency ablation (RFA) saw tumor shrinkage.
New Findings Leave Many Questions
Celsion made its "new findings" announcement on April 23 and on the day after the stock had reached a new all-time low. Why wouldn't it? Investors had purchased shares on the hope of Phase 3 data-- and when that data was bad, there was no longer a reason to invest in the company. Since that all-time low of $0.75, Celsion's stock has hovered near a price of $0.90, a 20% premium on its market capitalization. This includes a 3.50% gain on Wednesday after the company announced that it will be presenting the new findings on the study at the 9th Annual World Conference on Interventional Oncology (WCIO).
At this point -- with failed Phase 3 data in mind -- the company has a lot to prove and the odds against it. The company has net cash of less than $15 million, hardly any value to its stock, and its pipeline is almost solely related to ThermoDox (the very product that just failed the Phase 3 trial). As a deduction, the company is going to have a tough time creating excitement for future ventures and raising money to fund both salaries and the continuation of trials. Moreover, the information provided by the company surrounding the supposed "new findings" leaves us pondering many things.
After Celsion released the news that a subgroup of patients treated with ThermoDox at 45 minutes showed shrinkage of liver tumors, The Street's Adam Feuerstein released, "Celsion's Shameless Spin Job". In the column Feuerstein shared a very telling graph that came directly from one of Celsion's presentations of clinical data for ThermoDox. Below you can see a copy of the graph found in Feuerstein's column, which clearly shows that (according to Celsion) patients absorb the highest level of ThermoDox into the bloodstream in the first 45 minutes of RFA treatment. Ergo, the company's claim that greater benefit came to a subgroup of patients treated longer than 45 minutes contradicts the poster that was once presented. So either Celsion Corporation has new unknown data that it will share at WCIO or this is an indication that any future study on ThermoDox post-45 minutes will be unsuccessful.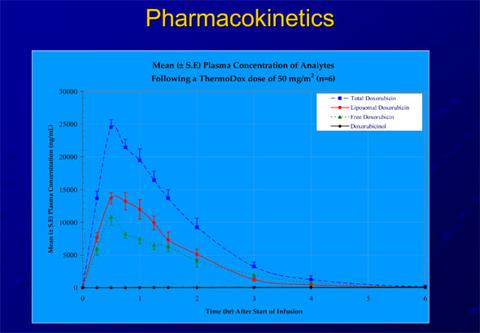 When you consider that A) Celsion's stock was trading at new lows on April 22, B) that executives had made no excuses in the past-- except to say, "it didn't work"-- regarding the Phase 3 trial, and C) that the graph above from the company's own presentation shows post-45 minute treatment to be ineffective, there really aren't too many reasons to be optimistic of the "new findings". There are simply so many people who want to hold on to the dream idea that Celsion was selling, and are unable to let go. Astoundingly, those who are willing to grasp this new idea of subgroup data and form a favorable risk/reward ratio based on the company's valuation must acknowledge the uphill battle that Celsion has to face.
Conclusion
While some hate him and others love him, there's little denying that, when it comes to biotechnology, Adam Feuerstein is one of the best and is successful by viewing all companies and data with (measured) skepticism. We are far too often quick to jump on the bandwagon, and frequently find it difficult to assess relatively simple scenarios. The new data is not really "new", and if it were, then Celsion management would have presented it somehow or someway prior to the date of its stock hitting new lows. In fact, we do not even have the absolute reason why the study failed. I have my personal belief that it would not improve the time to progression by 33% due to recurring distant tumors. Hence this question would still exist post 45 minutes of treatment, and then how could the treatment work when the chart clearly shows that ThermoDox is absorbed at its highest levels prior to 45 minutes (per the company's presentation). It doesn't make sense, and my guess is that it will not make sense on May 16th when presented, but it did push the stock higher.
While Celsion executives exhibited rare good management behaviors following a failed study, by offering no excuses or spins on the outcome; I view these latest "findings" as troublesome. First off is the timing, with the stock trading at new lows prior to the announcement. Then, there is the conflicting information as seen in the chart above. Next, no additional information provided by the company regarding new findings and its relation to the failed study, just speculation. Finally, the company has clearly data-mined from a small subgroup of patients from a larger study pool, which is an often used practice of small biotechs to maintain excitement and continue clinical studies with shareholder money. While I could very well be wrong, and Celsion may have truly found new evidence of efficacy, my advice is to be skeptical: Don't buy the hype, and look at the entire picture in front of you. Currently, there is no reason to believe that ThermoDox has an effect in a subgroup of patients when treated longer than 45 minutes. Yet after th recent WCIO announcement, investors are speculating that the presentation of data will show something encouraging on May 16. It's possible that the company may be able to spin the results in a favorable way, but after a larger failed study, I see no reason to believe that Celsion's "new findings" will ever lead to an FDA approval.
Disclosure: I have no positions in any stocks mentioned, and no plans to initiate any positions within the next 72 hours. I wrote this article myself, and it expresses my own opinions. I am not receiving compensation for it. I have no business relationship with any company whose stock is mentioned in this article.