Sucampo Pharmaceuticals (NASDAQ:SCMP) is a global pharmaceutical company focuses on the research, development, and commercialization of proprietary drugs based on prostones. Prostones are a class of compounds derived from functional fatty acids that occur naturally in the human body. The company believes that most prostones are activators of cellular ion channels. As a result, prostones promote fluid secretion and enhance cell protection, including the recovery of cellular barrier function. This activity gives prostones wide-ranging therapeutic potential, particularly for age-related diseases.
The company's lead product is Amitiza, which gained U.S. approval to treat idiopathic constipation in 2006, irritable bowel syndrome with constipation in 2008 and opioid-induced constipation in adult patients with chronic, non-cancer pain in April this year. Amitiza is being marketed by Takeda (OTCPK:TKPHF) in the U.S. and is being launched by Abbott (NYSE:ABT) in Japan. Sucampo is also planning a stepwise launch in Europe, country by to country, and the product is initially being launched in the U.K. and Switzerland.
The company's other product, Rescula, is for intra-ocular pressure (IOP), often associated with glaucoma, and the related indication of ocular hypertension. Rescula is being re-launched in the U.S. with an improved label (no black box warnings) by 40 sales representatives, targeting 4,000 ophthalmologists, and is also being developed for European markets.
This week, I had the pleasure of interviewing Jason Kolbert, Senior Vice President of Maxim Group LLC, which recently initiated coverage on the company. Mr. Kolbert has worked extensively in the Healthcare sector as product manager for a leading pharmaceutical company, a fund manager and as an equity analyst. Prior to joining Maxim, he spent seven years at Susquehanna International Group where he managed a healthcare fund and later founded SIG's sell-side biotechnology team. Mr. Kolbert also joined Maxim after spending a year with NeoStem (NBS). In this interview, we discuss the future of Sucampo and the potential behind it.
Ben Yoffe: Mr. Kolbert, Sucampo has recently received FDA approval for Amitiza in the indication of opioid-induced constipation in chronic, non-cancer pain patients. What is the potential market for this indication in the U.S.?
Kolbert: Studies published in The American Journal of Gastroenterology estimate that approximately 42 million people in the U.S. suffer from some form of constipation. There are similar high numbers in Europe and Asia. With that said, gross annual U.S. revenues could climb to $500 million per year. We believe Sucampo gets a royalty of those in the area of 20%.
Yoffe: Is there any competition in this market?
Kolbert: In the constipation paradigm, most sufferers seek out over-the-counter remedies. These are, for the most part, effective for acute episodes. However, for chronic sufferers-regardless of the underlying cause: IBS, or OIC-a prescription therapeutic is needed. This is the target niche in which Amitiza is now being positioned to compete with other new products, such as Ironwood's (NASDAQ:IRWD) linaclotide.
Yoffe: How many sales could Amitiza reach in all approved indications?
Kolbert: This is a complex question. We model U.S., EU and Japan and we review the opportunities in IBS-C, CIC, and Opoid-IC. When we calculate royalties, partner revenues, we see the potential of several hundred million in top line revenues to the company.
Yoffe: The company's U.S. partner Takeda has previously failed to use best efforts to maximize net sales of Amitiza in the U.S. However, the U.S. net sales of Amitiza have increased 31% to $74.6 million for the fourth quarter of 2012. What are your impressions?
Kolbert: It appears that Sucampo "woke up" Takeda with their law suit. While the arbitration hearing ruled against Sucampo, the result has been to raise Takeda's awareness and both sense of responsibility to promote Amitiza and this in conjunction with the efforts from competitors such as Forest labs (NYSE:FRX) who now promotes Liniclotide seem to have combined to motivate the Takeda sales force that there is a great opportunity here. On the 1Q-2013, quarterly eps call, Sucampo highlighted that Takeda will not commit additional resources and target new physician prescribers to their detailing efforts.
Yoffe: What are your expectations regarding the ongoing re-launch of Rescula in the U.S.?
Kolbert: This is Sucampo's wholly owned product. The drug is being re-launched with a more complete label and first-line dosing for both IOP and ocular hypertension (OP) in glaucoma patients in the U.S. and later (2015) in select EU countries. We have very modest single digit assumptions for U.S. revenues this year but building as time goes on to over $100M by 2017. Currently, the company is transitioning the market from an aggressive samples promotional strategy to demonstrate the advantages of Rescula with the hope that they will then convert patients to Rx users.
Yoffe: Is there any other development that Sucampo is currently working on?
Kolbert: Sucampo is developing a prostone compound (cobiprostone) for oral administration to treat disorders such as oral mucositis. They have just completed the Phase Ia safety study and should now transition to patients.
Yoffe: Does the company have sufficient funds to support the ongoing operations?
Kolbert: Yes. This is a core strength. The company today has $96 million in cash. Its debt, approximately $50 million, is held by the founder and current CEO, Dr. Ueno.
Yoffe: I would like to talk a little about the CEO, Dr. Ueno. If we look over the past 12 months, Dr Ueno sold more than 500,000 shares of Sucampo. What is your impression?
Kolbert: Dr. Ueno is the founder of the company and majority shareholder. We believe he needs to divest his position and create more liquidity by releasing his stock. As such we have no problem with him selling his stock.
Yoffe: What is your rating and price target for SCMP?
Kolbert: Buy Rated and $12.00 target. We launched coverage back on March 25th when the stock was just under $6.00 a share. Our valuation metrics are dependent on our therapeutic models, which drive our revenue and spending assumptions. We model the product portfolio through 2020 and discount back at a high rate of 30% to a net present value. We use an FCF model, an EPS model, and a sum-of-the-parts model, averaging the results to reach our $12.00 price target.
Yoffe: In closing, what are the downside risks?
Kolbert: That's a great question. We believe the risk is that Amitza stalls under the competition. We see flat or declining growth and Rescula has an underwhelming launch. All the current market dynamics and specific product attributes for the reasons I have outlined in our discussion suggest this is not the case. This coupled with a strong balance sheet and a carefully measured approach to US, EU and Asian markets we think de-risks the story for investors.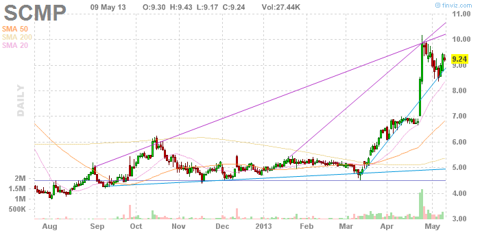 Disclosure: I have no positions in any stocks mentioned, and no plans to initiate any positions within the next 72 hours. I wrote this article myself, and it expresses my own opinions. I am not receiving compensation for it (other than from Seeking Alpha). I have no business relationship with any company whose stock is mentioned in this article.
Additional disclosure: Maxim Group expects to receive or intends to seek compensation for investment banking services from the subject company in the next 3 months.