In precious metal mining the term "Net Smelter Return" is defined as the gross revenue (total revenue minus production costs) that the owner of a mining property receives from the sale of a mine's products less transportation and refining costs. As a royalty, it refers to the fraction of net smelter return that a mine operator is obligated to pay the owner of the royalty agreement. A number of companies have made the acquisition of such NSR royalties their business model. These royalty companies will give mining companies capital, for example for the development of a mining project, and in return receive an NSR royalty on existing or future mines.
Royal Gold (NASDAQ:RGLD) is such a royalty company with a large number of gold-related royalties and streaming arrangements. The market capitalization is $3.55B at the time of writing and a forward P/E of 24 is listed on Yahoo.com. Royal Gold presently yields 1.44% in dividends. Analysts are giving a range of $71 to $92 as price targets comparing favorably with the share price of $55 at the time of writing.
Royal Gold offers financing for exploration, development and construction of mines. Additionally, Royal Gold also provides acquisition finance; all of the above is typically granted in return for royalties or metal streams. Royal Gold also purchases existing royalties from third parties. At present, the portfolio includes 39 producing assets, 28 development assets and almost 140 exploration stage assets. Of their top 15 assets the median projected life is 15 years, promising a long-term outlook. Royal Gold is well positioned among its peer group and has shown solid growth outperforming the underlying yellow metal as evidenced by the chart below. The abysmal performance of gold so far in 2013 has left its mark on the share price of Royal Gold which is presently trading at mid-2011 levels.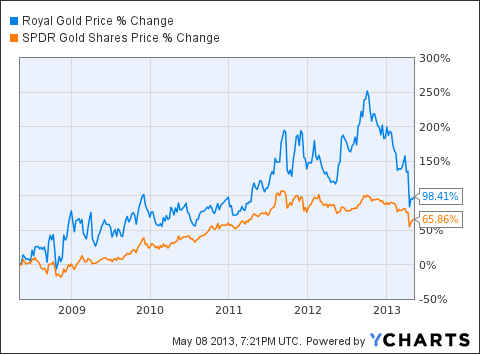 Royal Gold can be viewed as an investment vehicle offering leveraged exposure to gold. Typically royalty companies such as Royal Gold can be viewed as lower risk investments when compared to mining companies. However in the case of Royal Gold, a dark cloud seems to have emerged due to their exposure to the Pascua Lama mine which is under construction by Barrick Gold (NYSE:ABX).
The Pascua-Lama mine sits atop the Andean mountains at elevations up to 5200m (17,000 ft) above sea level and straddles the border between Chile and Argentina. When completed, the Pascua Lama mine will be the largest and one of the lowest cost gold mines worldwide hosting 17.9M ounces of gold and 676M ounces of silver within the proven and probable gold reserves.
On April 9, Barrick Gold released a statement confirming news reports on the suspension of certain development activities at the Pascua Lama mine due to a Chilean court order considering environmental concerns by indigenous groups. Works on the Argentinian side are not affected by the court order, which means that construction of the majority of infrastructure for this project can continue for the time being. However, large portions of the intended open pit are situated on the Chilean side of the border, and pit development cannot continue for the foreseeable future. The suspension is the latest in a series of setbacks to the Pascua Lama project. Target dates for initial production have been delayed, and cost estimates had to be corrected at least twice. Numerous activities by environmental groups have presumably also caused plenty of headaches for Barrick management. In the Q1/2013 earnings call on April 24 Jamie Sokalsky, President and CEO of Barrick Gold, openly mentioned the possibility of shelving the project all together when he said in his opening statement:
"... we're taking a hard look at all of our alternatives, including materially reducing the rate of spend or even suspending construction for the entire project."

This is very bad news for Royal Gold. On their web site, the royalty on the Pascua Lama mine is listed as one of five cornerstone assets. Assuming a gold price exceeding $800, the NSR royalty on gold produced on the Chilean side of Pascua Lama will be 5.23% for Royal Gold. There are a number of rules and performance-related payments associated with the royalty; and there is also a royalty on the copper produced at the mine after 2017. In the latest earnings call, Royal Gold's CEO Tony Jensen summarized the situation for Royal Gold as follows:
"We acquired our Pascua-Lama Royalty interest through several transactions, because these were existing royalty interest, we had to honor the agreement terms and I should note that we do not have any redemption rates if production does not occur by a specific date. Our carrying value for book purposes is about $400 million or $600 per net royalty ounce. If Barrick were to delay the project, our investment would remain intact but Royalty revenue would be postponed."
A delay would be bad enough, but what about a suspension? We would assume that this would cause a substantial impairment for Royal Gold which would have a significant impact on the share price. Considering 2012 revenues at $292M and 2012 gross profit of $263M, the potential loss of the Pascua Lama asset with a book value of $400M would be a very heavy load to shoulder.
Silver Wheaton (NYSE:SLW) is a competitor of Royal Gold and also has a royalty-type arrangement for the Pascua Lama mine (technically it is a streaming agreement but let us just view the two interests as similar for the purpose of this article). As unfortunate as a suspension or significant further delays at Pascua Lama would be also for Silver Wheaton, at least they have redemption rules in place which would limit the down side for them (details are discussed in this article).
The absence of similar insurance arrangements puts Royal Gold at the mercy of Barrick Gold when it comes to making a decision about the future of the Pascua Lama mine. Barrick Gold already carries a significant debt load and is presently facing the possibility of further additional costs at Pascua Lama (the original capex estimate was $3.7B, the latest price tag was $8B). Barrick's 2013 revenue expectations will presumably have to be revised in the light of lower-than-expected gold spot price reducing the capacity to take on more debt. The combination of these factors make a suspension of development activities at Pascua Lama less improbable than this scenario might have seemed only a few months ago.
In light of this risk for Royal Gold, we would suggest proceeding with caution when considering an investment in Royal Gold pending further news from Chile with regards to the future of the Pascua Lama mine.
Disclosure: I am long SLW. I wrote this article myself, and it expresses my own opinions. I am not receiving compensation for it (other than from Seeking Alpha). I have no business relationship with any company whose stock is mentioned in this article.