In October of 2007, during a National Geological Convention (2007 GSA Denver), economic forecast experts on Natural Gas projected that Natural Gas prices would eclipse $14 per MMBTU by the year 2012 and $16 per MMBTU by the year 2014. Since then, Natural Gas has dived into a bear market, trading below $2 per MMBTU at one point in 2012 and currently sits just over $4 per MMBTU.
What went wrong?
The premises for the increase in demand fell flat. The main premises were:
The surging costs of coal and oil would make natural gas a more attractive and cheaper energy alternative
Economic growth would lead to significant increases in demand
Congress would take action that would support the building of natural gas based infrastructure.
All were dead wrong.
With the market collapse in 2008, energy prices tanked. The hope that coal based energy cost would increase to the point that power companies would invest in natural gas burst fast. Energy demand tanked and with it natural gas consumption. The significant political pressure put on congress to adopt measures that would spur the use of relatively "clean" natural gas disappeared. It was hoped that congress would subsidize new natural gas infrastructure in an effort to "go green" and build a foundation of energy self sufficiency that hopefully would eventually be cheaper for the country. All of that was put on the back burner as the financial crisis took over all aspects of politics. Interest towards investing in natural gas disappeared in spite of lobbyists' best efforts.
Demand was gone. Even at the time, the demand wasn't real but was a hope of future demand. And unlike the Stock Market and the economy, there has been no rebound in the demand for natural gas. Coal-based energy production became 30-40% cheaper than energy derived from natural gas reported by the EIA (U.S. Energy Information Agency). So what power producer is going to want to switch their operations to natural gas? There was just zero investment sense in doing so.
With demand destroyed during the financial collapse, supplies skyrocketed. Companies plugged wells with the hope to resume production when prices rebounded. The oversupply and dismal demand pushed natural gas into a major bear market. The big losers in the market have been U.S. based natural gas companies. Companies like Chesapeake Energy Corp. (NYSE:CHK), Apache Corp. (NYSE:APA), Devon Energy Corp. (NYSE:DVN), Hercules Offshore Inc. (NASDAQ:HERO), and W&T Offshore Inc. (NYSE:WTI) are no where near having rebounded their losses from 2008 and are not sitting too far from new lows. GMX Resources (GMXR) went bankrupt. All of these companies have severe debt issues from over leveraging based on predicted growth models and price models that have failed due to the reasons above. EOG Resources (NYSE:EOG) had been spared the same fate as their foresight into what was happening led them to sell off most of their natural gas business and move into more oil based business.
The Bull Market
Natural Gas has entered a bull market over the last year, rebounding more than 100% from its lows in 2012. While demand in the U.S. is still depressed, international demand is spiking. Goldman Sachs (NYSE:GS) reported on April 5th that the oversupply issues for natural gas are coming to and end and that they expect stabilization in natural gas prices in the short term and increase for the next few years. Other analyst have had similar reports over the last month saying that the negative reaction in natural gas has been overblown. The United States Department of Energy projects demand growth for natural gas to outpace demand for other energy sources (EIA Forecast). Fundamental factors are returning that may help natural gas demand to increase and prices to continue their move higher. Although no one expects the outrageous $16 level to be anywhere in site.
In a typical oil/gas field in southwestern Wyoming, the break even cost level for natural gas production is around $4.10-$4.30 per MMBTU. For the last several years, companies in this area and in many areas like this have been torching their gas, as seen nightly by illuminated skies. Gas is always produced when producing oil. Due to the depressed prices in gas, it has just cost too much for companies to do anything but burn it on the spot. Without pipelines nearby, transportation cost are too extreme. And without increased gas prices, it isn't worth it to build pipeline.
An AP report out of Bismark, North Dakota, reported the following on April 26th 2013:
More than 30 percent of North Dakota's natural gas production is being burned off because development of the pipelines and processing facilities needed to handle it has not kept pace with production.

Natural gas is a byproduct of oil production. Records show North Dakota oil drillers are deliberately torching and wasting 275 million cubic feet of natural gas each day. That's enough to heat more than 1 million homes daily.
This is occurring in many locations around the U.S., particular Idaho, Utah, Montana, Wyoming, North Dakota, and South Dakota, where pipeline infrastructure is significantly lacking. As prices rebound, this picture is changing. It may once again be a profitable investment to build pipelines to transport the gas. Who will this really benefit? Pipeliners or Midstream Oil & Gas companies. Midstream referring to companies involved with storage, transportation, and marketing.
The chart below shows a major spike in pipeline additions in 2008. Since this time, additions have nearly ceased. However, pipeliner stocks have had major gains over the last year as gas has surged. As nat gas prices near and stabilize in a zone where companies will look to higher the pipeliners once again, profits for these pipelines with surge. The Wall Street Transcript reports an expected 56% increase in pipeline infrastructure spending for 2013.
Source: Energy Information Administration, GasTran Natural Gas Transportation Information System, Natural Gas Pipeline Projects Database, as of January 2009.
Many writers claim the best way to play the increase in natural gas is through stocks like Chesapeake Energy Corp. or Devon Energy Corp. I contest that. These stocks remain in bearish control in spite of the bull market in natural gas, and require natural gas to trade significantly higher to really affect their bottom line. While pipeliners like Atlas Pipeline Partners (NYSE:APL), Western Gas Partners (NYSE:WES), Access Midstream Partners (NYSE:ACMP), Genesis Energy (NYSE:GEL), Boardwalk Pipeline partners (NYSE:BWP), and Magellan Midstream Partners (NYSE:MMP) are the real winners for increasing natural gas prices and stand to benefit even from natural gas prices at their current levels. There is surely to be pop potential in the weak, U.S. based producers like Chesapeake Energy Corp. and Devon Energy Corp., but the best growth potential given the current fundamentals in the market for the natural gas sector is through the pipeliners. Outside the pipeliners, large cap international large cap companies with exposure to natural gas are strong places to go. Anadarko Petroleum Corp. (NYSE:APC), and Halliburton Co. (NYSE:HAL) provide strong growth stories with very upbeat outlooks on international growth. Exxon Mobil Corp. (NYSE:XOM) has major upside potential if natural gas prices continue to surge. Over the last few years they have been acquiring monsters in natural gas assets, the biggest being the acquisition of XTO Energy.
Pipeliners
With raising gas prices and major increases in pipeline infrastructure spending, pipeline stocks are my first area of interest. The biggest player in this area is Kinder Morgan and their subsidiaries (NYSE:KMP). The size of their assets far exceed anyone else in this area. They continue to roll along, absorbing the competition. Their most recent acquisition being EPB, increasing their exposure in the underdeveloped Rocky Mountain region. With a dividend yield around 6%, KMP provides a solid return for investors. KMP has been criticized over the last few years for their continued investments into pipeline infrastructure, but they have silenced those critics with strong returns and continued growth. Now with increasing gas prices and renewed growth in the industry, they are poised to continue their strong performance.
I like some of the smaller players due to their explosive potential, both from a growth standpoint and potential buyouts. When larger players look to buy up reserves, they like to take over midstream oil and gas companies that have strong levels of reserves. Exxon Mobil recently announced wanting to invest $39 billion in acquiring new assets, continuing its quest to dominate the oil and gas sector.
Western Gas Partners stands out to me as a strong prospect. They are highly levered to natural gas and provide services to the Rocky Mountain and Mid-continent region, the areas where natural gas is being torched because it is too cheap. WES stands to have a significant push in business if this picture changes. They currently have a close business relationship with Anadarko Corp. , a large oil and gas company. Due to the small cap nature of WES, its operating location, and its already close alliance with Anadarko, there is definitely buyout potential as happened with EPB. Major players have been stepping into Western Gas Partners (WES) over the last year as well.
Access Midstream Partners and Boardwalk Pipeline Partners are another two companies where institutional buying has been significant over the last year.
In general, this is an area of strong dividends, strong growth, and even stronger growth if natural gas continues in line, as well as strong institutional investment interest. Follow the strength, follow the money.
Halliburton - A non-pipeline approach
Halliburton is ideally placed for global demand increase in energy, both oil and gas. Their recent earnings showed a major pop in international profits which significantly increases their future earnings potential. Their consistent investment into the international market over the last number of years, in spite of the economic downturn, puts them in a place to emerge a major winner in the global energy arena. They announced continued expansion into various global markets focusing on unconventional energy plays.
One of their biggest income drivers is their hydraulic fracturing operation. Hydraulic fracturing or fracking is a process that allows for enhanced hydrocarbon recovery from known oil and gas plays. As oil and gas prices climb, the economic benefits of fracking jump dramatically. Halliburton is a leader in providing fracking operations. The increase in unconventional gas projected by the EIA will be a major boost for the fracking business. (EIA Forecast)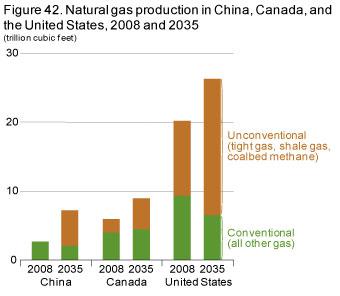 Along with their increasing global presences, Halliburton Co. continues to have a strong domestic foothold. While they, along with other companies Chevron (NYSE:CVX), have reported a slowdown in U.S. growth, the increase in natural gas prices may cause this to shift quickly. Halliburton Co. controls just under 20% of the fracking market here in the U.S. While much of their fracking equipment fleet is parked right now, it is expected that the increase in natural gas prices will spark business operations. Halliburton Co. is in a unique position of strength to benefit from both a international jump in energy operations and a turnaround in U.S. based operations.
While their earnings weren't quite as good from a numbers standpoint as their main competitors, Schlumberger (NYSE:SLB) and Baker Hughes Inc. (NYSE:BHI), Halliburton Co. stands to benefit the most from increased natural gas prices due to their fracking business for unconventional oil and gas plays. Initial investor reaction to earnings has been better towards Halliburton Co. because of their upbeat outlook and positive tone looking forward. Over the last month, there has been a flood of upgrades on HAL. Goldman Sachs cited them as a top play in natural gas. Jefferies upgraded them right after earnings citing their growth prospects. Their strength in the oil operations and their positioning to take advantage of natural gas growth makes them an ideal candidates for playing strength in natural gas prices.
Disclosure: I have no positions in any stocks mentioned, and no plans to initiate any positions within the next 72 hours. I wrote this article myself, and it expresses my own opinions. I am not receiving compensation for it (other than from Seeking Alpha). I have no business relationship with any company whose stock is mentioned in this article.