Last week Seagate (NASDAQ:STX) reported its fiscal Q3 financial results. Seagate's revenue of $3.53 billion and EPS of $1.26 topped analysts' estimates. Profits slipped by a whopping 64% year-on-year while revenues were down by 20% on an annual basis. Stifel Nicolaus analyst Aaron Rakers calculates enterprise drive shipments were 15.9 million in the first calendar 2013 quarter -- a 7% rise sequentially. He says such shipments were:
Q1 2013 - 15.9 million
Q4 2012 - 15.0 million
Q3 2012 - 13.2 million
Q2 2012 - 17.8 million
While nobody expects Seagate's TAM (total addressable market) to improve significantly amid an overall weak PC market in the near-term, as projected by IDC and Gartner, Seagate's pricing and margins are expected to remain firm going forward. The industry has been successfully maintaining a stable pricing environment by curtailing production as and when needed.
Seagate has developed a new technology, known as HAMR, which will have far-reaching implications for its stock. In this article I'll delve deeper into this technology, and analyze its potential impact on Seagate's stock.
Seagate Optimistic About Areal Density Growth
Seagate believes the next few years the storage industry will present the company new and significant opportunities, Seagate management said in a conference call post earnings.
For the first nine months of the current fiscal year, Seagate has shipped over 130 exabytes of storage, reflecting 33% year-over-year growth, which is well above the current areal density growth rate. For calendar 2013, Seagate believes the storage industry is on pace to ship 500 exabytes of storage, and is advancing at a rate which is more than twice greater than expected areal density growth rate.
Seagate increased capital investment in new storage technologies to support a broader product portfolio of storage devices, including hybrid, solid-state drives and other devices and services, which Seagate believes, will be critical to follow the mobile compute environment.
Seagate introduced some innovative products this year that have been well-received by leading OEMs including 7 mm, 500 GB ultra mobile devices and 2 TB desktop hybrid products.
Seagate's HAMR Technology: A Game Changer in Areal Density
Areal density refers to the amount of data per square inch that can be packed onto a storage medium. Fang Zhang, an analyst for storage systems at HIS, said:
The rise in areal density will pave the way for continued growth of the HDD industry. In particular, growth opportunities will lie in applications associated with mass enterprise storage requirements, gaming, and in digital video recorders (DVRs) where massive capacity is required to store high-definition video.
The current perpendicular magnetic recording or PMR technology used in mechanical hard drives will soon become obsolete, because it's impossible with PMR to reduce the size of the magnetized bits any further as it renders them unstable due to a phenomenon known as superparamagnetism. Meanwhile, shingled magnetic recording (SMR) will act as a temporary boost in HDD capacity and Seagate will start shipping SMR-based disk drives later this year.
But the problem with SMR drives is that they cause delay to rewrite data as tracks overlapped by the new data track need to be reconstructed before writing new data. Although the overlapping of data tracks helps store more data, it's hardly encouraging to buy a disk drive that writes data more slowly.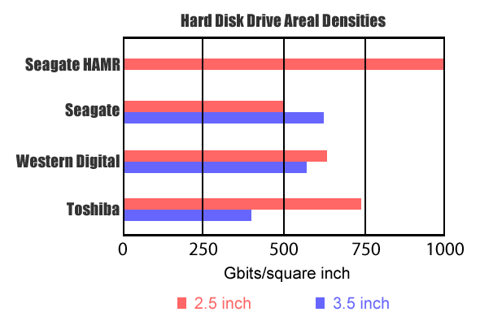 Click to enlarge
Seagate has a long-term solution that uses a more stable medium. The company said it will introduce a 4-platter drive based on Heat-Assisted Magnetic Recording (HAMR) technology as early as next year that's capable of storing up to 6.4 TB of data. HAMR, combined with self-ordered magnetic arrays of iron-platinum particles, solves the superparamagnetism problem by heating the medium with a laser-generated beam at the precise spot where data bits are being written. With heat, the medium becomes writable, and the rapid subsequent cooling stabilizes the written data. Seagate said it has spent nearly 10 years to develop the progressive HAMR technology that will eventually lead to a 60TB 3.5-inch drive.
HGST's Helium-Filled Technology: A Threat to Seagate's HAMR?
Seagate has spent billions of dollars in the development and implementation of HAMR technology. Meanwhile, rival Western Digital (NYSE:WDC) owned Hitachi GST has approached the superparamagnetism problem with a different solution.
It has filled a drive with low friction helium gas, the density of which is one-seventh that of air. Helium helps adding more platters in a standard drive enclosure. Seven platters can be added instead of four in today's 4TB, 3.5-inch form factor drive, which will make it a 7TB drive.
With helium it's possible to place data tracks closer that will allow scaling in data density only up to a certain extent. Investors should note that with pumping helium HGST only upgrades the existing PMR technology and increases capacity by up to 75%. It's not a new technology that has the potential to deliver a 60TB 3.5-inch drive in future, something that's possible with HAMR.
HGST has been researching to develop a standalone technology though, known as bit-patterned media, to replace PMR. But bit-patterned media isn't a possibility right now since billions of dollars are needed for its commercialization. However, this technology will go mainstream when HAMR runs out of steam. Experts believe that won't happen before 2020.
HGST is not the only company that researched helium filling in a standard drive enclosure. Seagate started to consider the sealed drive technology earlier than its competitors and has 80 patents in the area. Jon Piazza, senior manager of corporate communications at Seagate, said in a conversation with X-bit labs:
Helium can solve some internal technical challenges, but it also creates new challenges, like how to prevent leaks and bring down manufacturing and materials costs. Fortunately, we have been able to advance our drive technology and capacities without resorting to filling our drives with helium. We are also working on alternative technologies such as heat-assisted magnetic recording (HAMR) and shingled magnetic recording (SMR) as potential ways to advance drive capacities in the future.
For Seagate investors this is great news, because HAMR is going to be the most happening technological advancement in the storage industry. With the boom in datacenters, HAMR will solve the problem of mass storage. SSDs have their capacity limitations and they're not suitable for datacenters per se. Over the years, Seagate has achieved numerous technology breakthroughs and HAMR has the potential to become a real game changer as far as mass storage is concerned.
Gartner Says SSDs will not Replace HDDs in Datacenters
With the enormity of datacenter storage capacity requirements, it's impossible that HDDs will be completely replaced with SSDs in the foreseeable future, according to a new research report by Gartner. You can access the report here, which has been reposted in its entirety by StorageNewsletter.com. The report says:
Installing faster components, such as SSDs, into storage systems and servers helps IT departments avoid outlays for time-consuming projects that require specialist application software and infrastructure performance-tuning skills. However, the cost per GB of enterprise-grade SSDs, compared with enterprise-grade HDDs, will remain at prohibitively high levels for the foreseeable future (the cost per GB for enterprise server SSDs will remain at more than 25 times the cost per GB of enterprise business-critical HDDs). Therefore, it will not be economically feasible for IT departments to simply replace HDDs with SSDs within the next five to 10 years.

It would cost the NAND industry hundreds of billions of dollars to construct enough new fabrication plants to displace even 20% of the forecast need for enterprise storage, which likely will exceed 500,000 PB in 2017. Therefore, within the next five to 10 years, it will be physically impossible to manufacture a sufficient number of SSDs to replace the existing HDD installed base and produce enough to cater for the extra storage growth.
Brendan Collins, vice president of product management at HGST, suggested that he agreed with Gartner's findings.
Seagate Introduces SSHD
Although SSDs aren't replacing hard drives anytime soon, particularly in datacenters, there's undoubtedly tremendous growth opportunity for SSDs not only in the consumer segment, but in part in the enterprise segment as well. For SSDs, Seagate is now following Western Digital's strategy, which relies on making hybrid hard drives that incorporate a significant amount of flash memory, but retain a hard drive's larger capacity. Seagate introduces the third generation of its hybrids based on new hybrid solid state technology, known as SSHD. Western Digital pioneered the technology when they launched the first storage device based on SSHD at the CES this year.
For the first time Seagate is now dropping the Momentus brand name from its hybrid drives. The new hybrids will be introduced as a "Laptop SSHD," "Desktop SSHD," or "Laptop Thin SSHD," with different chassis sizes. Seagate thinks these new drives will entice new buyers. Although an SSHD is not as fast as a pure flash drive, it's much faster than a traditional HDD. A standard SSD is approximately 40% faster than a normal HDD, whereas a standard hybrid SSHD is only 10% slower than a normal SSD.
With the Virident deal announced recently, Seagate said it will continue to provide a portfolio of enterprise products for the cloud environment including hard drives, SSDs, hybrid drives and a complete line of flash-based PCI solutions.
Competition: Seagate vs. Western Digital
Needham & Co.'s Richard Kugele raised Seagate to Buy from Hold, and set a $45 short-term price target. As far as competition from nearest rival Western Digital is concerned, Kugele said:
Although we believe STX has somewhat fewer levers to pull than WDC on the cost side of the equation in C13 and C14, we believe the worst is now behind Seagate. As we look into the end of C13 and into C14, we expect STX cash flow generation to continue and bolster its buyback, further driving the stock higher.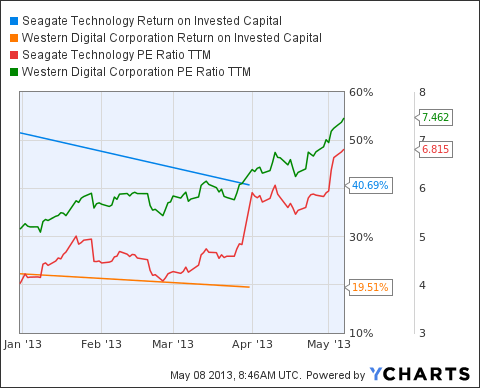 STX Return on Invested Capital data by YCharts
Seagate's ROIC is more than double than that of Western Digital. Seagate is currently trading at a P/E multiple of 6.8, compared to Western Digital's 7.5, which is indicative of Seagate's more attractive valuation.
A P/E Expansion is Certainly in the Cards
Despite Seagate's revenue per share and earnings per share have been increasing steadily since 2009, Seagate is trading cheaply in terms of P/E multiple. Why? Wall Street feels with fierce price competition the disk-drive industry will return to bad old days. Seagate's share price is seemingly discounting a fear of a profit collapse.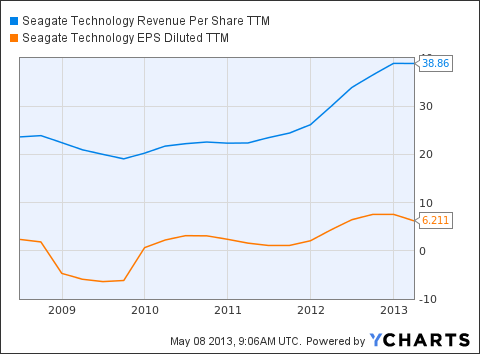 STX Revenue Per Share TTM data by YCharts
But that's nothing more than a myth. With consolidation there are only three companies in the disk-drive industry right now, down from five a year ago after Seagate bought Samsung's disk-drive operations and Western Digital acquired Hitachi GST. Apart from these two, Toshiba is the only other independent disk-drive producer.
After consolidation the disk-drive industry has transformed into a microeconomic model known as collusive oligopoly. In a collusive oligopoly, companies seek to avoid uncertainties regarding pricing and output by entering into collusive agreements. Investors need to understand that with HAMR Seagate has an enormous advantage here. It's a strong possibility right now that Seagate will emerge as a price leader to dominate the rest of the industry by its own terms.
This clearly indicates that there is a substantive mispricing in Seagate's stock as the Street is not fully aware of Seagate's potential. A more favorable and stable pricing in the industry coupled with increasing enterprise demand driven by datacenters will finally change the outlook regarding Seagate's stock. I strongly believe Seagate's stock deserves a P/E multiple well above 10, and it's now only a matter of time the mispricing will be corrected.
Moreover, with Seagate continuing to repurchase stock and boosting dividend, investors will become greedy to own the stock. As a result, P/E will expand naturally. I've tried to estimate Seagate's future stock price in the table presented below. For 2013 and 2014, the expected EPS data is taken from Bloomberg Businessweek. Following Gartner's prediction that enterprise storage will exceed 500,000 petabytes in 2017, I've assumed a 15% increase in earnings since 2015, one year after Seagate launches HAMR-based hard drives.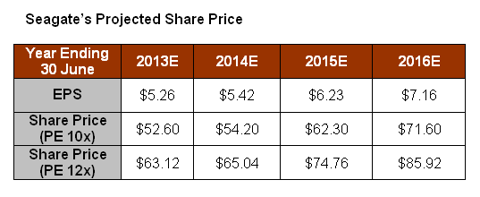 Click to enlarge
Conclusion
Seagate's CEO Steve Luczo has talked about a scarcity of storage capacity in the coming years. This will support double-digit annual growth in HDD production. Seagate's stock has seen a mild rally in the past few months, which I believe is the beginning of a secular uptrend. I would recommend buying the stock on dips.
Disclosure: I am long STX, WDC. I wrote this article myself, and it expresses my own opinions. I am not receiving compensation for it (other than from Seeking Alpha). I have no business relationship with any company whose stock is mentioned in this article.