Las Vegas Sands Corp. (NYSE:LVS) is a Fortune 500 company and a provider of gaming and entertainment, convention and exhibition facilities, restaurants and many other amenities.
The Venetian and The Palazzo, Five-Diamond luxury resorts on the Las Vegas Strip, and Sands Bethlehem in Eastern Pennsylvania, are the company's properties in the United States.
Marina Bay Sands is the company's iconic Integrated Resort in Singapore's downtown Marina Bay district.
Through its majority-owned subsidiary Sands China Ltd., the company also owns a portfolio of properties on Macau's Cotai Strip, including The Venetian Macau, Four Seasons Hotel Macau, and Sands Cotai Central. The company also owns the Sands Macau on the Macau Peninsula.
1. LVS Owns One of Only Six Licenses in Macau (CHINA)
Las Vegas Sands Corp is one of the six companies that have a license to operate Casino's in Macau. There are currently only six companies that have a license to operate a Casino operation in Macau. These are: Wynn Macau Ltd (OTCPK:WYNMY), Sands China Ltd, Galaxy Entertainment Group Ltd (OTCPK:GXYEY), SJM Holdings Ltd, MGM China Holdings Ltd (NYSE:MGM) and Melco Crown Entertainment Ltd (NASDAQ:MPEL).
Macau, a special administrative area of China, has the highest population density in the world. The six companies that are operating Casinos there now and being able to set up operations have the opportunity to build out their brands and properties on the small island with relatively limited competition.
2. LVS Owns One of Only Two Licenses in Singapore
Las Vegas Sands is one of only two companies with a license to operate Casinos in Singapore. Singapore is the second-largest gaming city in Asia. Singapore and Macau are the central gambling hubs in Asia; areas where gambling is allowed are limited. Singapore does ask a $60 entry fee to keep out people who can't afford to gamble as a way to regulate the industry. The properties in Singapore are thus more dependent on the VIP market.
South Korea offers gambling, but its casinos are hard to reach. Vietnam legalized gambling in a remote northern village that is only reachable by driving over miles of muddy roads. Cambodia for a short time flirted with the idea of setting up a big gambling area but then it shut down the idea entirely.
Last but not least there are the Philippines, where there is a gambling-friendly climate and the industry is now growing fast there. Some online gambling outfits have their roots on the islands as well. Currently turnover in the Philippines lags Singapore but that could change in the future.
3. Exposure to Emerging Markets
85% of Las Vegas Sands Revenue comes from the Asian operations in Macau and Singapore. These markets have shown significantly higher growth than properties in Las Vegas USA over the last five years.
Las Vegas Sands gets 85% of revenue from the Asia gambling market. That means this stock adds significant exposure to emerging markets to your portfolio. If that's what your portfolio needs this is a good quality, if you don't like exposure to emerging markets, this is a stock to stay away from.
So far in 2013 the Macau gaming market appears to be going strong.
4. Great Margins
Las Vegas Sands achieves some of the highest margins in the industry. The high margins it achieves show that the formula of fully integrated resorts with casino, hotel, entertainment, food and beverage, retail and convention center operations all in one place work. It helps that they are gunning for the mass market consumers where the highest margins lie.
| | | | | | |
| --- | --- | --- | --- | --- | --- |
| Financials Las Vegas Sands Corp LVS | 2012 | 2011 | 2010 | 2009 | 2008 |
| Gross Margin % | 45.5% | 47.7% | 43.5% | 37% | 36.9% |
| Revenue USD Millions | 11131 | 9411 | 6853 | 4563 | 4390 |
5. Insiders are Big Shareholders
Sheldon Adelson (CEO and Chairman) and his wife own 50% of the company. This aligns interest of the leadership at the company with the minority shareholders. In addition Sheldon Adelson has an excellent track record of building successful businesses. He made his first money by setting up the trade show COMDEX and later started the Venetian on the Las Vegas strip.
6. Mass Market Appeal
Las Vegas Sands is focused on mass market customers in Asia, a market that has higher margins, lower volatility in results, and better growth prospects than the VIP market according to Morningstar.
Valuation
The company trades at P/E of 30.7 and forward P/E of 17.2, at the same time it's still leveraged at an average multiple of 3.14. Although debt has been going down it's still elevated.
I've included a graph showing LVS's Altman Z-score, a metric that indicates the likelihood of bankruptcy in the near future. The value of 2.843 is close to the value of 2.9+ that is considered safe. A value below 1.23 indicates a company in distress.
There is a lot of uncertainty surrounding the future of gambling worldwide. Although I'm in general not comfortable with P/E levels like Las Vegas Sands is trading at right now, I'm tempted because of the moat it has around its business with the hard-to-acquire gaming licenses in both Singapore and Macau.
When push comes to shove, I think the current valuation is a little rich. There are many uncertainties in the future. At this price you can't afford anything going wrong. If the stock pulls back (without significant changes in the underlying fundamentals) to $50, I will re-evaluate.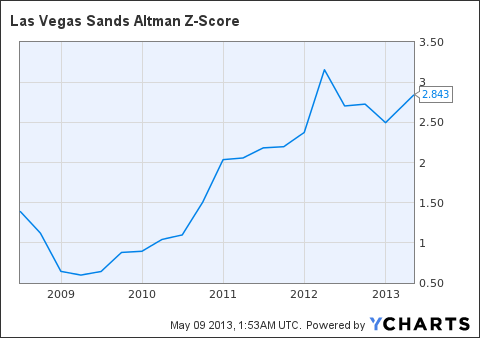 LVS Altman Z-Score data by YCharts
Disclosure: I have no positions in any stocks mentioned, and no plans to initiate any positions within the next 72 hours. I wrote this article myself, and it expresses my own opinions. I am not receiving compensation for it (other than from Seeking Alpha). I have no business relationship with any company whose stock is mentioned in this article.