On May 8, 2013, Depomed Inc. (NASDAQ:DEPO) reported financial results for the first quarter ended March 31, 2013. Total revenues in the quarter were $26.2 million, up 55% from the first quarter 2012, but roughly $1.5 million shy of our forecast.
…Gralise…
Gralise reported sales in the first quarter 2013 were $6.1 million. This was shy of our $7.3 million estimate by $1.2 million based on two events. Firstly, on April 1, 2013, Depomed raised the price of Gralise by 9%. This caused the company to increase the inventory return reserve by $0.3 million. Second, management noted that some key wholesalers reduce inventory from year-end 2012 levels during the quarter.
With respect to the price increase, we note that in late January 2013, management realigned the sales force to increase the frequency of calls on top potential prescribers and to better balance the sales territories. The company eliminated or merged 16 of the 164 sales territories and established 7 new territories in areas that management feels are ripe for growth. This resulting disruption of the sales rep-physician relationships affected first quarter prescription growth. We believe management was attempting to stay ahead of the potential leveling off of the prescription trend for Gralise evident in the first quarter by raising the price 9% to start the second quarter. We remind investors that the company raised the price by 12% in mid-December 2012.
For the first quarter 2013, Gralise prescriptions totaled just over 50,000. Although an all-time quarterly high, the 7% total prescription growth lagged expectations. Management believes that the sales force optimization completed in the first quarter will create additional demand starting in the second quarter. For example, the company has added over 5,000 pain specialists to its call mix. Pain specialists now make up nearly half of the total Gralise market.
To date, over 12,000 physicians have written prescriptions for Gralise, with the majority coming from pain specialists (~47%), primary-care physicians (~23% of the total), and neurologists (~15% of the total). Roughly 19% of the Gralise scripts are coming from users switching from generic gabapentin TID, Cymbalta, Lyrica, and Lidoderm rounding out the bulk of the rest of patient switches. Roughly 70% of prescriptions are re-orders.
With respect to the inventory drawdown, management noted that despite the 7% increase in total Gralise prescriptions in the first quarter 2013, shipments to wholesalers declined by 10%. Some wholesalers reduced inventory by as much as 7 to 10 days. We believe this accounted for an additional $0.8 to $1.0 million in reduced reported sales in the quarter. Thus, we are not overly concerned with the lower reported Gralise sales figure.
We see that management has taken several additional actions to help drive growth of Gralise in the coming quarters. The first is the initiation of an eVoucher program for Gralise designed to help capture patients that might turn down a prescription for Gralise at the pharmacy due to high co-pay. This program was rolled out to 41,000 participating pharmacies in late April 2013. It replaces the previous $75 co-pay assistance card with an automatic discounting eVoucher.
The second initiative is a new program designed to facilitate prescription up-take in patients that require prior authorization called "Cover My Meds." This program started in mid-April 2013, and after only the first 12 days of the program management saw a 5-fold increase in the number of successful prior authorization approvals from the previous full month. The emphasis here is on pain centers where Gralise's share of mind is growing nicely, but potentially limited in prescription growth by prior authorization requests and step-edits.
The final change we expect to see help drive Gralise sales in the coming quarters is a newly hired managed care team at the company focused on Medicare Part-D. We remind investors that the company won a key formulary listing for Medicare Part-D at CVS Caremark to start 2013. This listing facilitates uptake of Gralise to Caremark's 6+ million Medicare lives. That's around 20% of the entire Medicare Part-D market. Considering the average Gralise patient is around 61 years old, Medicare Part-D is a big part of the equation. For example, the prescription fill rate for Gralise is around 85%, but for Medicare Part-D the rate was only around 50% prior to the CVS Caremark win. We suspect this was because of the lack of Medicare Part-D coverage and the fact that co-pay cards of eVoucher programs cannot be used with Medicare. The listing of Gralise as Tier-2 with CVS's 6+ million lives opens up a meaningful opportunity for management.
Following this win, the company felt it wise to hire an in-house managed care team to focus on additional Medicare Part-D wins in 2013 for January 1, 2014 listing. This team replaces the company's previous reliance on vendors for managed care access system. We note there are still some 24 million lives covered under Medicare Part-D that are disadvantaged to Gralise due to lack of coverage.
Management has sent the new CMS package plans to new formularies for potential listing in 2014. Decisions are expected around July or August 2013. Management noted on the first quarter conference call that once coverage is secured for a January 1, 2014 listing, the company can then go back and negotiate early entry. This is definitely something to watch closely for in July or August 2013.
Below is a representation of the Gralise prescriptions and our forecasts for 2013 and 2014. For the week ending April 26, 2013, Gralise total prescriptions were 4,367 - an all-time high. This equates to roughly 0.47% of the entire gabapentin market, with an annualized run-rate of around $35 million.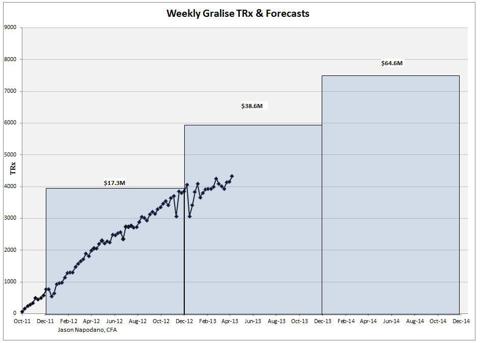 For the full year 2013, we are modeling sales of Gralise at $38.6 million. Note the volatility seen at the end of the year around the holiday season and the fall-off in the first quarter 2013. The recent price increase as of April 1, 2013 and eVoucher, Cover My Meds, and new Medicare Part-D focus should help return prescriptions back to our forecast line above. We expect Gralise sales to grow to $64.6 million in 2014. We believe peak sales of Gralise are $200 million.
With respect to Gralise exclusivity, we remind investors of the company's nine U.S. FDA Orange Book-listed patents protecting the product out to 2024. The company has active litigation against the three remaining Gralise generic (ANDA) filers, with a Markman claim construction hearing scheduled in June 2013. We believe Actavis is the first-to-file of the paragraph IV challengers.
The company is still seeking seven-year exclusivity from the FDA based on the agency awarding Orphan Drug Status last year. We remind investors that the company filed a suit against the FDA in the District Court in the District of Columbia in September 2012. Management expects a decision by the end of third quarter, although we note if oral arguments are called the decision could be delayed until late 2013.
…Zipsor…
Zipsor sales in the first quarter 2013 totaled only $3.0 million. This was a meaningful decline from the $4.9 million recorded in the third and fourth quarter 2012. Total prescriptions declined in the first quarter 2013 by 5% compared to the fourth quarter 2012. The same issues that hit Gralise reported sales in the first quarter 2013 also negatively impacted Zipsor.
Firstly, the company increased the price of Zipsor by 40% on April 1, 2013. The increase in return reserve taken in the first quarter was $0.7 million. With respect to the inventory destocking, management noted a 22% drop quarter-over-quarter in Zipsor shipments. We believe this negatively impacted reported sales by around $0.7 million.
Zipsor is now being promoted in the second position behind Gralise, thus the sales force optimization noted above in the first quarter hurt prescription growth, but should lead to increased sales in the coming quarters. Prescriptions for the week of April 26, 2013 were right around 1,800 and holding steady. However, management noted that the size of the prescription are up meaningfully, both on number of tablets and months of supply. For example, when Depomed acquired the product last summer there were 79 capsules per script. In April, the number is up to 85 capsules per script. Secondly, some physicians are writing prescriptions for a two-month supply of Zipsor to patients because the co-pay for many patients is the same. Bigger scripts and more capsules per script, along with the massive 40% price increase, should help drive the sales number in the coming quarters even if prescription growth remains flat at around 1,800 per week.
We are expecting sales to return to around $5 million per quarter for the remainder of 2013. The recent 40% increase in price will certainly help drive the sales number going forward. We see Zipsor as having $30 million peak potential as long as it stays in the number two position for Depomed behind Gralise.
…Glumetza…
Glumetza contributed $13.3 million in royalties in the first quarter of 2013 on sales at Santarus (NASDAQ:SNTS) of $41.5 million. Sales in the first quarter 2012 totaled $31.2 million. Santarus recently took a price increase on Glumetza and increased the number of reps promoting the product. Glumetza new prescriptions grew 21% and total prescriptions increased 18% in the first quarter of 2013 compared with the first quarter of 2012. Total Glumetza royalties in 2012 were $42.7 million. Depomed received 29.5% royalty on sales of Glumetza at Santarus. We note the royalty rate jumped up in 2013 to 32%, and will jump again to 34.5% in 2015. For 2013, Depomed management believes it will receive over $53 million in royalties from Santarus on Glumetza.
We expect the first generic Glumetza tablets will start to show up in early 2016. Glumetza is a nice cash cow for Depomed. It lowers the quarterly burn and provides meaningful growth to the top-line. We see a possibility that the company could look to monetize the Glumetza royalty in 2013 if they found a comparable commercial product to add to the in-house promotion with Gralise and Zipsor. Glumetza is no longer a core asset and its life is coming to an end (generics expected in 2016). We believe that shareholders would react favorably to cashing-out on Glumetza and securing another core asset to add to the existing "pain and neurology" model the company has worked so hard to create over the past year. That being said, we do not expect Depomed to enter into such a transaction unless they already have identified a pain / neurology product to acquire.
…Acuform / Licensing Deals…
Revenues from licensing and collaborative payments totaled $2.964 million in the first quarter 2013. The company has numerous technology and licensing agreements with other pharmaceutical companies, some of which pay milestones and royalties to the company. The company has existing relationships with Merck (NYSE:MRK), Johnson & Johnson (NYSE:JNJ), Boehringer Ingelheim, Covidien (COV), and Ironwood (NASDAQ:IRWD).
Depomed receives a low-single digit royalty on sales of Merck's Janumet-XR and J&J's Nucynta-ER products. Those combined royalty payments were $0.8 million in the first quarter 2013. We are expecting the royalty suite to grow in the coming years. In late March 2013, J&J received FDA approval of its first-in-class SGLT2 inhibitor, Invokana (canagliflozin), for type 2 diabetes. Depomed tells us that J&J is developing a once-daily combination of this compound and metformin, which Depomed formulated using its Acuform technology. Depomed is entitled to milestone and royalties on net sales of the once-daily combination product. Of the $2.964 million in revenues recognized in the first quarter 2013, $2.2 million was from a product Depomed completed for J&J - most likely the co-formulation of canagliflozin and metformin-XR.
Finally, Covidien has been working to develop acetaminophen / opioid analgesic combination products (Vicodin-XR) utilizing Depomed's Acuform gastric retentive drug delivery technology. Covidien recently stated that the first of these candidates will be filed to the U.S. FDA in the second quarter 2013. Depomed is entitled to a small milestone (we model $2.0 million) on the acceptance of this NDA. The second acetaminophen / opioid analgesic combination product (Percocet-XR) is currently in Phase 3 studies. Depomed can earn an additional milestone once Covidien files that NDA and the FDA accepts. Additionally, Depomed receives low single-digit royalty on sales.
We note that on January 29, 2013, Depomed filed a complaint in the United States District Court for the District of New Jersey against Purdue Pharma L.P. for infringement of U.S. Patent Nos. 6,340,475; 6,635,280; and 6,723,340 (collectively, the "Depomed Patents"). The complaint alleges infringement of the Depomed Patents arising from Purdue's commercialization of OxyContin (oxycodone hydrochloride controlled-release) in the U.S. The Depomed Patents relate to Depomed's Acuform drug delivery technology. U.S. Patent Nos. 6,340,475 and 6,635,280 will expire in 2016, and U.S. Patent No. 6,723,340 will expire in 2021.
We note that the polymer formulation patents that expire in 2021 are the same patents that Depomed licensed non-exclusively to J&J's for Nucynta-ER. J&J obviously saw an issue and believed it made more sense to settle with Depomed than battle them in court. We will be watching this closely over the next few months. Purdue's OxyContin does around $1.3 billion in sales worldwide. Just 1% royalty could provide $13 million in cash to Depomed per year, and that doesn't include a potential back-pay for damages. This could be a $50 million settlement at the high-end.
…Nearing Breakeven Operations…
Depomed reported a net loss in the first quarter 2013 of only $5.5 million, or $0.10 per share. Loss was driven by $25.9 million in SG&A, $3.3 million in R&D, and $1.0 million in amortization of intangibles related to the Zipsor acquisition last summer. We believe that Depomed is slowly approaching breakeven operations. In fact, we model positive net income in the third quarter 2013. Management guidance for 2013 includes total revenues of approximately $125 to $135 million, which includes approximately $6 million in anticipated milestones under the company's collaborative arrangements. We model revenues toward the low-end of guidance, at $126.9 million.
Guidance includes operating expenses of approximately $120 to $130 million, which includes approximately $4 million of intangible amortization related to the acquisition of Zipsor. We model a net loss of $1.9 million in 2013, or $0.03 per share. Depomed exited the first quarter 2013 with $72.9 million in cash and investments. Management believes it will exit the year with cash and investments between $70 and $80 million, meaning that the company is anticipating, at a minimum, cash-flow even operations from here on out in 2013.
Recommendation
Depomed is currently trading with a market capitalization of $310 million, or roughly 2.4x our projected 2013 revenues of $127 million. That's cheap! Based on our 2014 revenues of roughly $173 million, the company is trading at only 1.8x 2014 revenues. If the multiple of 2.5X holds for 2014, the stock is worth $7.35 per share. We think the company can do $1.00 in EPS in 2015. A simple 10x multiple on 2015 EPS puts the stock at $10 18-24 months from now. That's nearly 100% upside return.
The company has $72.9 million in cash and investments, and we expect operating results to be cash-flow neutral the rest of the year. In 2012, Depomed booked over $40 million in royalties on Glumetza, sold through partner Santarus. Management expects to book over $53 million in 2013. Booking similar amounts in 2014 and 2015 nets a present value of at least $125 million. Prescriptions of Gralise for the week ended April 26, 2013 show the drug annualizing well over $35 million and growing steadily. We think Gralise, the company's flagship pain / neurology product is easily worth another $100 million in present value. Throw in anti-inflammatory pain medication, Zipsor, promoted in the number two position behind Gralise, and some royalties on big pharma drugs like Merck's Janumet-XR and J&J's Nucynta-ER, and future upside coming from J&J and Covidien products, and investors can see that buying Depomed is undervalued today. Our target price is $9 per share.
Disclosure: I have no positions in any stocks mentioned, and no plans to initiate any positions within the next 72 hours. I wrote this article myself, and it expresses my own opinions. I am not receiving compensation for it (other than from Seeking Alpha). I have no business relationship with any company whose stock is mentioned in this article.