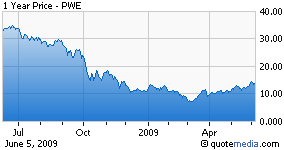 Hold-rated Penn West Energy Trust (NYSE:PWE) offers unlevered appreciation potential of 58% to a McDep Ratio of 1.0 and levered appreciation potential of 102% to Net Present Value (NPV) of US$25 a share. During the first quarter, according to results released today, the company generated cash from oil and gas production of about US$12 a barrel of oil equivalent as the difference between price of about US$33 and cash operating costs of about US$21.
Unlevered cash flow (Ebitda) was less than our expectations from three months ago, though hedging helped diminish the impact of low market pricing. Meanwhile, after the reduction in the past month, PWE's cash distribution is back under 60% of projected Ebitda minus interest. Our valuation capitalizes cash flow at unlevered multiples (PV/Ebitda) related to reserve life (Adjusted R/P) for natural gas and oil.
Pointing to expected oil price recovery, futures prices for the next six years averaged near US$71 a barrel recently. As oil price trends higher, management would likely use the incremental cash flow to reduce debt rather than increase the distribution as PWE undergoes a tax-induced transition from income trust to exploration and production company.
Originally published on May 6, 2009.