Short-term Treasuries ((NYSEARCA:
SHY
); below) fell out of bed on Friday on the heels of better than expected employment data.
Click to enlarge: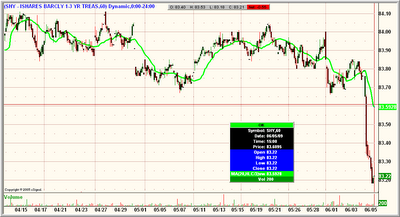 The breakout move has left traders wondering if the Fed
might be switching to inflation-fighting mode
.
Stocks pulled back from their initial gains, as rising rates but a flattening yield curve suggests a less favorable interest rate environment for lenders as well as borrowers. I will be tracking yield curve as well as absolute rates this coming week, as these appear to have important ramifications for the U.S. dollar (which strengthened on Friday's developments), as well as shares.