The share price of Michael Kors (NYSE:KORS) has declined by 11% from its 52-week high achieved in February. I believe investors should add shares at the current price level given the company's strong fundamental momentum and cheap valuation. My bullish view is supported by the following reasons:
1. Despite the fact that Michael Kors' consensus revenue, EBITDA and EPS growth estimates for the current and next fiscal years have experienced multiple upward revisions over the past 12 months (see charts below), the stock's forward P/E multiple has compressed by 46% over the period, which implies a compelling buying opportunity (see chart below).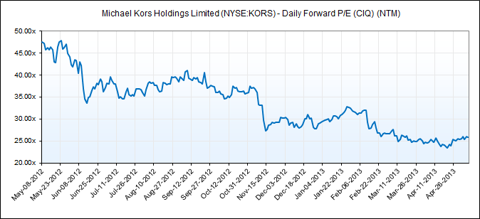 2. Michael Kors' valuation is cheap relative to its comps'. Let's first look at the comparison with Coach (NYSE:COH), the company's closest competitor (see chart below). Michael Kors' consensus revenue, EBITDA, and EPS growth estimates are considerably above Coach's levels. On the profit side, however, Michael Kors' various figures are below the peer benchmarks. In terms of liquidity, Michael Kors has a lower free cash flow margin, but the firm's current and quick ratios are markedly above those of Coach, reflecting a very healthy balance sheet condition.

Michael Kors' current price multiples at 13.7x and 25.8x are much higher than Coach's trading multiples. Given Michael Kors' much stronger growth potential, the valuation premium is completely justifiable. After accounting for the 5-year earnings growth estimate, Michael Kors' PEG ratio of 0.7x is 38% below Coach's, implying that Michael Kors' relatively weaker profitability and free cash flow margins have been priced in (see chart above).
By performing the same analysis for Lululemon Athletica (NASDAQ:LULU) (see chart below), which shares the closest growth profile to the company, one would draw a similar conclusion. Michael Kors outperforms Lululemon in terms of growth potential and profitability, however, its valuation multiples are all trading at a deep discount to Lululemon's figures, suggesting an attractive valuation level.

3. Michael Kors has been riding a strong fundamental momentum since its IPO. The company exceeded its consensus revenue and EPS estimates in each of the past five quarters and the out performance was quite significant in most of the quarters (see charts below).


4. Analysts are very bullish on the stock. Of the total 17 ratings compiled by Thomson One, there are 10 strong buy and five buy ratings. Their average one-year price target at $73.0 is 26% above the current share price. Given that Michael Kors should command an approximately 17% cost of equity based on the capital asset pricing model, the average price target implies that the stock is modestly undervalued (see chart below).

5. Wells Fargo Securities initiated its coverage on Michael Kors on May 6, with the following investment theses, which I tend to agree with (sourced from Thomson One, Equity Research):
1. The company has among the best momentum in retail, both on the top- and bottom-line.

2. In addition to its opportunity to double its store base in the U.S., it has barely scratched the surface internationally. Results are very strong in Europe and this is encouraging for both European opportunities and those in Asia.

3. Operating margin can still expand further from the 28% we expect it to achieve in 2013.

4. It effectively has no e-commerce business but plans to bring it in-house in 2014, which should drive a significant boost to revenue.

5. Valuation is extremely attractive, in our view, for a company with its square footage growth prospects. It's cheaper than lululemon and growing faster, and we believe handbags and accessories are more portable than LULU's yoga-inspired apparel.
Bottom line, in the light of Michael Kors' strong fundamental, promising growth prospects, as well as its cheap valuation, the current stock price is in the buying zone.
All charts are created by the author except for the consensus estimate tables, which are sourced from S&P Capital IQ, and all financial data used in the article and the charts is sourced from S&P Capital IQ unless otherwise specified.
Disclosure: I am long KORS. I wrote this article myself, and it expresses my own opinions. I am not receiving compensation for it (other than from Seeking Alpha). I have no business relationship with any company whose stock is mentioned in this article.