In November of last year, I identified M.D.C. Holdings, Inc (NYSE:MDC) as my second favorite pick for homebuilders for 2013. The main attraction was the sharp drop in short interest in 2012, the largest amongst my homebuilder universe. That decline continued into January of this year but has since rebounded to levels from last Fall. Moreover, MDC's price performance has lagged the group with only a 3.6% year-to-date performance (for a comprehensive review, see "Homebuilder Price Performance Diverges In 2013 As Shorts Continue An Uneven Retreat"). In this post, I review MDC's last earnings report (May 2, 2013).
MDC has a diversified portfolio of locations which of course is not ideal during this early stage of the housing recovery when particular markets are extremely hot. MDC operates in three regions: West (Arizona, California, Nevada and Washington); Mountain (Colorado and Utah); and East (Virginia, Florida, Illinois and Maryland, which includes Pennsylvania, Delaware and New Jersey). Unlike other builders with significant operations in California, MDC does not seem to record its most profitable sales in California even though the West has the same amount of revenues as Mountain. In March the split was 41% to 40% respectively for home and land revenues. The Mountain region is MDC's most profitable, delivering 52% of the positive contribution to margin. MDC says that its newer communities and higher absorption pace is weighted toward the West and Mountain markets of Arizona, Nevada, California, and Colorado.
A look at MDC's California markets provides at least one potential issue on margins. In the red hot San Francisco Bay Area, MDC is only selling in Fairfield and Mountain House, offering reasonably priced homes that are extremely long commutes from the core job centers. MDC has just one community in Los Angeles which is far north in Sylmar. The bulk of MDC's California homes are in the Inland Empire which is only just now recovering from the bottom of the housing crash and features a plenitude of entry-level homes. Entry-level buyers are not yet driving the housing recovery. My guess is just a guess because MDC actually claims its share of buyers is actually shifting toward the move-up segment:
"…in terms of kind of the mix between the first-time and the move-up buyer, historically, we've been for last 12 to 15 months, we've been kind of in that 50-50 range. But now, we've kind of shifted a little bit more towards the move-up buyer, and it's probably 60% move-up or move-down and then another 40% of our first-time buyers."
For a very rough comparison on margins, high-performing MTH recorded a 17% increase in ASP year-over year to $314K thanks to its concentration in California and a "home closing" gross margin of 19.5%. MDC's ASP increased only 9.4% from the year-ago quarter to $326K and gross margins from "home sales" sit at 17.4% (see slides from earnings call). It was MDC's fifth straight profitable quarter.
It makes sense to temper my enthusiasm somewhat for MDC relative to other builders, but the upshot is that MDC could have more upside than other builders when the economic recovery broadens. MDC notes that it is raising prices in the majority of its communities, and the company is "…optimistic that [it] can continue to drive sequential improvements to…gross margin percentage for the balance of 2013." MDC did not provide specific margin targets.
During the conference call, MDC did not provide detail across all its markets. MDC did note that it expanded in Florida by acquiring lots in two Orlando communities. This is part of a general plan to expand its number of communities. All of MDC's markets experienced "…year-over-year increases and particularly strong results from…Colorado, California and Arizona operations. The increases experienced in these markets were driven by favorable net new order trends in 2012 and 2013, coupled with a short supply of resale and new home inventories in many of these markets." The theme of limited supply is one repeated throughout the industry. Even the market for land is heated up. According to MDC:
"…This is a market that is very competitive…so I would say we have a more sophisticated land seller. And since the majority of the publics, even from the privates are all looking through, fully finished, affordable properties at A locations that they can get in the ground quick, the ability to option is more limited."
Regardless, MDC is gearing up to sell into the supply gap: "…'soon to be active' communities, which represents communities with construction activity that have not yet sold 5 homes, exceeded…'soon to be inactive' communities for the first time in 6 quarters." MDC is also increasing the number of spec homes in its communities in order to meet strong demand that MDC implies should last for some time:
"…as you can see from our acquisition of new lots and our opening of new subdivisions, I would say that you could assume that over the next couple of years, we will be as aggressive as the market allows, knowing that we're kind of competitive."
Momentum is definitely building for MDC sales as its monthly sales absorption rate increased 60% year-over-year to 3.0 sales per community per month. This is MDC's highest quarterly absorption pace in 7 years. This absorption (and delivery) pace drove active subdivisions down 6% in the first quarter.
Finally, I always find the comments on U.S. housing market dynamics the most interesting in the earnings reports for homebuilders. MDC made a quick reference to demand for homes from non-U.S. citizens that seems to confirm, at least anecdotally, that some of the strength in demand is coming from foreign buyers. These buyers understand that U.S. real estate is cheap and is likely to offer more reliable returns over time than they can find in other over-heated markets. (I will do a post soon summarizing my conversation with a Bay Area real estate agent. One thing she told me is that Chinese nationals say that "The U.S. is on sale." Australia used to be their hot market, but it has become expensive.) Emphasis mine:
"…the consumer confidence in housing, the psychology has changed. In some markets like in California, there are some subdivisions that a material amount of the buyers are non-U.S. citizens. And so I think that the United States is in a unique place where it's a safe haven for capital. As we look around the world, there's not a lot of safe havens. And so housing benefits from the pent-up demand. It benefits from the low interest rates. And the home value and the affordability, as you know that the affordability is well imbalanced, and there seems to be room to run between the cost and what the affordability index would anticipate. And so I think the industry is working hard to expand to meet the demand and the needs of the buyer."
Overall, MDC's results were good but not amazing. The stock is underperforming its homebuilding peers for a reason, but it should play catch-up whenever the economy picks up steam. Here is a stock chart of MDC showing how it has made no progress this year.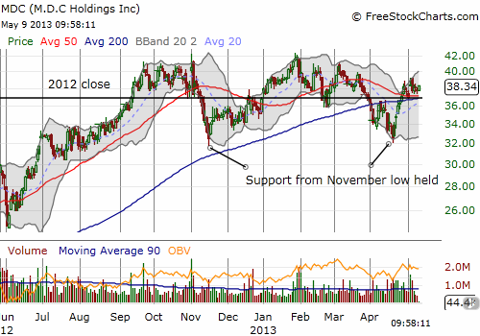 MDC has made little progress this year but did survive a critical test in a sell-off last month (April)
Source: FreeStockCharts.com
(Source used: First quarter earnings presentation, annual report, and Seeking Alpha transcript of the conference call).
Be careful out there!
Disclosure: I have no positions in any stocks mentioned, but may initiate a long position in MDC over the next 72 hours. I wrote this article myself, and it expresses my own opinions. I am not receiving compensation for it (other than from Seeking Alpha). I have no business relationship with any company whose stock is mentioned in this article.