How long can enterprises milk their existing PCs without having to upgrade? The answer for now is: Quite awhile, perhaps forever. But technology chieftains are betting (praying?) that there's a big PC upgrade cycle looming and the Windows 7 Oct. 22 launch will be the catalyst.
The consensus view is that companies will have to upgrade their PCs at some point. Many of them have stretched the desktop replacement cycle perhaps as much as a year beyond the usual 3 to 3.5 year refresh rate.
Dell CEO Michael Dell recently summed up the consensus:
I think what we are seeing certainly is a big deferral of purchases among corporations but when we talk to them, the thing I'm hearing is they are planning on a pretty big 2010 client refresh, and they are sort of planning around Windows 7. They've passed over Vista and they are sort of planning for that now.

I think the client installed base is getting pretty old in these companies and I think there will be quite a powerful cycle of upgrades in the client environment.
That said this PC upgrade cycle may be different this time. Virtualization will be in. ROI will be in. Hoteling and maybe even thin clients will get play. And the other entrant that could really disrupt the PC upgrade cycle. Nettops, the cousin of the netbook. Here's Intel CEO Paul Otellini from the chipmaker's investor powwow:
"The old boring desktop is about dead," said Otellini. "(But) there's an 800 million unit installed base and 45 percent of them are more than three years." Otellini noted that there is an evolution in design on the desktop, pointing out HP's touch screen design. Also Atom powered desktops are a growth market.

"Nettops are the under recognized cousin of netbooks," said Otellini, who indicated that these nettops could replace desktops. The game isn't to reinvent the desktop, but "milk" the 800 million installed base.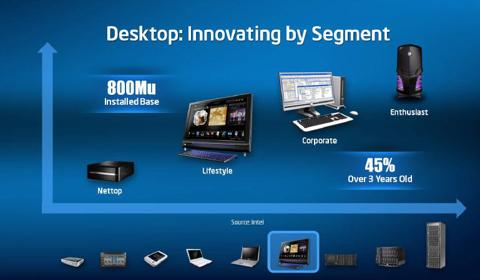 The big question is whether Windows 7 serves as a catalyst for the PC upgrade cycle. There are millions of long-in-the-tooth corporate desktops. And if those desktops get replaced with nettops it's not clear whether Windows 7 is the winner.
Microsoft has demonstrated that test builds of even its heftiest (and priciest) Windows 7 SKUs can run on netbooks. But here's the rub: PC makers are expected to choose Windows 7 Starter Edition or possibly Windows 7 Home Premium to preload on new netbooks because those SKUs will be the cheapest. Microsoft recently removed its three-concurrent-application restriction on Windows 7 Starter Edition, but that low-end version is still missing a number of features that Microsoft is touting as Windows 7 selling points.
Also see: Will the Windows 7 price be right?
The other wild-card here is the economy. If the economic picture doesn't improve companies may just try to milk their PCs a little longer.
Deutsche Bank analyst Chris Whitmore writes in a recent research note:
The reluctance of Corporates to migrate to Vista (~75% of install base on XP or older) suggests the PC installed base is quite old and will require an upgrade to effectively run Win 7 (despite its modest system requirements). In the interim, we expect users to extend the useful lives of PCs for as long as possible and generally opt for lower end configurations ('good enough') and netbooks (XP).
According to Whitmore an improving economy will make his 2010 PC unit growth estimates conservative. If not, XP will make do again.
In any case, there's a huge gap between the installed base vs. PC shipments that at some point will close. This installed base vs. PC shipments is largely attributed to Vista. Enterprises have largely held out from Vista and plan the XP to Windows 7 jump. The good news: XP has allowed companies to squeeze more out of their machines. The bad news: Eventually, these companies will need a new OS and the PCs riding shotgun.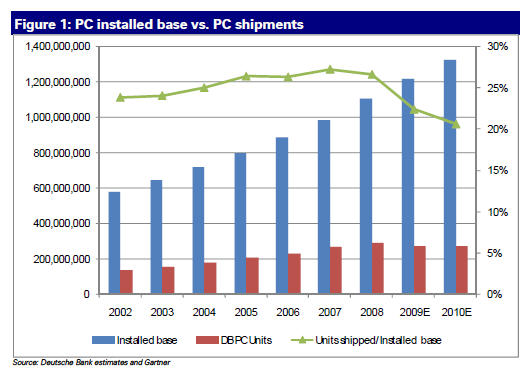 Whitmore says:
We expect the magnitude of PC demand following the release of Win 7 to be contingent on macro improvement, particularly among corporates who historically have been slower than consumers to adopt new technology due to extensive testing before rollout. Further, current IT budgets are still under pressure and we expect corporates to extend the useful life of currently installed PCs for as long as possible.
The charts tell the tale. According to Gartner data, the consumer has adopted Vista at a faster rate than the enterprise. That blue bar below indicates the potential XP to Windows 7 pool.

If that crowd jumps from XP to Windows 7 the Windows operating system mix should look like this: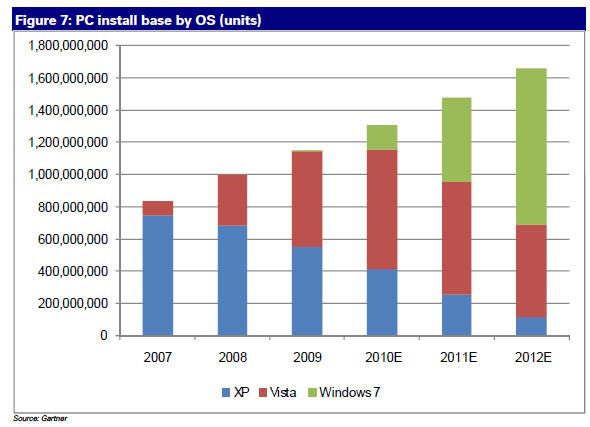 However, a lot can go wrong—especially on the economic front. Tech executives are hoping that the industry doesn't find out just how long you can stretch a Windows XP desktop.