Equity investing is ultimately a game of expectations and, judging by the performance of Micron Technology (NASDAQ:MU), those expectations are high.
To wit, over the past six months, Micron has seen its stock rise by 59% - a performance that is more than five times better than the S&P 500's (NYSEARCA:SPY) in that span and over 3.5 times that of the Philadelphia Semiconductor Index, of which Micron is a component.
6-Month Performance: Micron, S&P500 and SOX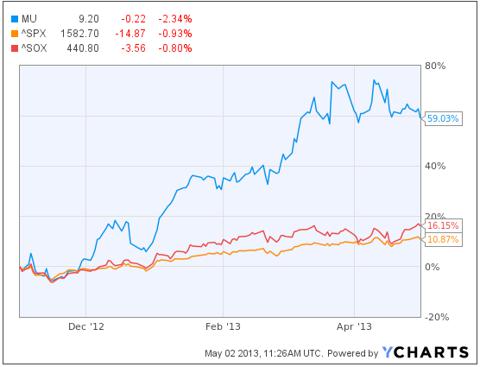 Source: YCharts
The narrative regarding Micron is simple enough: the NAND flash memory chips that it (and its subsidiaries such as Crucial) manufactures are heavily used in fast-selling consumer electronic devices such as smartphones, tablets and handheld media devices. These chips are also used in mass storage devices such as SSD drives, which are being increasingly used in slim form-factor portable PCs, as well as high-performance servers meant to provide high-speed access for cloud services.
It is therefore good news for Micron that smartphone shipments grew by 41.6% in the first quarter of 2013 while tablet shipments grew by 142.4% in the same period. What's more, smartphone shipments outstripped the shipments of feature phones for the first time during the same period - another positive development for Micron since it is estimated that smartphones use 9x more NAND memory chips than standard feature phones - a ratio that is similar for tablets, which usually ship with a minimum of 16GB of NAND flash memory.
This bullish outlook for the market's products has allowed investors to overlook the sorry fortunes of Micron over the past year. Over the trailing four quarters, Micron lost a combined $1.11 per share, which is 29 cents more than the 82 cents it had been expected to lose in that span; in fact, through the first three of those four quarters, Micron lost more (83 cents) than it had been expected to lose for the whole year. It should surprise no one that Micron missed earnings estimates by an average of 37% in each of those four periods.
Micron shares have a beta of 1.7, meaning that market swings are especially exaggerated for its shareholders. Indeed, Micron shares have a volatility of 41% - more than three times the volatility of the S&P 500. Clearly, investing in Micron shares is not for the faint of heart. The question is, should investors take the risk?
The Earnings Story
As mentioned, Micron is expected to derive significant earnings velocity from the performance of the consumer electronics sector, which feature the company's chips in its fastest-moving products. Consequently, Micron is predicted to see earnings grow by 248% in the coming year - close to six times the earnings growth rate of the memory chip industry and a staggering 20 times the S&P 500's expected growth rate in that period.
The numbers come down to earth a bit over a longer timeframe: over the next five years, Micron is expected to see EPS growth of 14.4% - a bit slower than the 15.6% growth rate of its industry as a whole - but still 54% faster than the earnings growth rate of the S&P 500.
This faltering of forward earnings momentum was probably one of the major incentives behind Micron's bid to acquire bankrupt Japanese chipmaker Elpida, which will add approximately 45% to Micron's overall trade chip capacity, according to Bernstein Research's estimates. This number is significant because it is not yet built into the majority of five-year forecasts for Micron: some Elpida investors may still contest its purchase by Micron.
Beyond just the boost to its capacity, Micron is likely to accrue less goodwill on the Elpida acquisition because a weaker yen means a lower dollar-equivalent closing acquisition price. Finally, Micron could see a lower appraisal value for Elpida's existing manufacturing facilities, which means that once Elpida is rolled-up into Micron, the latter can recognize lower depreciation expense. In short, the Elpida numbers are likely to boost Micron's numbers at both the top and at the bottom.
The acquisition of Elpida also gives Micron better pricing power. With a larger share of industry capacity, Mircon will be more capable of fighting pricing attrition in the face of price-gaming by large buyers such as Samsung, Apple and Nokia, enabling it to boost its gross margins that, at 38% over its trailing 12 months, are lower than its industry's average of 42.6% and its own five-year gross margin average of 43%.
Fundamentals, Valuation And Technicals
Micron's stock is currently trading at just 14x forward 12-month earnings, which would put it in-line with the S&P 500 over the same period. Meanwhile, on a five-year forward earnings basis, Micron is actually trading at just 8.2x, for a discount of 17% relative to the S&P 500. While the usual caveats apply regarding such forecasts, we believe that these actually underestimate Micron's relative undervaluation, after all, the Elpida acquisition has not yet been built into them.
Micron is also trading at a fairly reasonable 1.4x tangible book value - a little bit less than its industry's 1.5x and quite a bit less than the S&P 500's 5x book value. What this means is that Micron actually has physical assets to underpin its valuation - this isn't a company trading purely on hype or difficult-to-value intellectual property (though it does have plenty of the latter).
Micron also has a very acceptable level of debt: with a total debt-to-equity ratio of just 0.5, it is actually conservatively levered relative to the S&P 500. Its shareholders needn't worry about debt covenants becoming a problem for management.
From a technical perspective, Micron is actually well positioned: it is in a moderate consolidation phase but its upward trend-line has not been broken. What's more, on a relative strength basis, it is actually approaching levels that would normally be considered oversold. In short, the charts are actually telling investors to buy Micron.
Conclusion
We agree with the charts - Micron is a buy. The combination of favorable forward earnings growth, a relatively cheap valuation, solid fundamentals and positive investor mindshare from being in a sunrise industry (NAND flash) leads us to believe that Micron could actually overshoot the consensus price target of $11.7 per share by another 5%, which means that Micron is looking at a 33.5% upside from current levels. Investors with a high tolerance for volatility would do well to pick up its shares today.
Disclosure: I have no positions in any stocks mentioned, but may initiate a long position in MU over the next 72 hours.
Business relationship disclosure: Black Coral Research, Inc. is a team of writers who provide unique perspective to help inspire investors. This article was written Jonathan Lara, one of our Senior Analysts. We did not receive compensation for this article (other than from Seeking Alpha), and we have no business relationship with any company whose stock is mentioned in this article.
Disclaimer: Black Coral Research, Inc. is not a registered investment advisor or broker/dealer. Readers are advised that the material contained herein should be used solely for informational purposes. Investing involves risk, including the loss of principal. Readers are solely responsible for their own investment decisions.