In what could be a dangerous sign to the economy if it continues on, American consumers slashed their use of credit card borrowing in February to March from $18.6 billion to $7.97 billion, according to figures released by the Federal Reserve.
Economists surveyed by Bloomberg had been looking for an increase of $15.6 billion in consumer credit card usage in March. One thing to consider is the 31 economists surveyed by Bloomberg missed this one, and missed it in a big way. Why? We'll get into that a little later in the article.
Revolving credit actually fell month-over-month. As for personal spending, in February, it increased by 0.7 percent, while in March it plummeted to only 0.2 percent. That's quite a slowdown. Incomes in the U.S. were also down in March, dropping significantly from being up 1.1 percent in February to going into negative territory of 0.2 percent.
Was February Really that Strong?
While the numbers in February for consumer credit card use aren't in question, the way consumers spend probably is. February is usually when people get their money back from taxes, and it's easy to assume they spent that money before they got it in the early part of February, anticipating paying it back when they received their tax money.
In that regard, February is always a month unlike any other month. The point is, was that what created the higher numbers for February, or was it something else? I think a big part of it was tax return money being pre-spent.
Why that's important in my view is it makes the month a possible anomaly, and we could see more cutbacks in consumer credit card use in the months ahead. It couldn't be called a trend yet, but it could be a precursor to a trend. It will take at least a couple more months to see if consumer psychology has actually changed.
Real Concern
If this is the embryo of a trend, then consumers will have a dramatic impact on the health of the American economy. People don't take actions like this if they consider the economy as being in a good place. This is what people do when they're fearful and concerned. Keep in mind the parameters are in reference to the next two or three months producing similar consumer credit card spending data, not the data from March alone.
The dreaded word "austerity" sticks out, and if it takes hold, a lot of segments of the economy, and the companies that serve them, could be hit hard.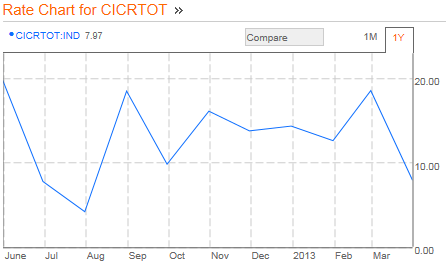 Why did Credit Card Use Plunge so Much?
Using the numbers released by the Federal Reserve, the reason for the drop in credit card use is tied in with three things: higher payroll taxes, limited income growth, and lower consumer spending. Consumer spending accounts for approximately 70 percent of the economy.
The immediate question then is why did the economists miss this completely? Are they drinking too much of the positive spin? After all, the higher Social Security taxes and shrinking income growth have been part of the economic narrative for some time.
Judging by the response of some analysts to the data, whom basically shrugged off the huge plunge in credit card spending, they are placing more weight on the rise in price of homes and soaring stock prices. An improvement in household balance sheets is what is being looked at by many analysts as the reason they aren't concerned with the drop in credit card use.
Nonetheless, the drop in factory orders and durable goods orders in March point to some temporary cooling off at minimum, and maybe something worse over the long term.

People Using Homes to Finance Purchases Again
It's interesting to see consumers using their homes as a personal bank being touted as a positive for the economy, when it was one of the elements crushing consumers during the great recession. I know ... I know ... it's different this time around.
The consumer credit report of the Federal Reserve doesn't include debt secured using real estate, including HELOCs. That's not to say we're not in the midst of a housing recovery, but to focus mostly on that while minimizing other data isn't a good way to make a determination on where things are heading.
Again, this may or may not be a blip on the American economic radar, but the drop was so huge it must be closely considered and watched over the next several months as to whether or not people are really as optimistic as some are portraying them to be.
The skyrocketing stock market may offer a positive outlook for people, but this isn't the first time that has happened, and main street isn't all that into using gains to finance buying sprees. I think it has to be the use of home equity that would be considered positive. But it could be an overweighted metric for the general health of the economy. This is probably why the economists missed the weakness in the consumer credit card results.
As for credit cards, using the high interest debt associated with them in a low-interest environment works against their use, and must be part of the way we look at them as a consumer financing tool.
Corporate Earnings
Another possible reason for the unwarranted level of optimism of analysts is corporate earnings. The assumption is main street Americans pay attention to these things. Yet even if they did, and they understood the earnings, it would be found much of that is based upon cost cutting and not growth. It creates headlines that can generate some optimism in the short term, but over time, as the story filters out, it's really not as positive as being portrayed and hyped in the media.
The idea that consumers will spend big with their credit cards based upon company earnings isn't a strong one.
Sectors Affected the Most
If the drop in credit card usage by consumers is at the beginning of a trend, many sectors will be hit pretty hard, including retail and manufacturing. Some of the biggest retailers will suffer, as they are where people use their credit cards the most; obviously big companies like Wal-Mart (NYSE:WMT) and Target (NYSE:TGT) would get some pressure. It would cut into the nice share price trajectory these companies have been enjoying, as you can see in the charts below.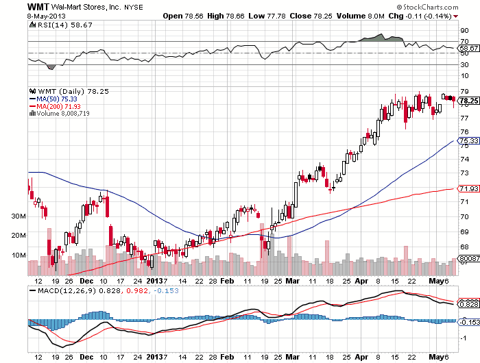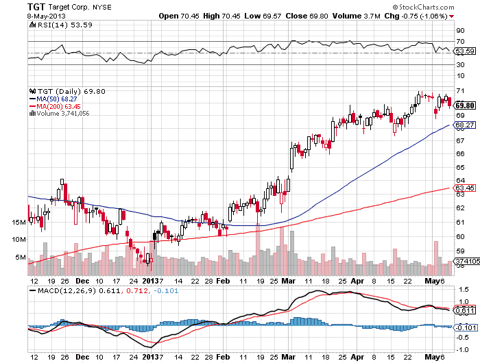 Other retailers like The Gap (NYSE:GPS), Abercrombie & Fitch Co. (NYSE:ANF) and Haverty Furniture Companies Inc. (NYSE:HVT) could get punished. Manufacturers of durable goods and retail products would also experience pain.
These retailers have moved at similar trajectories as Wal-Mart and Target. Abercrombie has leveled off some, but still has made a nice move over the last six months.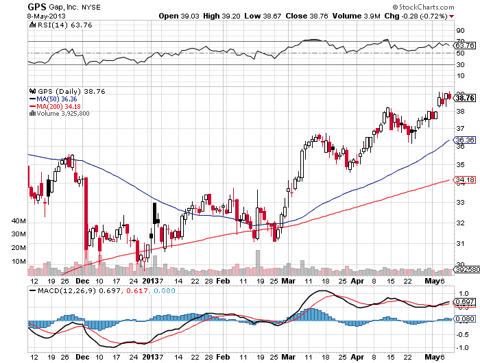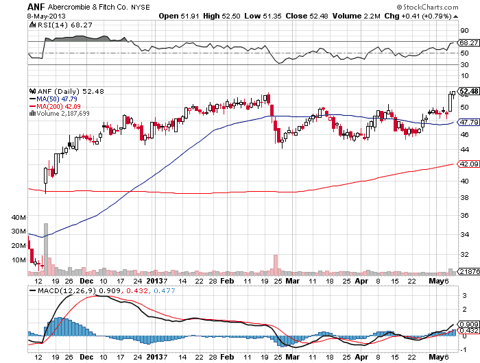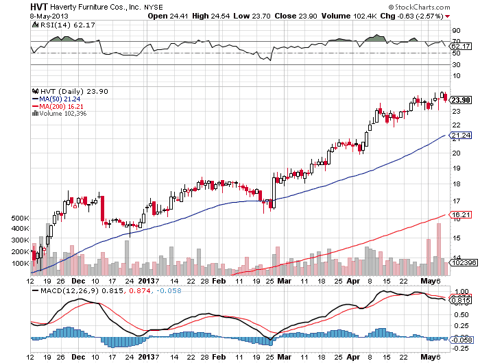 Along with retail and manufacturing stocks, banks and financials making money with credit card sales would move in similar directions.
Visa (NYSE:V), MasterCard (NYSE:MA) and American Express (NYSE:AXP) would fall into that category, as well as would a number of others.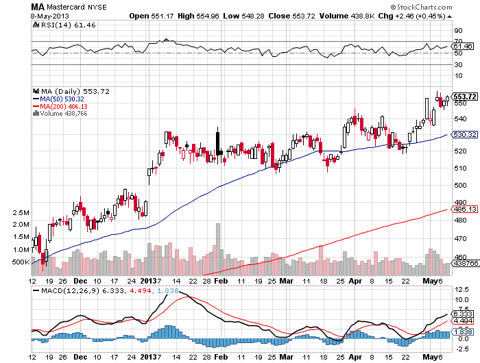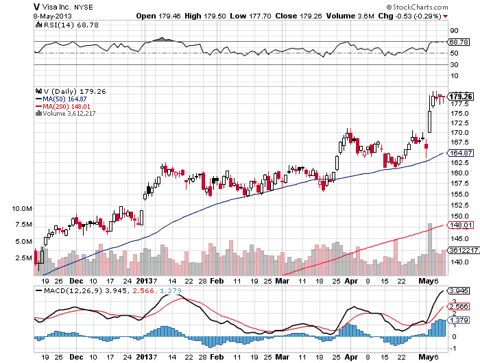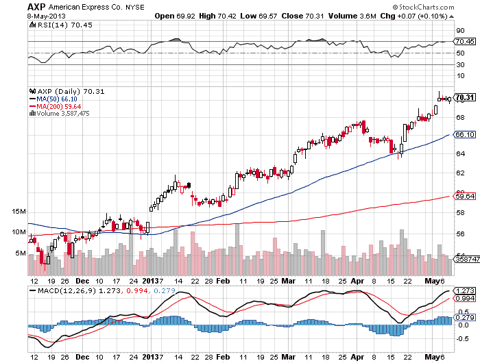 Looking at all of these charts, you can see how all of these companies have basically moved up at a very similar pace. If there is a lasting contraction in consumer credit card spending, every one of them would move down in a similar and predictable manner.
When you include the many other companies associated with related sectors, you can see how strong of an impact it would have on the overall market and the individual companies operating within it.
Conclusion
In the first three months of 2013, consumer spending has been the fastest it has been in over two years. March may be a wake up call that needs to be strongly heeded, at least as a possible first volley in a cutback of consumer credit card spending. As mentioned earlier, it'll take several months to see if a trend has developed, or consumers are just taking a breather.
Another negative is the quick pace of spending in the first quarter has resulted in Americans cutting back on savings. A lot of this is looking similar to what it looked like just before the last recession, and that isn't a good sign.
There is no reason to panic, but we do need to be vigilant concerning consumer credit card spending, as more serious contraction could have dramatic effects on a number of sectors, as well as the overall economy.
Disclosure: I have no positions in any stocks mentioned, and no plans to initiate any positions within the next 72 hours. I wrote this article myself, and it expresses my own opinions. I am not receiving compensation for it (other than from Seeking Alpha). I have no business relationship with any company whose stock is mentioned in this article.