In our latest article on Apple (NASDAQ:AAPL) "China and Apple: The Beginning Of A Beautiful Friendship", we introduced the main difficulties the firm is facing in the Chinese smartphone market (the biggest market in the world, in terms of volume), to merchandise its flagship product. We emphasized the fact that Android handsets are approximately two-thirds cheaper: while an iPhone's average price is 4523 yuan ($725.25, or about 9% of the PPP GDP per capita), the average price of an Android handset is just 1393 yuan ($223.36, 2.5%). This could be fatal in emergent markets, which are well-known for enjoying a low smartphone penetration rate and high price elasticity. This article develops this particular point in a broader context.
Briefly speaking, we believe that there is a "price issue" that has direct consequences on the revenue growth of the firm and consider that the introduction of a budget device could become a major positive catalyst, if done properly. Our article could be understood as a counter-argument to the recently published "Why A Budget iPhone Is A Bad Idea" article by Wall Street Investor.
This article is divided as follows: the first part introduces the current stock price momentum. Next, we introduce the "price issue" and explain why investors should care about this particular point. We provide 4 reasons that support our thesis: that a budget iPhone could bring enormous improvements to the current cash flows of the firm. We finish the article with our traditional final remarks.
Current Stock Momentum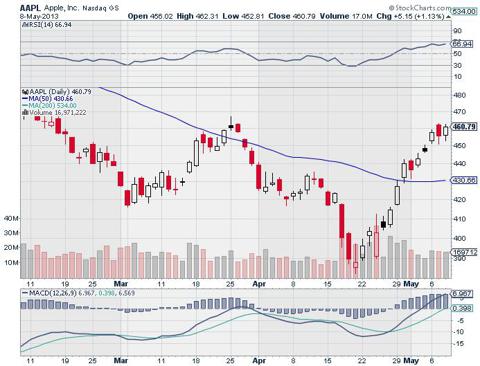 (Click to enlarge)
Stock price has recovered since the last earnings call on April 23th: a 16.05% price increase equivalent to $65 dollars per share. However, despite showing robust results and a healthy $43.6B in reported revenue, the latest earnings call clearly showed that the fierce competition against Android will increase in the next years. Growth rates in crucial ratios continue decreasing: March quarter EPS fell to $10.09, down 18% year-over-year.
This makes us question how long the current bullish trend will last. For the time being, the huge announcement on its cash return plans (e.g. Apple's dividend was increased by 15% from $2.65 to $3.05 per quarter) continue offsetting worries about the fierce competition in the smartphone arena. The Moving Average Convergence-Divergence (MACD) indicator, which measures momentum and stock trend, is increasing, but the growth rate is not amazing (it is similar to the momentum seen in March 1st - March 25th). This shows that upside momentum is increasing, but if Apple wants to go back the 600s level, it will need more than a massive cash return plan announcement, as the current growth rate of the MACD, tough high, is low from a historical perspective.
To confirm this, I check the historical performance of the MACD in the past 3 years. The current bullish momentum, although respectable in size, is not impressive.
A Budget iPhone: Why Investors Should Care
We showed in the previous section that a massive cash return plan is not enough for Apple to go back to the 600s level. To do so, Apple needs a major catalyst this year, that thing that Mr. Cook was referring to when he mentioned "some really great stuff coming in the fall": either the iOS 7, the release of the second handset in the iPhone 5 series, a new innovative device or the launch of a budget iPhone. We believe that a budget iPhone is the most realistic solution in the short term. Mr. Cook has denied that the firm is working on a budget version in February but, as Wall Street Wisdom puts it, "the rumors refuse to die, and analysts continue to expect that Apple will introduce a lower-cost handset". For example, Brian White of Topeka Capital says the phone is expected this July: "at the China trade show, we had the opportunity to interact with various suppliers and vendors, including those working with Apple." Ming -chi Kuyo, of KGI Securities, has also been constantly mentioning the budget iPhone in his investor notes. Gokul Hariharan and Mark Moskowitz, from J.P. Morgan, have a slightly different thesis: the Apple's low-cost iPhone will not be that much of a "low-cost" phone, if compared with the $200 Samsung (OTC:SSNLF) smartphones, but will indirectly target budget markets in the same way the iPad Mini did so.
Main Investment Thesis:
A budget iPhone could be a big positive catalyst.
We believe that Apple may be working on a budget version of the iPhone, which would be marketed in the same way the iPad Mini was. The price should be higher than $200 Samsung smartphones, to preserve the traditional brand differentiation strategy the firm embraces. We believe this will be a high-quality product, specifically oriented to emerging economies (again, this is the biggest smartphone market). Apple will obtain lower margins but, on the other hand, it will reinforce its competitive advantage over Android and enjoy further access to larger market share in the long term.
The 4 Reasons
1. According to ABI Research, by 2017, budget smartphones will equal half of all smartphone shipments.
The lowest-cost budget smartphones will equal about 46% of all smartphone shipments, which is 28% higher than now. Currently, 259 million budget smartphones are expected to ship this year. In 5 years, this number will increase to 788 million.
This is more than just "an attractive" market size. The budget smartphone market is "the market", and Apple needs to reinforce its position urgently. The introduction of a high-quality budget device is the missing key. If done properly, they could occupy a significant proportion of the red price band ($200-$399), which has the best revenue size.
2. The idea that "cheap devices have never been Apple's strength" is not correct. They may be so good at doing it that you do not realize they are actually "cheap" devices.
As a matter of fact, the budget iPhone may not even be called "iPhone". They will not only modify the price. They will modify the concept, as they have done in the past.
Consider, for example, the history behind the launch of the iPod Nano, which is actually a budget iPod. The reason why nobody regarded it is a "budget" device back in September 2007, when Steve Jobs pointed to the small watch pocket in his classic jeans asking "Ever wonder what this pocket is for?", is because they slightly modified the concept of an iPod to offset any possible negative effects that a lower price could have had on loyal Apple consumers. As a result, even people who owned a traditional iPod wanted to have a Nano! The iPad Mini history is similar. Both the iPad Mini and the iPod Nano are cheap, if you consider the difference in prices between these devices and their traditional versions. They are not cheap if they are compared with other competitors [Samsung, Lenovo (OTCPK:LNVGY), etc.], but directly chasing these companies has never been strategic.
3. As long as Apple keeps its high-quality standards, the loyalty of traditional customers will not be damaged.
Consider the case of the iPad Mini, priced at $329 (considerably lower than the most expensive 64GB MD512LL/A iPad, price at $692.99). This is a high-quality product. Because of this, although more expensive than the Nexus ($199) or the Kindle Fire ($249), the product made it big on the market share of mini tablets.
4. The budget iPhone could grab as much as 11% of low-end market in 2014.
This information comes from AppleInsider. Gene Munster of Piper Jaffray has 2 scenarios: in the most optimistic scenario, Apple could corner 11% of the low-end smartphone market "right off the bat in calendar year 2014", achieving 30% gross margins with a $300 device, 25% less than the current gross margin the company enjoys from the existing iPhone models. In the worst case, a low-end iPhone could cannibalize 30% of existing sales. But even if this were to happen, which is unlikely, the company's overall gross margins wouldn't be severely damaged.
A note on carriers
Inevitable, the introduction of a cheaper iPhone could arise some frictions with carriers. This is a key issue, considering that carrier agreements and distribution network within emerging markets are one of Apple's major weaknesses. This is why we consider the introduction of a cheaper device as a necessary, but not sufficient, event for Apple to gain market share in emerging economies. An adequate marketing campaign, the introduction of carrier subsidies in emerging markets and a couple of strategic deals [e.g. a deal with China Mobile (NYSE:CHL)] are also necessary elements.
Final Remarks
Rate: Neutral/ from Neutral
Uncertainty: Medium
Disclosure: I am long QCOM. I wrote this article myself, and it expresses my own opinions. I am not receiving compensation for it (other than from Seeking Alpha). I have no business relationship with any company whose stock is mentioned in this article.