Magellan Health Services, Inc. (NASDAQ:MGLN) is a managed healthcare company. Historically, the company primarily operated in the behavioral healthcare space, but expanded into radiology benefits management and pharmaceutical management in 2006. More recently in 2009, the company also entered into Medicaid administration. Both strategies seem to have worked out nicely, driving impressive growth for the top and bottom lines: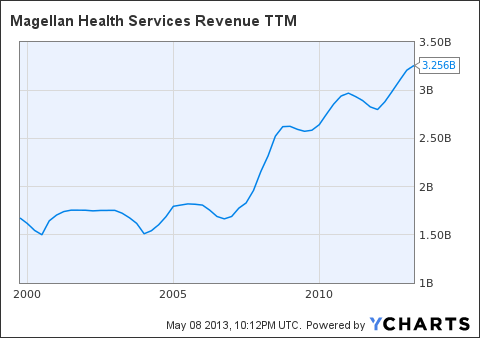 MGLN Revenue TTM data by YCharts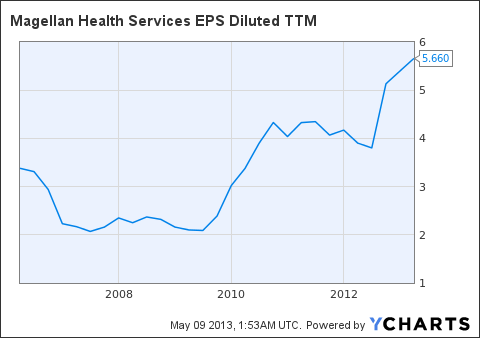 MGLN EPS Diluted TTM data by YCharts
I believe that the party is not over yet. The recent expansion of Medicaid under Obamacare and increased pressure to keep healthcare costs down across the board will provide an ample growth runway for managed care businesses: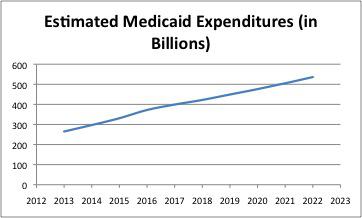 Source: Congressional Budget Office www.cbo.gov/publication/43947
Major Risk: Client Concentration
There is one catch. MGLN's business relies to a significant extent on large contracts with governments, businesses, and labor unions. This introduces major risks because many of these contracts are up for renewal in the short or medium term and the loss of a big client can significantly affect business performance. Most critical is the recent announcement by management that its contract with Maricopa county, Arizona, which is expiring on September 30, 2013, is not being renewed. The company lost the bid and is in the process of appealing the decision, but at this point renewal does not look likely. This is a big deal because $182.3 million of last quarter's revenue $727.6 was from this contract. That's about 25% of current revenue, and will probably be non-recurring.
In latest 10-Q, MGLN details all the other contracts that comprise at least 10% of the revenue of each operating segment: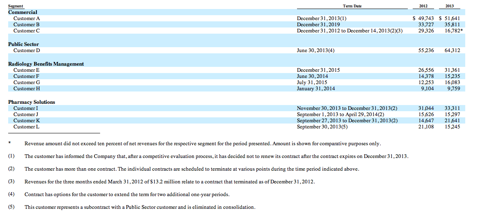 There are two things to note in this table. First, the contract with Client A worth $51.6M in revenues last quarter is terminating without renewal at the end of 2013. Additionally, contracts good for $151.2M in revenue last quarter expire some time in 2013 with unclear renewal status. Altogether, 32% of last quarter's revenue will disappear by 2014 and a further 21% is questionable going forward. While a fair amount of contract turnover in a given year is normal, this is much higher than usual.
Valuation
At $51.05 per share as of this writing, MGLN is selling at a trailing p/e of 8.9. In the last few years, the market has become increasingly skeptical about MGLN's future earnings. Right now it is trading at its lowest multiple since the financial crisis: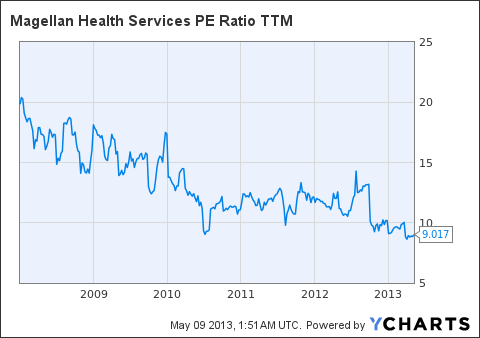 MGLN PE Ratio TTM data by YCharts
Whether MGLN is cheap or not depends on how one values the iffy future revenue relative to other market participants. According to Yahoo Finance, the four analysts covering MGLN anticipate revenue of $3.38B for 2013 and $3.22 for 2014, a 4.6% year over year decline. According to Morningstar, the two analysts covering MGLN expect EPS of $5.65 this year and $5.81 in 2014, a 2.8% increase. Both of these sets of estimates seem overly optimistic to me given the embedded contract risk, so I think that investors are in for disappointment in the short term and will probably drive the price down.
My strategy is to totally deduct the two non-renewing contracts and then have a crack at valuing the remaining business. In the last quarter, the average net margin for public contracts was 6.4% and 17.7% for commercial. This means that the Maricopa contract was good for something like $15.1M in net income last quarter and Client A $9.1M, about 35% of last quarters' $69.2M in total net income.
Taking this 35% from trailing earnings results in a "trailing core EPS" of $3.69. Using a DCF methodology to estimate 5% annual growth from this core reflecting bullish industry trends, 3% terminal growth and a 10% discount rate yields a price of $59.11. This is 16% higher than the current price.
Buy it, But Not Yet
MGLN is a growing company in a growing industry, and its long-term future looks bright. However, there are some significant challenges coming up in the next year that do not appear to be recognized by market participants. So while it looks like a decent value now, I believe investors will sour on the company in the coming months as it begins reporting significant earnings declines. When that happens, I'll be ready to pick it up for a song.
Disclosure: I have no positions in any stocks mentioned, and no plans to initiate any positions within the next 72 hours. I wrote this article myself, and it expresses my own opinions. I am not receiving compensation for it (other than from Seeking Alpha). I have no business relationship with any company whose stock is mentioned in this article.