Introduction
Chemical producing giants DuPont (NYSE:DD) and Dow Chemical (NYSE:DOW) are witnessing a transition in the sources of their revenues. The chemical producers have traditionally focused on providing chemical materials for the manufacturing industry, and this has been the backbone of their growth. Over time, however, DD and DOW have begun relying heavily on agriculture to fuel their billion dollar companies. While assessing their entry into the agricultural sector, I will also be keeping Monsanto (NYSE:MON) in the picture to provide a benchmark for the standings of DD and DOW in the agricultural industry. With production mixes shifting towards agriculture, I aim to find the best-suited chemical company stock for investors.
Recent Updates
The demand for DuPont's drought-resistant seeds has helped the company post a quarterly profit which has doubled from a year ago. The 210-year-old company is trying to root its business more firmly in agriculture products. DD's agriculture business saw earnings grow 13% to $1.5 billion. On the flipside, DuPont's titanium dioxide pigment, which has been massively successful in the past, experienced a drop of 44% in revenues. The agriculture business became the biggest source of revenue in the fourth quarter, contributing almost 45%. The performance chemicals business, which includes titanium dioxide sales, accounted for about 15%. In hindsight, the company's acquisition of Danisco and the selling off of the car paint business looks like a great call!
For DOW, the sales of its agricultural products jumped 14%, representing the highest growth among its business units, helping the company achieve a 33% increase in its net income. Due to the difficulty of the chemicals market, DOW is looking to cut down on its costs and shift its capital into production of more profitable products. At the same time, DOW also plans on making a $1 billion investment in carbon-fiber composites over the next 5 years as it looks to find new opportunities for growth. Interestingly, the two chemical companies are struggling in Europe due to the austerity measures being adopted by the EU. The demand for chemicals has gone down significantly, resulting in China becoming a primary candidate for the American producers to target.
Monsanto, the long-time agriculture player, has things cut out for itself on the back of reports that its seeds and, more importantly, its genetically modified products, are detrimental to human health. Furthermore, they go against the sustainability of agriculture as well. Courtroom visits have also become the norm for the troubled company as it requires growers to use the Roundup Ready seeds only for a single crop. They can't use the later generation of seeds from previous harvests. Monsanto imposes these conditions because the technology, which renders crops resistant to weed killer, reproduces itself in each generation of seeds. On the bright side, the company expects a record crop of corn this year. In the latest quarter, the company's profits rose 22% and it expects the bullish profit outlook to continue, based upon American farmers buying more high-margin seeds that have been genetically modified to boost yields and protect against pests that damage those yields.
Tracking Financials
When it comes to the stock price performances of the three companies' shares, there is a very disturbing picture. The graphs below illustrate the trends over 5-year and 1-year time periods. The three chemical turned agriculture companies have performed worse than the Dow Jones Industrial Average and the S&P 500. Monsanto and Dow Chemical have experienced a devastating slump of their prices.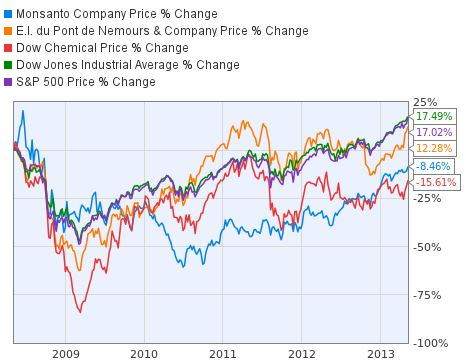 The 1-year graph however, shows a completely different picture, making Monsanto the clear pick out of the three stocks under discussion. The company's stock price has appreciated by a whopping 47.60% over the last year.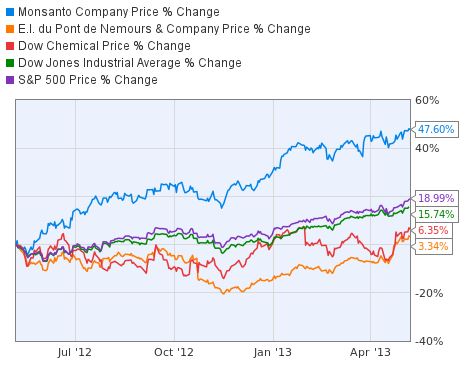 Monsanto does, however, have the least amount of yield when compared to companies with similar market caps. Over the past 10 years, the company has been increasing its dividends while maintaining a very prudent payout ratio. DuPont on the other hand, has shown stability in its dividend amount paid to the shareholders while having a reasonable payout ratio. The same cannot be said of Dow Chemical, which has had to cut back on its dividend payments on numerous occasions and has stretched its payout ratio to meet shareholder demands.
| | | | |
| --- | --- | --- | --- |
| Indicator | | | |
| Price/Earnings ttm | 21.88 | 42.60 | 23.24 |
| Price/Book | 5.0 | 2.4 | 4.3 |
| Net Income Growth (3 Yr Avg.) | 16.7 | 22.2 | -0.8 |
| Revenue Growth (3 Yr Avg.) | 8.9 | 8.2 | 4.9 |
| Dividend Yield, % | 3.29% | 3.71% | 1.39% |
| Debt/Equity | 1.0 | 1.1 | 0.2 |
| Return on Equity | 30.1 | 5.4 | 21.6 |
| Current Price | $54.70 | $34.51 | $108.30 |
| | $50-$63 | $29-$43 | $75-$100 |
| Stock Valuation | Fairly Valued | Fairly Valued | Overvalued |
| Premium over Fair Value | -- | -- | 8% |
Data taken from Morningstar and Financial Visualizations on May 9, 2013
DuPont also leads in revenue growth over the past 3 years, but with structural changes in its business. This stands to be an easily changed metric. DD is also the undervalued stock of the three, but shows potential for improvement based on its performance. DOW, on the other hand, has been able to extract the most amounts of profits from its sales as it tries to regain composure in the face of stiff competition. MON and DOW are both struggling with their ROEs, while DD has a clear-cut advantage in this metric.
Make or Break for Investors
Morningstar provides the following ratings for these three stocks - DD: 1/6 buy, 5/6 hold. DOW: 2/6 buy, 4/6 hold. MON: 3/5 buy, 2/5 hold.
Everything that I have mentioned so far points towards Monsanto being a bad investment. Truth be told - it is not. Over the past five years, while the American economy has been shipwrecked by the recession, Monsanto has managed fairly well. The primary point in Monsanto's favor is the strong earnings it has been constantly reporting over the past year. That being said, the drought has provided the agricultural giant an opportunity to provide farmers with seeds that can work with very little water. While DuPont also provides such seeds, Monsanto's higher market share and presence helps it secure higher revenues than its competitors. Of course, DD has just recently started eating into the agricultural market and is increasing its market share. For the coming year, the drought resistant products are bound to be successful due to Monsanto's sole focus on engineering a successful seed.
At the same time, the company needs to bring down its costs and capitalize on its continuous flow of cash. Right now, I believe Monsanto is the best option out of the three under discussion. However, I hope DuPont can prove its traditional capability of providing quality products in its latest venture as well. While there is no doubt in my mind about Monsanto's superior share price potential (justified by the 1 year price chart as well), DuPont stands to be its closest competitor in the near future.
Bottom Line
The chemical producers DuPont and Dow Chemical realize that there is a need to diversify out of the chemical sector and tap into the agricultural sector. Monsanto, however, made this switch decades ago, giving it an advantage of experience, timing and the first mover's advantage as well. That being said - Monsanto is undoubtedly my pick of the three stocks.
Disclosure: I have no positions in any stocks mentioned, and no plans to initiate any positions within the next 72 hours. I wrote this article myself, and it expresses my own opinions. I am not receiving compensation for it (other than from Seeking Alpha). I have no business relationship with any company whose stock is mentioned in this article.