I have been following Mercadolibre (NASDAQ:MELI) since their very early days as a start-up company. As a Venezuelan-born immigrant entrepreneur living in the United States, I felt frustrated at the lack of technology companies innovating in Latin America, and the absence of such companies from the major American stock exchanges. So when Mercadolibre filed their S-1 with the SEC to go public, I was extremely excited. I felt happy for them and for what that meant for the entire region. Although I would like to see this company succeed, I believe that the market is not properly evaluating Mercadolibre's numbers to reflect the current realities that could affect both earnings and the company's balance sheet.
First Quarter Results
Shares of Mercadolibre rallied $18.6 to close up about 18% after the company reported its fiscal first quarter results. While the company narrowly exceeded revenue estimates, earnings missed expectations. The company blamed the significant earnings miss (40 cents vs. 54 cents estimates) on the devaluation of the Venezuelan currency. Absent this devaluation charge, Mercadolibre reported that their earnings would have been 53 cents or just a penny shy of analysts' consensus.
Argentina and Venezuela Will Be Nothing but Trouble Ahead
Mercadolibre operates in 13 countries, yet the devaluation of the Venezuelan currency caused a considerable reduction in earnings of around 25%. The reason for that is that the bulk of Mercadolibre's revenues and earnings come primarily from three countries: Brazil, Argentina, and Venezuela.
If we look at the revenue breakdown from the top three countries according to the company's latest filing we have:
Total Revenues: $102 Million
Brazil: $47 Million
Argentina: $25 Million
Venezuela: $15 Million
Mercadolibre also has the largest portion of their net assets in these three countries. The report makes special emphasis on assets denominated in Venezuelan currency. To quote the latest company filing on the matter:
As of March 31, 2013, net assets of our Venezuelan subsidiaries amount to approximately 13.1% of our consolidated net assets, and cash and investments of our Venezuelan subsidiaries held in local currency in Venezuela amount to approximately 14.6% of our consolidated cash and investments.
My bearish thesis for Mercadolibre lies in the fact that Argentina, and Venezuela are the company's second and third most important markets respectively. Venezuela became the third largest market for the company after they acquired Grupo Veneclasificados, which operated the sites tucarro.com, tuinmueble.com and tulancha.com.
Both Argentina and Venezuela are total economic disasters waiting to happen. On a recent report by the firm Capital Economics, emerging market economist David Rees identified Venezuela as one of two countries at risk of facing an economic crisis. Similarly, Argentina is following in Venezuela's footsteps.
The Real Value of the Venezuelan Bolivar:
The Venezuelan currency has lost over 90% of its value since president Hugo Chavez took power in 1998. This decrease in value has accelerated in recent years as tight controls on the foreign exchange market were imposed.
A recent article in The Wall Street Journal touched on some of the issues the government is facing to fight the black market exchange where the dollar trades at an exchange rate upwards of 24 Bolivares per dollar. Dolartoday.com, a popular website among Venezuelans, has become the go-to online reference for anyone wishing to consult black market exchange rates. As of May 8th 2013, Dolartoday shows the black market exchange rate at 27.6 Bolivares per dollar. Venezuelans know that the official exchange rate is mostly symbolic and that most goods are sold based on the black market rate.
Another method for figuring out the real value of the Venezuelan Bolivar is to look at gold prices within Venezuela. Venezuela produces around 15,000 Kilograms of gold per year. Unlike foreign currency, Venezuelans are free to trade gold for personal or commercial use. The price for one gram of 24 karat gold in Venezuela is around 1200 Bolivares. A quick calculation using today's market prices for gold gives us an implicit exchange rate of 25 Bolivares per US Dollar, not far from the exchange rate quoted by Dolartoday.
Huge Devaluation Coming is a Sure Thing
The official exchange rate set by the Venezuelan government of 6.3 Bolivares per dollar is absolutely not sustainable. Goods in the country are already priced at black market rates, and the government itself has been reluctant to allow companies to buy foreign currency at the official rate.
Historically, the black market exchange rate has been within a 50% - 100% range of the official rate as the chart below indicates.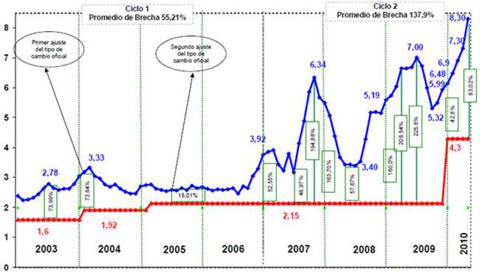 Click to enlarge
With a current black market rate of 27.6 Bolivares per Dollar and an official exchange rate of 6.3 Bolivares per Dollar, it is just a matter of time before another devaluation is announced to reduce the huge gap that has been recently created. The only reason why the government devalued the Bolivar only by 50% is because it was an election year, but now that Chavez successor Nicolas Maduro has been elected to a 6 year term, this is almost a sure thing.
The Argentine Peso Showing a Similar Trend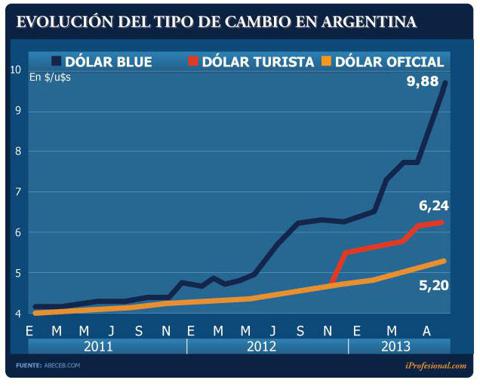 Click to enlarge
Bottom Line
Argentina and Venezuela are Mercadolibre's second and third most important markets. These two countries are starting to suffer the negative consequences of radical socialist policies and incompetence within their governments.
GAAP rules require Mercadolibre to use the official foreign exchange rate of Argentina and Venezuela to prepare their financials, but the reality is that this rate is completely meaningless, and does not reflect the real value of those currencies. What good is the official exchange rate, when they don't let you buy any foreign currency?
After socialist party candidate Nicolas Maduro won this year's presidential elections in Venezuela, Spanish telecom giant Telefonica announced that they have decided to spend the money they have trapped in Venezuela rather than let it continue to evaporate.
I think there is value in the shares of Mercadolibre, but to properly calculate that value, you have to discount in the significant currency risk the company faces moving forward in two of its largest markets. Further devaluations are a sure thing to come this year. If the jump in the Venezuelan exchange rate to 6.3 Bolivares per Dollar from 4.3 impacted their results so much, you can imagine what would happen when future devaluations take effect.
I have put my money where my mouth is, and I am short Mercadolibre.
Disclosure: I am short MELI. I wrote this article myself, and it expresses my own opinions. I am not receiving compensation for it (other than from Seeking Alpha). I have no business relationship with any company whose stock is mentioned in this article.