Tiffany & Co. (NYSE:TIF) reported 4Q12 EPS of $1.40, a 1% increase YoY and $0.04 above consensus estimates of $1.36. Net sales increased 4% YoY; comp sales were flat. In constant currency, sales in the Americas, Japan, and Europe all had low single-digit growth, while Asia-Pacific rebounded with a 10% sales increase. Japan had a negative 8% currency impact on sales. Gross margin decreased 121bp to 59.1%, pressured by the continuation of product sales mix skewed towards lower-margin products, unfavorable but diminishing higher product input costs, and reduced leverage on the fixed expenses. SG&A had a 65bp improvement.
FY12 sales growth slowed to 4%, after two years of double digit growth.
In FY12, sales in the Americas rose 2%, as the increase in the average price per units sold was partly offset by a decline in jewelry units sold, primarily in silver jewelry.
Sales in Asia-Pacific rose 8%, driven by higher jewelry unit volume. China represented more than 50% of the region's sales.
Sales in Japan increased 4%, due to an increase in the average price per jewelry units sold.
Sales in Europe rose 3%, primarily due to increases in the average price per jewelry units sold. Sales in the United Kingdom accounted for 45% of total European sales.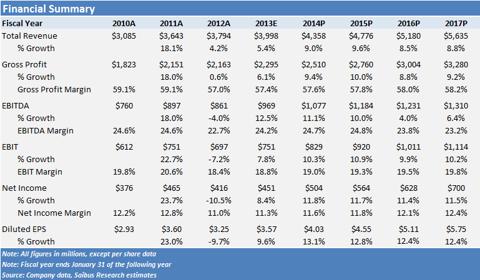 Click to enlarge
(Click to enlarge)
FY13 Guidance vs. Our Estimates:

Click to enlarge
(Click to enlarge)
New collections are introduced to reignite lower-priced silver business. Tiffany continued to struggle in unit growth in its lower-priced silver accessories, which typically carry higher margins. To address this issue, the company is adding marketing efforts and several product initiatives in FY13:
Launch of the Great Gatsby collection, featuring items with a wide range of price points.
Reintroduction of the Atlas collection
Expansion of the Jazz collection
New designs in silver, freshwater pearls and onyx in the Ziegfeld collection
While we do not expect robust growth in Tiffany's lower-priced silver business in FY13, a moderate unit growth is reasonable. We expect price to remain as the primary driver of growth.
Gross margin should improve. We expect gross margin to benefit from improving unit growth in higher-margin products, prices increases, and lower input costs. According Polished Prices, diamond prices peaked in 3Q11, and were on a steady decline ever since. Similarly, prices of platinum, gold, and silver have slowly retreated since 3Q11. Tiffany had an inventory turnover ratio of 1.3 in FY12, which means it would take approximately 1.3 years for the company to sell all of its inventories. We believe that the positive margin impact due to lower input prices started some time in 4Q12, and should continue throughout FY13.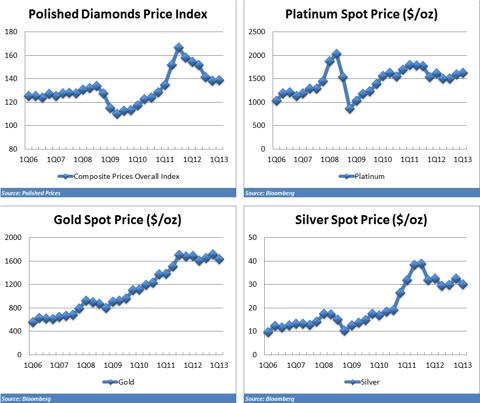 Click to enlarge
(Click to enlarge)
We see moderate SG&A leverage in FY13. Aside from leveraging sales growth against a largely fixed expense base, we see positive SG&A impacts coming from 1) higher sales growth in the Asia-Pacific region, which has the second highest operating margin among all of the company's retail regions, 2) decrease in operating expense in Japan due to a weakened yen, 3) decrease in employees per store to 36 per store as of January 31, 2013, compared to 40 per store a year ago.

Click to enlarge
(Click to enlarge)
U.S. sales are expected to be fueled by both foreign and domestic consumers. In constant currency, the Americas was the only region posting negative comp sales in FY12. U.S. sales, which represent 89% of sales in the Americas, had a 2% comp sales decline. Sales to foreign tourists climbed from 15% of Tiffany's U.S. sales in 2009 to approximately 25% in 2012, leading us to estimate that sales to tourists represented the majority of U.S. sales growth in recent years while domestic consumer purchases stagnated. Tourists from Asian countries resumed steady growth since 2Q11, offsetting the slowdown seen in European tourists, and we expect a similar case in FY13.

Click to enlarge
The international appeal of Tiffany's brand should continue to drive sales to tourists; however, we believe the next wave of U.S. sales growth will be fueled by domestic consumers, a group representing an estimated 36% of the company's overall sales. Rising home and stock prices should result in improving consumer confidence, especially among higher-income consumers. As the graph below illustrates, confidence among those making $100,000 or more remains resilient despite fiscal uncertainty and tax increase. We see confidence in this group as a leading indicator for Tiffany's sales, and we expect gradual improvement in FY13, which will help sales as well as support Tiffany's plan to increase prices.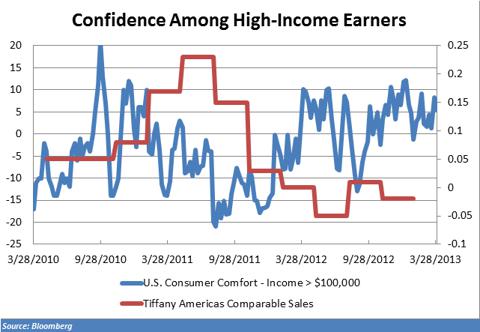 Click to enlarge
(Click to enlarge)
In the U.S., household formation among 25-34 year-olds collapsed during the recent crisis, evidenced by the elevated percent of this group living with parents. Although the job market has slowly improved since the recession, job gains among 25-34 year-olds has been stagnant. We believe this was a major cause of both the delay in household formation and the decline in marriage rate. Going forward, with the job market strengthening and the Boomer generation arriving retirement age, we expect employment opportunities to open up for the 25-34 year-old age group, resulting in a rebound in household formation and marriage rate. We see this as a potential tailwind for Tiffany's engagement ring business.
Europe's economic challenges are less felt by the luxury segment. Despite high unemployment and austerity in many parts of Europe, luxury sales remained solid. Although Tiffany saw a slowdown in growth after two consecutive years of double-digit revenue increase, management remains optimistic, and plans to add 3 new stores in Europe for FY13, an 8.8% store count increase. We believe high single-digit sales growth is reasonable, helped by store expansion and strong tourism.
Main focus for growth still lies in Asia-Pacific. Tiffany's growth in the Asia-Pacific region has been phenomenal. The region posted 12.5%, 28.8%, and 36.2% sales increase in FY09, FY10, and FY11, respectively, outperforming all other geographical regions. It increased its share of overall revenue from 15.7% in FY09 to 21.4% in FY12. Although the sales growth slowed in FY12 to 8.3%, we saw a pick-up in 4Q12, and we expect the region to resume double-digit growth in FY13. Macau's casino revenue is highly correlated with luxury spending in Asia-Pacific as well as Tiffany's sales in the region. As shown the graph below, growth of casino revenue in Macau continued its rebound in 1Q13. We expect Tiffany's sales to follow.


Click to enlarge
Japan should remain a drag on sales due to currency translation. Although Tiffany saw positive comp growth in Japan since 2Q2011 on constant currency basis, sales in U.S. dollars decreased YoY in 4Q12 due to the weakened yen. Management projects yen to average JPY 93 to $1 for FY13, leading to a 15% negative effect from translation; however, we expect yen to depreciate further given the newly announced stimulus plan. For Japan in FY13, we model a 20% negative effect from translation, 6.2% comp growth, and a mid-teens sales decline in U.S. dollars.

Click to enlarge
(Click to enlarge)
Tiffany has great long-term growth potential, but it's fully priced. Overall, we believe Tiffany's strong brand, sales potential in all regions, and room for improving margins give us comfort in sustainability of long-term, low-teens earnings growth. Additionally, the stock has short-term upside due to a conservative FY13 guidance. Nevertheless, we believe the company's strength is generally reflected in the current stock price of 19.8x our FY13E EPS. We maintain our HOLD rating, and establish a price target of $75 using a 21x multiple on FY13E EPS of $3.57.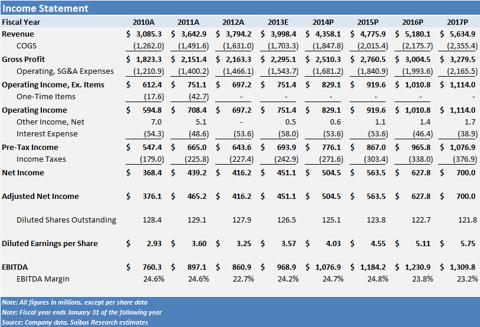 Click to enlarge
(Click to enlarge)
Disclosure: I have no positions in any stocks mentioned, and no plans to initiate any positions within the next 72 hours. I wrote this article myself, and it expresses my own opinions. I am not receiving compensation for it (other than from Seeking Alpha). I have no business relationship with any company whose stock is mentioned in this article. This article was written by an analyst at Saibus Research. Saibus Research has not received compensation directly or indirectly for expressing the recommendation in this article. We have no business relationship with any company whose stock is mentioned in this article. Under no circumstances must this report be considered an offer to buy, sell, subscribe for or trade securities or other instruments.