The Middleby Corporation (NASDAQ:MIDD) is another company tied to the retail sector which has seen its stock improve significantly over the past few months. In March, investors were panicking and selling stock as fast as they could pushing the price to a low of $20.45. Since that time, the stock has rebounded to reach a high of $50 - nearly a 150% return in a few short months. That's quite an incredible gain for a boring company which makes ovens for restaurants and food processing customers.
Despite the sharp rise in the stock, earnings for the current year are actually expected to come in below last year's levels with an expected EPS of $3.40. While operating profitably in this market is certainly positive for any company, the stock currently trades at nearly 14 times earnings, which is a bit rich for this company which has limited growth capabilities.
One metric that investors may have been excited about is the latest sales figures for the first quarter. Middleby actually saw its sales increase by 13% to a total of $181.5 million which initially looks fairly bullish. However, the sales increase was largely due to an acquisition of TurboChef. So essentially Middleby paid $116.1 million in cash, plus another $45 million in stock in order to generate that bit of additional revenue.
This credit line actually has an issue more concerning than the variable rate. The entire line actually matures in December of 2012 - a bit over three years away. While three years may seem like an eternity, the economic recovery is expected to take some time and will not likely be very robust in the early stages. If we get a few quarters farther down the road and financing for companies like Middleby is not readily available, institutional investors could become uncomfortable with this debt level and begin to pair back or liquidate positions. The result could be a sharply lower stock price.
Middleby stock recently broke out of a consolidation just below $50. That breakout is now in question as the stock moves lower with this weak market. Investors who bought on this new high are more likely to get cold feet than investors who bought earlier this spring. While stocks must follow economic and fundamental measures over the long-term, patterns like a false breakout can often drive sharp short-term moves and give traders an opportunity for quick profits.
I would recommend traders who are uncomfortable with the current retail environment to consider MIDD as an attractive short opportunity. The stock could easily trade back to the $30 area where it was consolidating before the fear began at the beginning of this year. A tight stop above $50 would help to cut risk in this short position. The company does not pay a dividend which likely makes it even more vulnerable to a drop as value investors usually prefer to be paid a yield while they wait for the stock to move in their favor. In short, the picture looks risky and I would advise against investing in the name right now.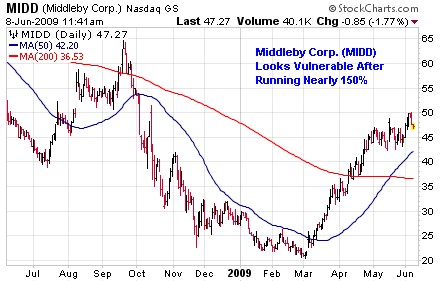 Disclosure: Author does not have a position in MIDD.