Solar manufacturer First Solar (NASDAQ:FSLR) saw its shares tumble after the firm posted terrible gross margins during its first quarter. Revenue jumped 52% year-over-year, but fell 30% sequentially to $755 million, which was slightly ahead of consensus estimates. Earnings were several cents short of consensus expectations at $0.66, but the measure was still much better than the same period a year ago in which First Solar took a restructuring charge. Cash flow generation was relatively weak as the company posted $19.7 million in free cash flow, down from $253.3 million in the prior quarter.
The big issue for First Solar came from the cost side of the equation. CFO Mark Widmar spoke to the issue of under utilization, saying:
In the first quarter, we ran our factories at approximately 75% capacity utilization, down 9 percentage points from the prior quarter and down 10 percentage points compared to the first quarter of 2012. Our module manufacturing costs per watt for the first quarter was $0.69. On a comparable basis, the cost per watt increased $0.01 quarter-over-quarter due to lower utilization, which was partially offset by improvements in efficiency and core manufacturing cost. Excluding the impact of under-utilization, our core manufacturing cost per watt fell to $0.64, a $0.03 improvement compared to the prior quarter.
Though First Solar likes to minimize under-utilization, we see demand as a high hurdle for profitability in the solar industry. Core manufacturing is a good metric to have for forecasting purposes, but we doubt plants will be able to run at full utilization. Overall, gross margins were up 700 basis points year-over-year, but down 490 basis points sequentially at 22.4%. Given First Solar's full-year outlook, we aren't expecting gross margins to improve any time soon (Image Source: First Solar).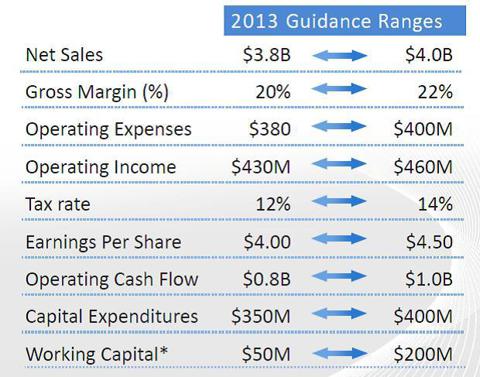 Click to enlarge
Aside from gross margins, the firm did an excellent job containing costs. Research & Development and SG&A fell 17% and 19% year-over-year, respectively. Given the volatile nature of orders for solar equipment, it will provide First Solar with a great competitive advantage if it can keep its overall cost structure relatively low. With long-term gross margins forecast to remain in the 15%-20% range, non-manufacturing cost containment will be integral to the firm's success.
Another financial item we'll be keeping an eye on is share-based compensation. Twenty-five million dollars of excess benefits from stock-based compensation helped push free cash flow positive during the first quarter, and we've noticed that the share count climbed 3% year-over-year. In order to spare cash, we could see this dilution continue without any offsetting share repurchases. Although often excluded in non-GAAP results, this is a real cost to existing shareholders, and something we will continue to monitor closely.
Overall, First Solar's first quarter wasn't great, but the firm reiterated its full-year guidance and seems undeterred from the goals it outlined during its analyst day last month. With weak gross margins and potentially weak long-term demand, we simply aren't crazy about the cash-flow generation abilities of the company over the long run. We aren't interested in taking a position in the portfolio of our Best Ideas Newsletter at this time.
Disclosure: I have no positions in any stocks mentioned, and no plans to initiate any positions within the next 72 hours. I wrote this article myself, and it expresses my own opinions. I am not receiving compensation for it (other than from Seeking Alpha). I have no business relationship with any company whose stock is mentioned in this article.