Equifax Inc. (NYSE:EFX) Jun. 7, 2009: $26.13
52-week range: $19.38 (Nov. 21, 2008) - $37.29 (Aug. 18, 2008)
Dividend = $0.04 quarterly = 0.61% current yield
Equifax Inc. collects, organizes, and manages various financial, demographic, employment, and marketing information primarily in the United States, Canada, the United Kingdom, and Brazil. The U.S. Consumer Information Solutions segment includes credit information and credit scoring as well as fraud detection. Its TALX segment offers employment and income verification services, and employment tax and talent management services.
Its North America Personal Solutions segment offers credit information, credit monitoring, and identity theft protection products via the Internet and in various hard-copy formats. The North America Commercial Solutions segment includes commercial products and services, such as business credit and demographic information, credit scores, and portfolio analytics. Equifax serves customers across a broad range of industries as well as government agencies.
Equifax is part of an oligopoly (with three other major players) that keeps price competition to a minimum and profit margins steady. While recessionary conditions have hurt near term results somewhat it is expected that 2009 will show only a slight dip in revenues and earnings from the all-time highs posted in 2008.
Last year was the seventh straight year of higher results since the spin-off of their Certegy division in July of 2001. Zacks sees EPS of $2.34 and $2.52 for 2009 and 2010 while Value Line looks for $2.35 and $2.55.
Value Line notes that EFX is in the 90th and 100th percentiles for 'stock price stability' and 'earnings predictability' respectively (with 100th being best). They also get an 'above average' rating for safety.
Morningstar also likes Equifax giving it 4-Stars (out of 5) and assigning a 'fair value' of $34 /share.
Here are the per share numbers from continuing operations as reported by Value Line: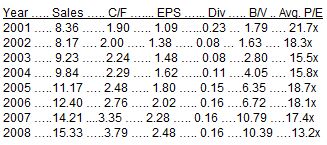 Based on the (more conservative) Zacks estimates EFX shares now trade at < 11.2x and < 10.4x this year's and 2010's expectations. Just a quick glance at the chart above tells you how cheap that is compared with their historical multiples.
Management has held the dividend's payout ratio to 6-7% leaving plenty of room for growth. Capital spending is estimated at just $0.70 per share for both this year and next.
A rebound to even 14 times this year's $2.34 estimate would bring these shares back to $32.76 or up > 25% by year-end 2009.
Here's a nice six and a half month combination to suit that assumption:

If Equifax shares rise by at least 15% (to $30) by Jan. 16, 2010:
The $30 calls will be exercised.
You will sell your shares for $30,000.
The $30 puts will expire worthless.
You will have collected $80 in dividends.
You will have no further options obligations.
You will hold no shares and $30,080 cash for your original $19,730 cash outlay.
That's a best-case scenario net profit of $10,350 / $19,730 or plus 52.4% on shares that only needed to rise by 15%

What's the risk?
If EFX stays below $30 through expiration date:
The $30 calls will expire worthless.
The $30 puts will be exercised.
You will be forced to buy another 1000 shares and to
lay out an additional $30,000 cash.
You will have collected $80 in dividends.
You will have no further options obligations.
You will end up owning 2000 shares of EFX and $80 cash.
What's the break-even on the whole trade?
On the first 1000 shares it's the $26.13 purchase price less the $1.50 /share call premium = $24.63 /share.
On the 'put' shares it's the $30 strike price less the $4.90 /share put premium = $25.10 /share.
Thus your break-even is the average of $24.63 + $25.10 / 2 = $24.87 /share.
EFX shares could drop by $1.26 or (-4.8%) from the trade's inception without causing a loss.
That $24.87 break-even is below the absolute low prices for the calendar years 2005 – 2006 – 2007 when sales, cash flow, earnings and book value were all substantially lower than they are today. Conversely, EFX hit peak prices of $39, $41.60, $46.30 and $39.90 in each year 2005 through 2008 respectively.
Summary:
Equifax looks to be a high-quality company with predictable future growth and a strong balance sheet. The currently depressed valuation seems to offer a good entry point for a rebound to $30 - $35 over the next 6 – 12 months.
Combination writers can expect better than 50% total returns if EFX rebounds by 15% or more by next January 16th. Risk is mitigated by a break-even point 4.8% below the starting price.
Disclosure: Author is long EFX shares and short EFX options.