The recent earnings report of SodaStream International (NASDAQ:SODA) was outstanding. I believe that new highs are around the corner and I will be initiating a position today. There are a number of factors why I like this company and this article explains these facts.
The company
SODA engages in the development, manufacture and sale of home beverage carbonation systems that enable consumers to transform ordinary tap water instantly into carbonated soft drinks and sparkling water. The company is based in Israel, but operates in the Americas, Western Europe, Asia Pacific and Central and Eastern Europe. The company sells its products in 60,000 retail stores in 45 countries.
We have seen its products in leading stores like Wal-Mart (NYSE:WMT), Costco (NASDAQ:COST) and Target (NYSE:TGT).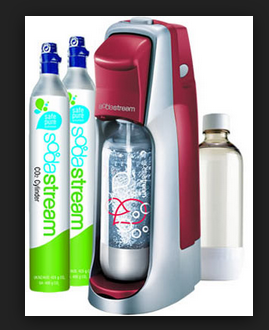 Fundamentals
This is what I like the most about Soda. There is only 17 million shares in the float, with around 45% of that being short. I expect a big short squeeze driving prices higher. We can see what happened in Tesla Motors (NASDAQ:TSLA) as the price went parabolic from $37 to the current price of $67.
The chart below (Source:Nasdaq.com) shows the number of shares that are being covered in the last few months.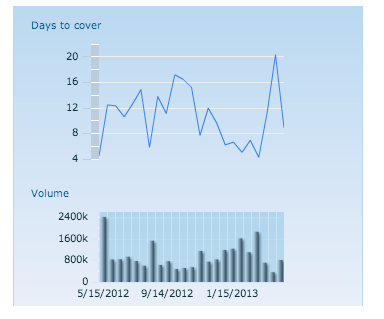 The company is valued at around $1.15 billion. It has $62 million in cash and 0 debt, which reduced the chances of a secondary offering. In 2014, revenues are estimated to be around $600 million.
Latest earnings report
The latest earnings report was quite stellar. Total U.S. sales increased 93% from a year ago, fueled by soda maker sales growth of 68% and consumables sales growth of 109%. Revenue was a record for the first quarter. In Europe, the growth continues to be there even though there might be some concerns. Revenue increased 17% as marketing activities helped. The company had a very strong start to the year, and also raised its outlook. Full-year sales are expected to increase 27% over 2012, which was higher than the 25% previously expected. The same can be said for net income.
Technical analysis
The weekly chart is a thing of beauty. There are a number of bullish signs as the chart below shows.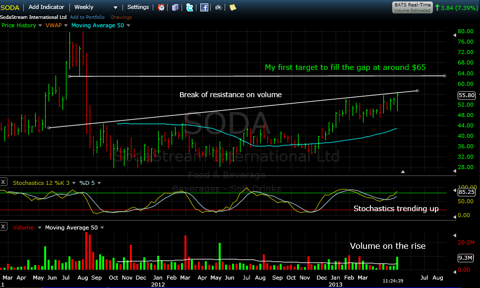 The future
Soft drinks are a big part of the global drink market and projections of $1.6 trillion have been estimated for 2013 as seen here. The two big companies that are dominating the field are Coca-Cola (NYSE:KO) and PepsiCo (NYSE:PEP). I believe that SODA has big potential to gain market share as its products are more cost-effective. One has to remember that SODA only has around 1% market share so the potential for continued growth is massive. SODA has a number of partnerships and continues to develop new partnerships as seen here.
I continue to believe in the growth of this company. Its recent earnings report, the small float with a high percentage of short, the cash in hand and the potential to gain market share from other companies make me believe new highs are around the corner.
Disclosure: I have no positions in any stocks mentioned, but may initiate a long position in SODA over the next 72 hours. I wrote this article myself, and it expresses my own opinions. I am not receiving compensation for it (other than from Seeking Alpha). I have no business relationship with any company whose stock is mentioned in this article.