1. Place to be for a consumer during recession
Wal-Mart Stores Inc. (NYSE:WMT) has been on a roll during the recession, outperforming peers such as Target Corp (NYSE:TGT) as cash-strapped consumers trade down to discount stores. There is a 'new normal' in which people want to save money and are getting smarter about saving money. Even if the economy begins to grow, it likely will take some time before consumers hit by lost jobs, lower home values and tighter access to credit start spending more.
2. Increasing sales and profits faster than its competitors around the globe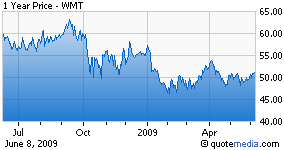 Wal-Mart ended the fiscal year net sales up 7.2 percent to more than $400 billion. Sales in Wal-Mart's international business, which now accounts for almost 25 percent of its revenue, rose 9.1 percent to $98.6 billion in its latest fiscal year.
3. Plenty of room to grow internationally
As of April 30, 2009, Wal-Mart is in 14 countries around the word, including Argentina, Brazil, Canada, Chile, China, India, Japan, Mexico, Puerto Rico and the United Kingdom. Even though it was unable to enter Korea or Germany, there are still plenty of countries such as Russia to grow.
Wal-Mart is six times bigger than its closest competitor, Target Corp (TGT), which has a market cap of $30 billion. The third one is Costco Wholesale Corporation (NASDAQ:COST) with a $20 billion market cap.
Wal-Mart saw its profit margin improve by strong sales in higher margin categories. Even though you can't find Luis Vuitton (OTCPK:LVMHF) bags in Wal-Mart stores, you can certainly buy other brands such as Gucci, which ranks one of the most successful foreign luxury brands in China, according to China Economic Review.
In today's low-interest environment, mega companies such as Microsoft Corporation (NASDAQ:MSFT), Cisco Systems, Inc. (NASDAQ:CSCO) and Wal-Mart could take advantage of lower cost of borrowing. For example, Wal-Mart's interest charge for the first quarter of fiscal 2010 decreased by 5.8% compared to the first quarter of fiscal 2009. Wal-Mart's management believes that cash flows from operations and proceeds from the sale of commercial paper will be sufficient to finance seasonal buildups in merchandise inventories and meet other cash requirements.
7. Favorable currency exchange
A continuously plunging US dollar may have a favorable impact on Wal-Mart's international segment's reported sales.
8. Attractive return on investment (ROI)
Wal-Mart's ROI was 18.7% for the trailing twelve months ended April 30, 2009.
On June 6, the giant retailer announced that it plans to spend $15 billion on share repurchases.
10. "Seal of approval" from Warren Buffett
Warren Buffett owns more than $1 billion of Wal-Mart stock, which represents around 2% of Berkshire Hathaway's (NYSE:BRK.A) stock portfolio, according to CNBC.
However, as you can see from the chart below, over the last 10 years, Wal-Mart's stock price was in the range of mid $40s and low $60s. It is not dirt-cheap today, especially with P/E of 15.
In addition, we are not out of recession yet. According to Gillian Tett, associate editor of Financial Times, most of the riskier private equity deals done at the peak of the credit bubble – that is, in the second half of 2006 and first half of 2007 – were refinanced at a late stage in the boom and were often refinanced with few, if any, covenants. Such loans probably will not start coming due until the second half of 2009 or even some time in 2010, but when they do, they will send another shock wave through the systems, which could bring down Wal-Mart's stock price as well.
As always, you can play with ETFs instead. Consumer Staples Select Sector SPDR (NYSEARCA:XLP) and Vanguard Consumer Staples ETF (NYSEARCA:VDC) are the two largest Consumer Staples ETFs. As you can see from the table below, the top 10 holdings for these two ETFs are the same. The beauty is that you can sell one and buy another one immaterially to take stock-loss, thus bypassing the 30-day rule.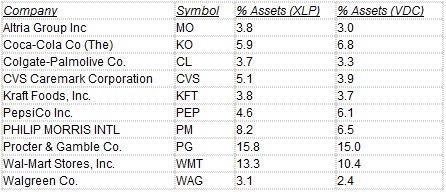 Disclosure: I have long position on WMT.