MarkWest Energy Partners (NYSE:MWE) announced yesterday after the close that it has acquired certain midstream assets in the Anadarko Basin from Chesapeake Energy (NYSE:CHK) for $245 million in cash. The acquired assets are located in the Texas Panhandle and Western Oklahoma.
Transaction Analysis
As discussed further, financial metrics of the transaction appear in line with other similar transactions in the midstream sector. Few aspects are worth noting though:
The assets are mostly construction-in-progress, with additional $90 million of capex required; the in-service date for the most significant asset, the Buffalo Creek cryo plant, is early 2014.
The assets come along with a significant dedicated service footprint (130,000 acres) and long-term fee-based contracts that Chesapeake is providing alongside.

From Chesapeake's perspective, the transaction not only provides immediate cash proceeds, but also reduces capital expenditure requirements for an asset that is not generating much cash flow in the immediate term. Combined proceeds and capex reduction to CHK are likely over $300 million in 2013 alone. Overall, the announcement is a minor positive for CHK stock, given the company's capital-raising objectives.
The transaction appears more impactful from MarkWest's stock perspective: the company will gain control over an important strategic asset, a brand new high-recovery cryogenic processing plant, in a high-growth and well established liquids-rich province. MarkWest already has a strong presence in the strategically important Anadarko Basin (while the company is more famous for its premier position in liquids-rich Marcellus and Utica, the Southwest operation which includes Texas and Oklahoma should not be overlooked - the division accounts for ~40% of the partnership's operating income and includes a large asset footprint which is summarized in the picture below).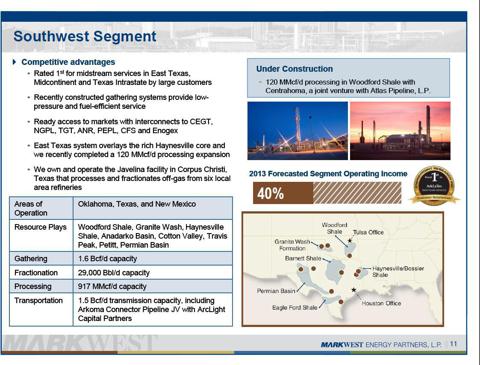 (Source: MarkWest's March 18, 2013 Investor Presentation)
The acquired assets will almost double MarkWest's existing processing capacity in the Granite Wash, which includes the 235 MMcf/d Arapaho processing complex in Custer County, Oklahoma and will be highly synergistic with MarkWest's gas gathering systems totaling 340 MMcf/d of throughput capacity in the area.
The assets acquired from Chesapeake consist of a 200 MMcf/d cryogenic gas processing plant, the Buffalo Creek Plant, and 22 miles of gas gathering pipeline in Hemphill County, Texas, and approximately 30 miles of rights-of-way associated with the future construction of a high-pressure trunk line. Additional assets consist of an amine treating facility and a 5-mile gas gathering pipeline in Washita County, Oklahoma. The high-recovery Buffalo Creek Plant and associated trunk line are currently under construction and are expected to be placed into service in early 2014. Producing formations in the Anadarko Basin associated with these assets include the highly prolific Granite Wash and Hogshooter formations, and multiple other attractive liquids-rich zones.
In conjunction with the sale, Chesapeake has executed long-term, fee-based agreements with MarkWest for gas gathering, compression, treating, and processing services. As part of the gas processing agreement, Chesapeake has dedicated approximately 130,000 acres throughout the Anadarko Basin. MarkWest anticipates initial gas volumes from Chesapeake of approximately 50 MMcf/d, increasing to over 250 MMcf/d by 2017. MarkWest forecasts EBITDA of $30 million for the full-year 2014, increasing to more than $50 million by 2017.
To support Chesapeake's drilling program, MarkWest anticipates additional capital investment of approximately $90 million over the next five years for the completion and expansion of associated infrastructure. The majority of capital will be spent over the next two years to finalize construction of the Buffalo Creek Plant and the high-pressure trunk line to connect various low-pressure gas gathering systems, which are owned and operated by third parties.
The transaction is priced at approximately 10x multiple of full year 2014 EBITDA and 7x multiple of 2017 EBITDA. Purely from a cost of capital perspective, the transaction should be a win-win for both Chesapeake and MarkWest. From a strategic perspective, MarkWest is clearly gaining a valuable platform for EBITDA growth beyond the agreement with Chesapeake.
Chesapeake's 2013 Divestiture Plan
With this and two recently announced Marcellus transactions, Chesapeake continues to make progress toward its goal of completing at least $4.0 billion of asset sales in 2013 (based on current commodity prices and cash flow guidance, the company needs to raise at least $3.5 billion to meet its spending needs and debt maturities this year). Including the Granite Wash Midstream transaction, Chesapeake has already closed or signed approximately $2.3 billion of asset sales year to date. The ~$1.0 billion JV sale of Mississippian Lime interests to Sinopec has been Chesapeake's largest divestiture so far this year (expected to close before the end of the second quarter).
There is little doubt at this point that Chesapeake will be able to meet at least the low end of its divestiture target. The company was very affirmative during the earnings conference call that it "has multiple transactions in advanced stages of negotiation," which gives management high confidence in the execution of the plan. While Chesapeake appears to have a substantial reserve of assets outside of its "core of the core" portfolio that the company can offer for sale, price points achieved in recent transactions have been disappointing (Marcellus and Miss Lime transactions being the most vivid examples).
Among the anticipated additional divestitures, northern Eagle Ford Shale assets are the most significant package that Chesapeake currently has on the market (has been on offer for quite some time). Based on close following of this divestiture from the analyst community, expectations appear to be set high for this anticipated transaction, with figures with a "billion" handle quoted by some analysts. Given the likely unfavorable lease expiration profile, the divestiture proceeds from the Eagle Ford may disappoint again.
It is important to note that Chesapeake's latest balance sheet data (March 31, 2013) reflects just $366 million of asset sale cash proceeds received. An additional cash proceed of approximately $1.9 billion will be received in the second quarter, or already has been received, from planned asset sales under contract.
Disclaimer: This article is not an investment recommendation. Any analysis presented herein is illustrative in nature, limited in scope, based on an incomplete set of information, and has limitations to its accuracy. This article is not meant to be relied upon for investment decisions. Please consult a qualified investment advisor. The information upon which this material is based was obtained from sources believed to be reliable, but has not been independently verified. Therefore, the author cannot guarantee its accuracy. Any opinions or estimates constitute the author's best judgment as of the date of publication, and are subject to change without notice.
Disclosure: I have no positions in any stocks mentioned, and no plans to initiate any positions within the next 72 hours. I wrote this article myself, and it expresses my own opinions. I am not receiving compensation for it (other than from Seeking Alpha). I have no business relationship with any company whose stock is mentioned in this article.