By Tim Seymour
Emerging market (NYSEARCA:EEM) equities have vastly underperformed global equities, which are getting their growth largely form emerging markets. What gives?
Part of the answer lies in what is a long-standing precept that commodities have to be rallying for emerging market equities to do well, and that emerging market equities are dominated by state-controlled companies where corporate governance is awful. In the last 18 months, commodities have struggled and state-controlled emerging market companies have dominated the headlines for their ineptitude. Thus, emerging markets have badly lagged domestic markets (see chart below), as U.S. and European multinationals have gone to all-time highs.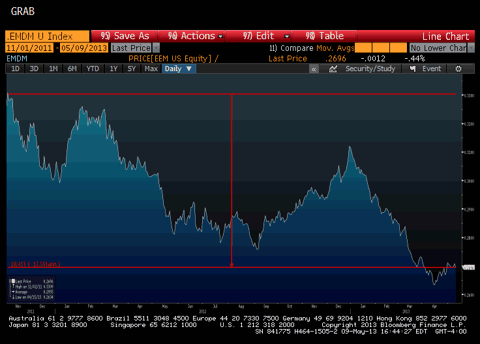 Because we are in the month of May, markets are overly consumed with "risk on" and "risk off." Investment allocation is difficult in a world where commodity prices seem to be signaling one thing, but measures of risk say another. Copper prices are challenging multi-year lows, while the Spanish 10-year yield is in 2007 territory and Italy is issuing two-year paper at all-time lows. China is grinding lower, but U.S. and European indices are at all-time highs.
Is global growth collapsing, or is the world healing slowly, with strong pockets of real growth in key parts of the global economy? Is the move to all-time highs in global equity markets just a run of free money, or should investors be even more confident in global growth despite what spot commodity prices are doing? Yesterday's one-brain-cell analysis worked, and correlations were high between the asset classes.
I often write about deflationary forces of the asset bubble popping, and that Fed policy is complicating the road to true healing. I believe we are living in a world where the pressure on prices for most things (except, of course, the daily "stuff" we seem to consume) is to move lower. But the correlation of higher commodities with higher global growth may have started to run its course. While we are not surfing the wave of the commodity super-cycle go-go days, there is still major demand for copper, ore, steel, and other core commodities.
China will not lead the next phase of global growth, nor will Brazil. But there is a housing recovery going on in the U.S. and there are still five trillion in yuan infrastructure projects due to be implemented in China over the next five years. For many of us in emerging markets, this has all been a head-scratcher as "our stocks" are massively underperforming despite that conditions that emerging markets should generally love: low inflation, falling rates, consumption growth (albeit slower than it was pre-crisis). We all may need to adjust our thinking if we have not already done so to stay the course on fundamentals, and not be expecting the next May/June disaster for emerging markets.
If global companies like Siemens (SI), General Motors (NYSE:GM), Coca-Cola (NYSE:KO), and HSBC (HBC) can grow with emerging markets as a core driver, maybe it's time to look for even greater returns out of emerging market companies that have lagged the move in global markets. Either way, we should be mindful of the following: Lower commodity prices do not necessarily mean "risk off," and correlations breaking down is a good thing.