Any business can establish a free Facebook (NASDAQ:FB) page allowing fans to recommend them by clicking their "Like" icon. Companies large and small have pages, but in this -celebrity- obsessed culture, perhaps the most lucrative are the pages of actors, athletes, musicians and other public figures. That considered, it seems appropriate to contemplate how much pseudo-advertising or endorsement revenue is generated on Facebook - in which Facebook doesn't share.
I'm the last person in the world to consult about pop culture, but to throw out some examples, following are a few famous people I know of who have "official" Facebook pages that are probably adding revenue to their own bottom line through Facebook endorsements:
Larry Fitzgerald of the Arizona Cardinals "Likes" EAS Sports Nutrition, Nike
Robert Griffin III ("RG3") recently posted a photo with the caption "Check out the 1st pair of my @assassinscreed inspired @adidasUS shoes. Get yours at AssassinsCreed.com"
Devin Hester of the Chicago Bears apparently "Likes" Red Bull. (Subsequently, even Tom Cruise "Likes" Red Bull on his Facebook page with over 3 million followers.)
Brian Urlacher "Likes" Nike (NYSE:NKE), Coca-Cola (NYSE:KO) Zero and a MojoBall App page. (Many athletes seem to Like MojoBall as they post messages about products Mojo is giving away in contests.)
That is a small sample of stars who endorse products and services on Facebook. I think most will agree that these celebrities are not "liking" Coca Cola, Nike or Red Bull out of their own benevolence.
Owning Facebook shares with its one billion plus participants is almost akin to "owning" the Internet itself. Unfortunately, it is not the Internet in a general sense that makes the prodigious profits but rather companies that offer proprietary services on the internet for a fee. As we all know, Facebook doesn't charge its users; so until it leverages its assets to offer something more unique, Facebook shareholders own shares in bragging rights about free subscribers.
How To Add Value
Most people do not go on Facebook to browse ads in their leisure time. If Facebook could get a piece of the action when all of these companies pay celebrities to "Like" and in many cases write messages about them, then it would truly capitalize on the most valuable "advertising" revenue. It may be more effective for a company to pay a celebrity on Facebook to recommend them to their followers than it is for those companies to purchase an ad on Facebook that is -clearly- an advertisement on the page.
With search engines like Google and Yahoo, people are looking to buy something at the time they are using them; so they are in a class by themselves. As the chart below demonstrates, Google (NASDAQ:GOOG), Microsoft (NASDAQ:MSFT) and Yahoo (NASDAQ:YHOO) already dominate search.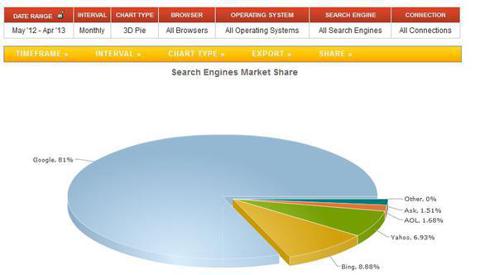 For Facebook to try to compete in such an unrelated service to their own would be a peculiar distraction. Facebook users are not going think Facebook when they want to search. Facebook needs to focus on leveraging its own unique assets in away that Google, Microsoft and Yahoo - cannot.
Because of social media, advertising is evolving. Facebook can look for ways to cram more ads onto the page and on mobile phones but consumers are tuning them out most of the time because they are obviously ads. Even in talk radio, many of the hosts are adapting their commercials by having the celebrity hosts work the "pitches" into the conversation in clandestine ways that are actually product placement.
Product placement is where much of the commerce seems to be taking place on Facebook. I would venture to guess that many of these endorsements come to fruition via agents, which most celebrities employ. One might assume the agent is receiving a cut. It might be a worthwhile endeavor for Facebook to consider some new policies, perhaps becoming an agent to celebrity members who are steering followers to the pages or websites of their clients. They might sign them to contracts requiring a small percentage of the contracts they have with companies like Red Bull, MojoBall, Coca Cola, Nike, etc.
One might contend such policies would be difficult to enforce; however, violating the policy could endanger the celebrity's relationship with Facebook if they violated the terms of usage. A 5% endorsement fee would be a reasonable price to pay to keep the "golden goose" happy.
Facebook could also partner with these celebrities by bringing additional revenue to them. Facebook could match them up on a daily basis with new sponsor opportunities from small, regional to large companies. A celebrity endorsement for a day or so might be a much more attractive option to a business than something that screams "I'm an ad" among many other ads on the page.
There are many local and national celebrities with pages on Facebook who could potentially pitch products they use. This type of opportunity could create significant revenue for Facebook if the company were to tap into it. Since Facebook already has an impressive chunk of the world's population participating, perhaps innovating advertising itself should be the focus more than subscriber growth and mobile ads that are obviously commercials to be skipped by the majority of users. As far as growth is concerned, it is always nice to see more people using the free service but there is only so much growth in free users a company can achieve in a universe of 7 billion people who we know of.
With only so much ad revenue to go around, the key focus should be more on -how- to make the advertising model more effective in order to divert money from Google and other competitors. Celebrity endorsements and product placements would -greatly- enhance the value proposition since Google cannot offer that the way Facebook could.
Disclosure: I am long FB. I wrote this article myself, and it expresses my own opinions. I am not receiving compensation for it (other than from Seeking Alpha). I have no business relationship with any company whose stock is mentioned in this article.