It is a question that is on the minds of many investors today. They are watching the stock market relentlessly rising nearly every single trading day, with even the smallest of dips being bought in pushing the stock market to new highs. Yet they stand back and look at the fundamental data and see a complete disconnect between the direction of stock prices and the underlying economic reality. And believing that the rally is being completely fueled by the flood of monetary liquidity that continues to flow into the markets, they remain convinced that this will all end badly just as it has a few times before since the start of the new millennium. But this leads to the key question - exactly when will the market finally reach a major market top and plunge into a sharp correction? Fortunately, the recent past has provided us with some key signposts to watch today to help identify when we have arrived or are approaching a major market top.
Reflections on the Dotcom bubble in 2000
The first instance worth exploring is the episode that kicked off the secular bear market over a decade ago. It was on March 24, 2000 that the S&P 500 reached an all-time intraday high of 1552. This peak, of course, came a roughly two weeks after the NASDAQ reached its own peak after breaking through the 5000 barrier on March 10.
Applying hindsight, what did we see at the time that would have indicated that this would become the market peak and the beginning of a -50% in stocks over the next two and half years.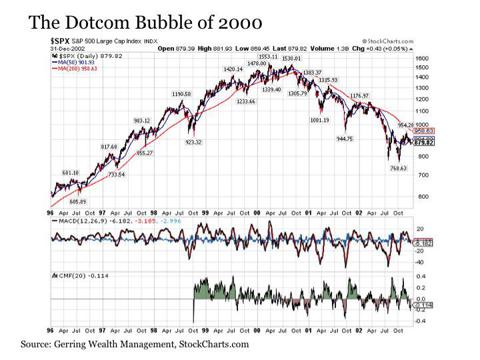 Click to enlarge
Several things are immediately notable as the stock market was increasingly setting new highs. First, momentum as measured by MACD was becoming increasingly volatile heading into this final peak. Instead of the consistent calm that characterized the earlier stages of the stock market rally, the market was thrashing violently back and forth by the time we arrived at late March 2000. Also, capital flows as measured by Chaikin Money Flow (NYSEARCA:CMF) were increasingly fading as stocks continued to rise. This suggested fading conviction in the rally as stocks set new peaks.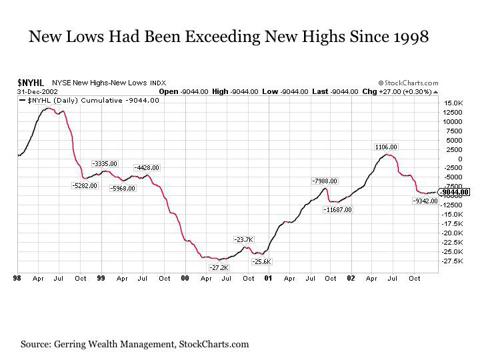 Click to enlarge
Two other key indicators had been screaming for some time that a major top in stocks was looming. The first was the reading of new highs versus new lows and the second was the advance-decline line. Both of these readings had been in freefall for nearly two years ahead of the bursting of the technology bubble. Thus, the market was long overdue for correction by the time it finally peaked in early 2000.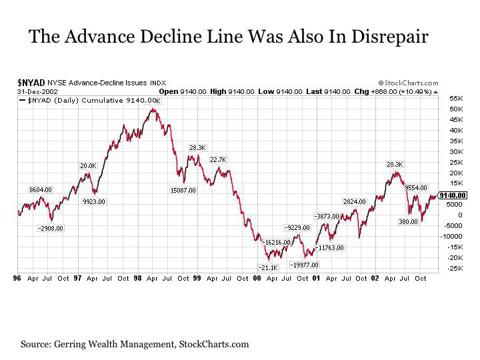 Click to enlarge
A few additional key takeaways are also notable from this episode.
First, when the market first corrected, it plunged by nearly -14% over the next three weeks before stocks found their footing on April 14, 2000.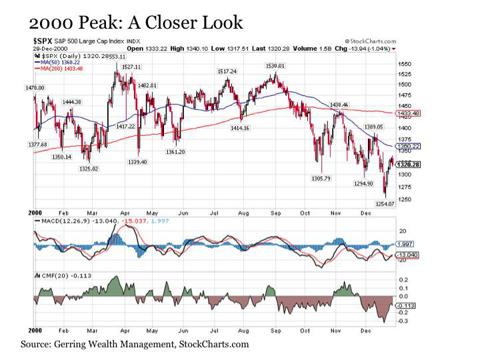 Click to enlarge
Second, investors had one more chance to get out before the lights went out. Stocks found support at their 200-day moving average and resumed their advance over the next four and a half months, gaining +14% from their April lows (so much for sell in May and go away in 2000!). By September 1, 2000, stocks were threatening to set a new all-time closing high on the S&P 500 and were trading only -1.4% below the intraday peak from March 24. It was only after this double top that stocks definitively broke to the downside.
Lastly, no major news event accompanied the corrections that followed these dual major market peaks. In fact, the reasons cited for the initial sell offs were not unlike the typical reasons that we hear from the news media on any given trading day.
Reflection on the Housing Bubble of 2007
The second major bubble of the current secular bear market first reached its zenith in July 2007. But unlike the 2000 episode, everything seemed to be chugging along just fine up until that point despite all of the risks that were brewing underneath the market surface. This, of course, sounds very much like our market today.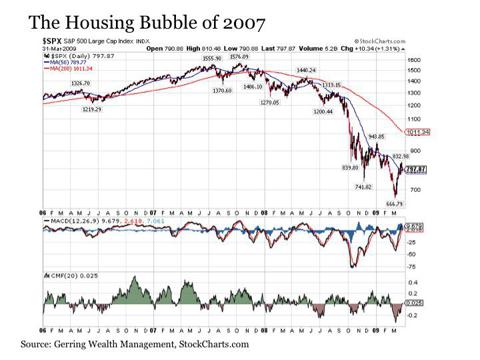 Click to enlarge
Through July 2007, momentum readings had been relatively placid and money flow generally consistent to that point. Moreover, the new highs versus new lows reading was steaming full speed ahead and the advance-decline line was showing little signs for concern with nothing more than what appeared to be a momentary pause in June.
But it was once the market peaked on July 16, 2007 and effectively matched its top on July 19, 2007 that the warning signals began to blare. Stocks went on to drop by nearly -12% over the next four weeks through August 16 before finding a bottom. Much like the 2000 episode, the 200-day moving average provided the critical support. Stocks would then go on to rally by +15% over the next two months, breaking out to a new all-time intraday high on October 11, 2007 at 1576 on the S&P 500 Index in the process.
But despite this renewed market vigor, the structural foundation under the market was already disintegrating. The volatility of momentum readings had suddenly accelerated. And while money flow had risen above the July peak levels, it was still well below the readings that had preceded the peak in late 2006 and early 2007.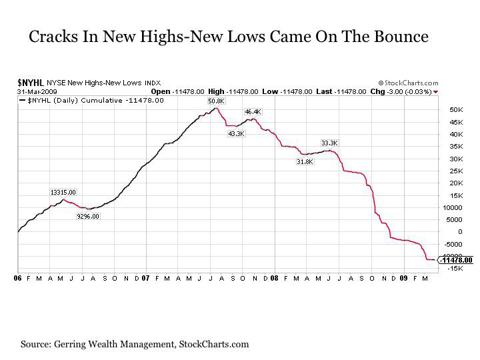 Click to enlarge
Perhaps more notable was the deterioration in the new high versus new lows and the advance decline line. In both instances, the trend reversal was underway, with fewer new highs versus new lows and a lower high in the advance decline line at the October 2007 peak versus the July 2007 peak. While stocks put up a valiant fight through the end of October, the correction was on in earnest starting in November.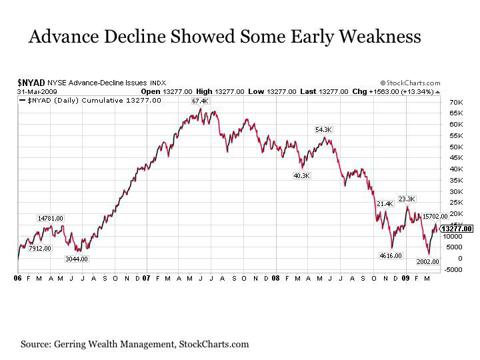 Click to enlarge
Some similar key takeaways are also notable from this episode.
First, the magnitude and duration of the initial decline following both the 2000 and 2007 peaks were very similar.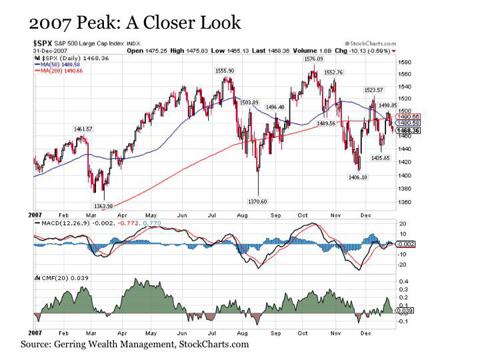 Click to enlarge
Second, investors once again had one more chance to exit the stock market in October 2007 before the move accelerated to the downside.
Lastly, while the sell off in July may have been initiated by the news of the unwinding of the Structured Credit Strategies hedge fund products at Bear Stearns, no major news event accompanied the October sell offs. Instead, the typical summary reasons were cited including concerns over inflation at the European Central Bank and lowered sales expectations for Baidu.com (NASDAQ:BIDU). Such reasons could be plugged into any random Thursday and are hardly the stuff that sparks a -58% sell-off in stocks over the next 18 months. Of course, the actual reasons for the sell-off had been festering for some time before the market reached these final peaks.
Focusing On Today
So with all of this in mind, where do we stand with today's market? The good news for stock investors is that none of the warning signs that accompanied the past two major market tops are present today. But this does not mean that they could not soon be lurking right around the corner.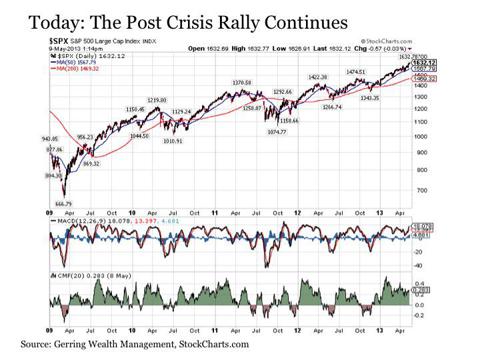 Click to enlarge
Stocks continue to advance to new highs with consistently positive momentum and steady money flows. While one could certainly contend that these readings have shown some signs of weakness thus far in 2013, the deterioration has been marginal at worst. In addition, both the new highs versus new lows and advance-decline readings are not only heading in the right direction, but they are actually accelerating in pace to the upside. And we have had no sharp correction in excess of -10% within a three to four week time period since the summer of 2011. Thus, all signs suggest that the current rally is continuing unabated and the potential for further upside in stocks is strong. That is at least for the moment, of course.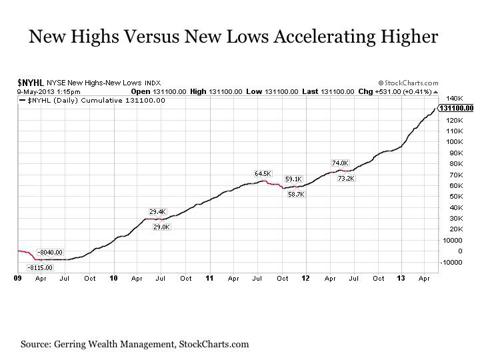 Click to enlarge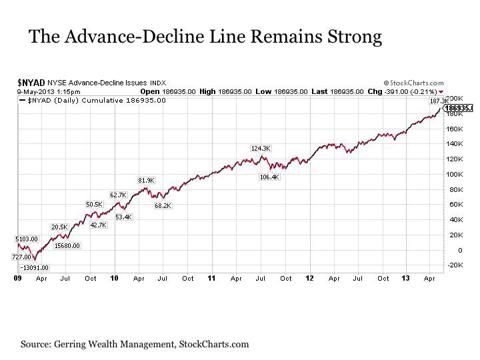 Click to enlarge
What investors are best served to watch for in the days, weeks and months ahead is the following.
The first would be any signs of weakness in the correction indicators discussed above. If momentum starts to swing more violently, if money flow begins to fade, if the new highs versus new lows or advance-decline line rolls over, these would be early warning signals that the market may be setting up for a peak.
The second would be any sharp correction in excess of -10% that occurs over a fairly short period of time along the way. It should be noted that the magnitude of the correction may be more pronounced and the duration far more swift this time around given the amount of air that currently resides under the current market. Such a development accompanied by weakness in the readings mentioned above would start to reinforce that the market may be approaching a major top.
Lastly, if these first two elements begin to unfold, stock investors will likely have one final chance to exit. If history is any guide including the previous two episodes in the current secular bear market, stocks would likely attempt to make one more advance in setting a double top to peak the current market. This would certainly make sense, as a number of investors continue to wait on the sidelines for a correction to get into stocks today. Thus, such a pullback would likely lure in the latecomers for one final rally.
With all of this being said, some important caveats must be mentioned that differentiate the current situation from the 2000 and 2007 scenarios. First, markets have become completely overrun by computers and high frequency trading in the time since the last market peak six years ago. As a result, some of the fundamental and technical trends that held in the past may be rendered completely irrelevant due a major computer malfunction or an unexpected algorithmic response to a sudden news event whether it is real or not. Also, today's capital markets have become completely polluted by global central banks and the relentless urge provide massive sums of liquidity and repeated market interventions. These unprecedented actions are also likely to result in market reflexes that seem counter to what would be expected under normal conditions. These caveats not only increase the probability that markets may rise much further than reasonably expected, it also increases the chances of a extreme downside shock that prevents investors from having that one last chance to exit on the double top that they have had in the past.
Bottom Line
At some point, this great monetary policy experiment is likely to end badly. But we are likely to see capital markets including stocks continue to rally in the meantime as global central bank liquidity continues to flow. As a result, it remains worthwhile to maintain an allocation to stocks with a diversified asset allocation strategy that also includes bonds and commodities as long as current trends remain in place. Ideal exposures at present are those that provide defensive growth characteristics, particularly to more cyclical areas of global equity markets that have underperformed the rally thus far this year. Such broad market exposures include the Vanguard Dividend Appreciation ETF (NYSEARCA:VIG) and the Vanguard Total International Stock Index ETF (NASDAQ:VXUS). As for specific names, a particular emphasis on those securities that provide quality, low price volatility, attractive valuation and current income that also set up well from a technical perspective provide an ideal way to maintain stock exposures while also managing against downside risk. Representative names include ExxonMobil (NYSE:XOM), International Business Machines (NYSE:IBM), McDonald's (NYSE:MCD), General Electric (NYSE:GE), McDonald's , Oracle (NASDAQ:ORCL), Emerson Electric (NYSE:EMR), Qualcomm (NASDAQ:QCOM) and Cisco Systems (NASDAQ:CSCO).
Whether stocks begin the topping process tomorrow, next month or next year remains the key question. But by following selected key signs, investors can participate in the upside associated with the current rally while also working to protect themselves against what may be the eventually sharp downside looming somewhere on the horizon.
This post is for information purposes only. There are risks involved with investing including loss of principal. Gerring Wealth Management (GWM) makes no explicit or implicit guarantee with respect to performance or the outcome of any investment or projections made by GWM. There is no guarantee that the goals of the strategies discussed by GWM will be met.
Disclosure: I am long CSCO, GE, XOM, MCD, IBM, QCOM, ORCL, EMR, VIG, VXUS. I wrote this article myself, and it expresses my own opinions. I am not receiving compensation for it (other than from Seeking Alpha). I have no business relationship with any company whose stock is mentioned in this article.